Learn how to make your own DIY Avengers Superhero Shoes to celebrate the release of MARVEL'S The Avengers: Age of Ultron!  This #AvengersUnite craft tutorial is shared as part of a shop that has been compensated by Collective Bias, Inc. and its advertiser. #CollectiveBias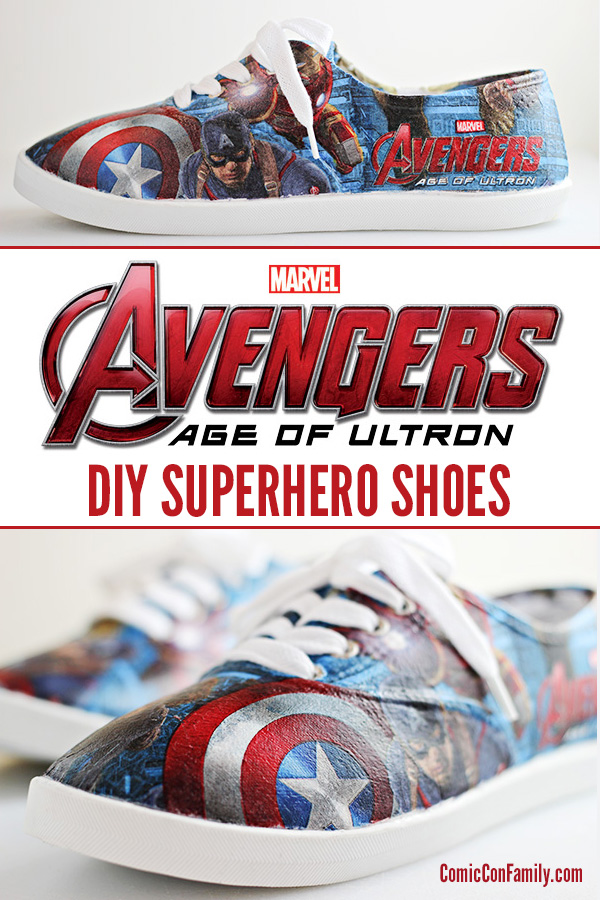 Disclosure: This post contains compensated affiliate links which help support the work on this blog.
Hello Comic Con Families!
MARVEL'S The Avengers: Age of Ultron is coming to theaters on May 1 (that's 2015 for those of you reading this in the future), but I know I don't have to tell you that. I also know that I don't have to tell you how excited I am for May 1 to get here. I know I am not alone in counting down the days!
What you may not know yet, is how much the women in my life are also counting down the days just as much. My wife and my girls love The Avengers too. Just as much as any guy or boy or male. They are huge fans, right there along with me and my sons.
As we usual do, we had an movie night recently to gear up for the upcoming MARVEL'S The Avengers: Age of Ultron movie release. I grabbed our Avengers Blu-ray and my wife and kids pulled together all the snacks.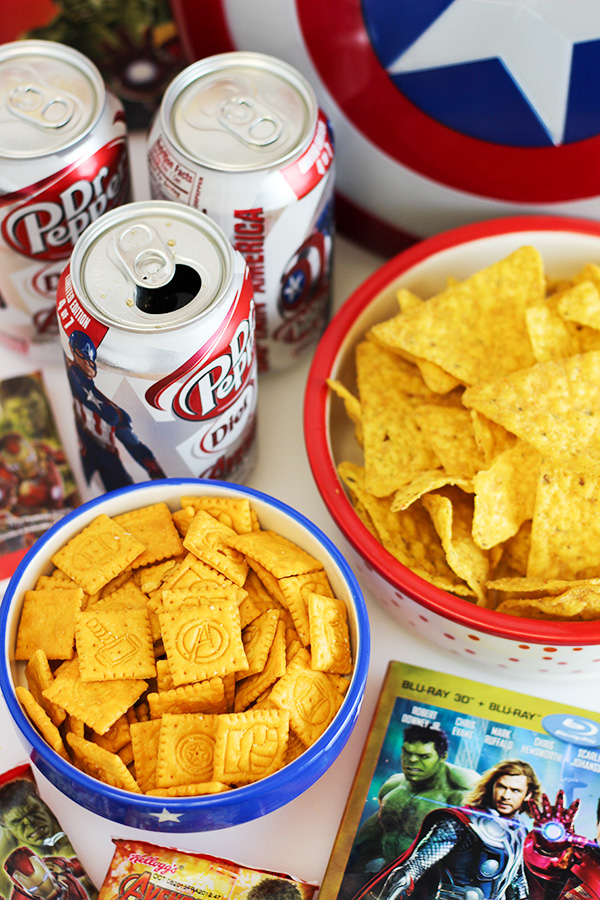 We picked up all of our Avengers snacks and drinks at Walmart. There was lots of options. We found: Cheez-It Baked Snack Crackers, Kellogg's Fruit Snacks, Doritos, and Dr Pepper. I don't know how long they will be in stock, so look for them on your next trip.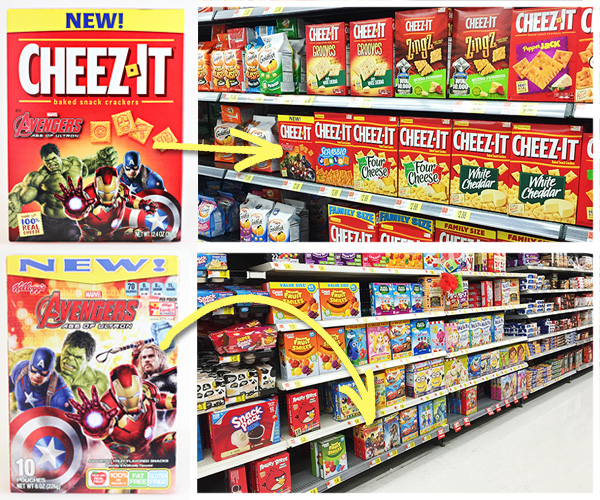 Rather than making this our usual movie night, we decided to add in a craft. Our girls are making lots of plans right now about what they will be wearing at San Diego Comic-Con this year, and one of the things on their list: DIY shoes! You might think that's crazy, but it's possible and we're going to show you how you can make them.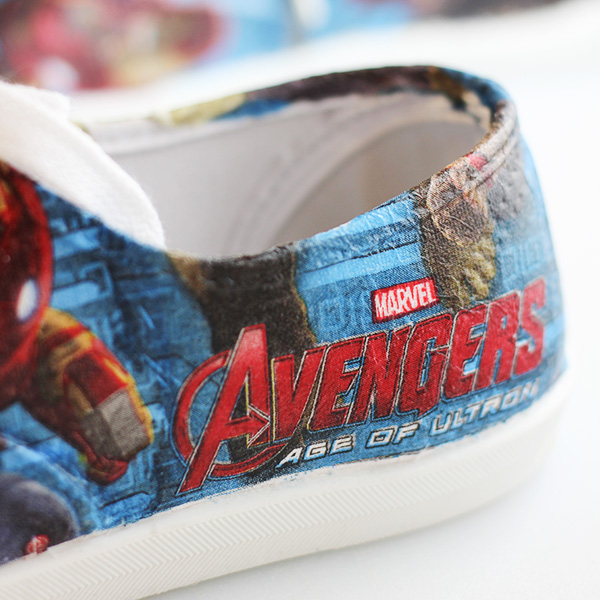 How to Make DIY Avengers Superhero Shoes
To make your own DIY Avengers Superhero Shoes, you will only need a few things:
1 pair canvas shoes in your size, lace up or slip on
A couple plastic grocery bags
Avengers Party Napkins (I recommend buying 2 packs, even though you might not need the 2nd one)
Very thin paint brush
Two bowls or cups
Plastic wrap or plastic baggies
Craft Knife (like X-Acto)
Clear Matte Acrylic Spray (optional)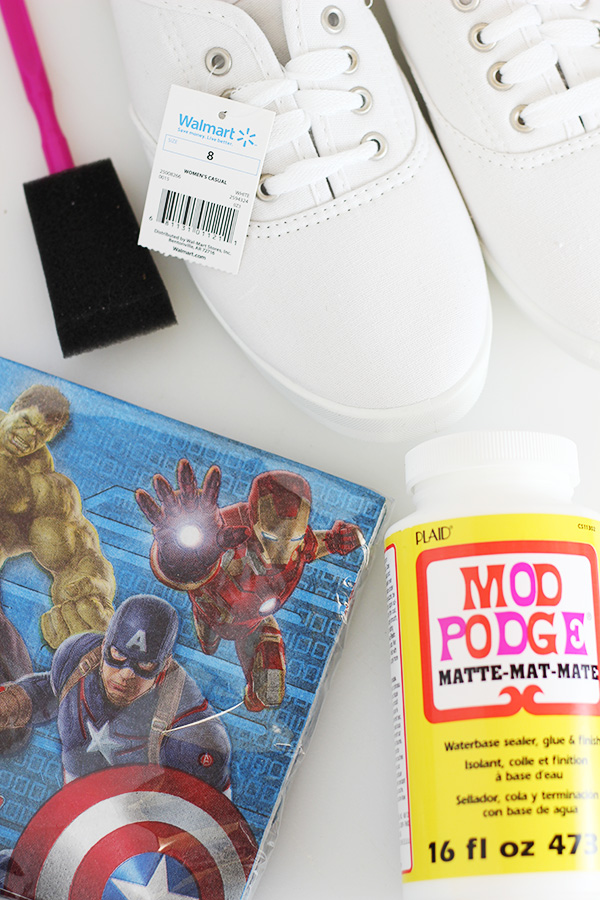 # 1 Cover the edges/sides of the soles of the shoes: Tear off small pieces of painter's tape (no more than 1″ at a time) and apply each piece as close to the canvas of the shoes as possible while covering the edge and sides of the sole. Repeat piece by piece, with each piece slightly overlapping the piece before it. Painter's tape isn't as tacky as masking tape (which makes it easier to pull off at the end), so you'll probably need to keep smoothing it down as you work.
TIP: Push a plastic grocery bag (or two) into the toe area of the shoe to help give it stability when apply your Mod Podge and napkins.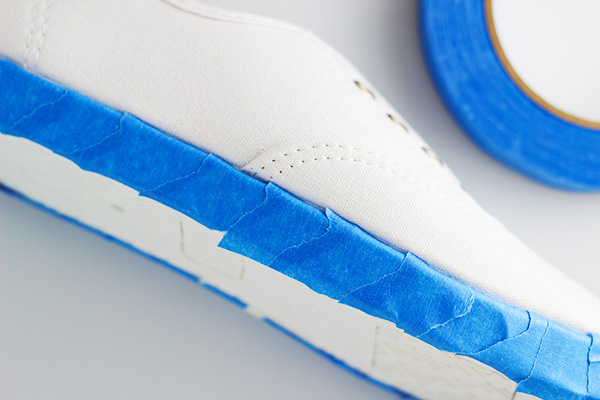 #2 Separate your party napkin layers: Take your party napkins and carefully pull apart the layers. The Avengers napkins I bought from Walmart were 2-ply, but if you use different ones, you might have 3-ply. You will only need the top layer with the design, so you can get rid of or re-purpose the plain layer. I would suggest separating about 6 napkins at the beginning. You may not need more than this, but you if you do, you can separate more later.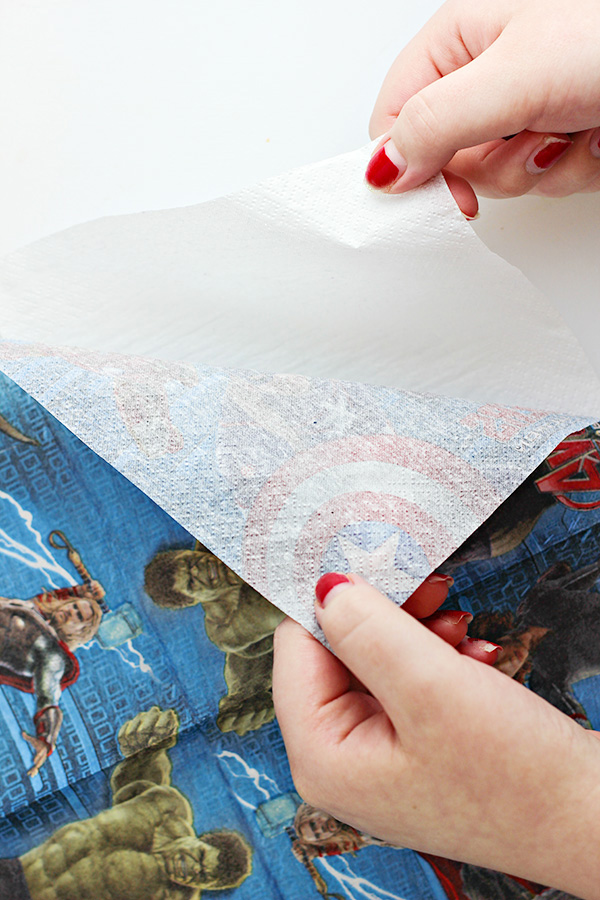 #3 Decide where you will place each character: Take a look at your shoes and think about where you want to place the characters. You might want to hold the napkin up to the shoes to get an idea of which characters will fit best in the different areas of the shoe. Of course, you might want to make decisions based on the characters you like best. Courtney likes Captain America and Black Widow the best, so we made sure that they were used right at the front of the shoes.
#4 Tear out your first character: Lay out your napkin on a flat surface in front of you. Fill a cup or bowl with a bit of water. Dip your thin paint brush into the water and tap off any excess. Then use the paint brush to "paint" a thin line of water around the first characters you want to apply to your shoes. Then, carefully tear out the character along the water line you just "painted". The reason you do this with the paintbrush and water is because it makes it much easier to tear the napkin.
TIP: Don't use scissors to cut out the characters because this will leave a straight edge which makes it harder to collage the characters seamlessly together. Always tear out the pieces.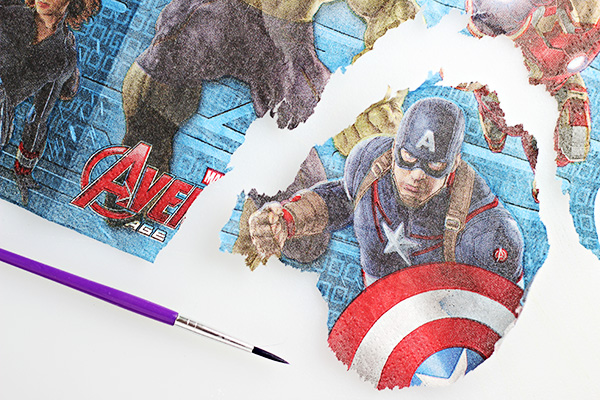 #5 Glue your first character onto your shoe: Pour some Mod Podge into a bowl or cup. I recommend covering it with a piece of plastic wrap while you are working to keep it from drying out. Lay your character onto the shoe to take one final look at where you will want it placed. Remove the character from the shoe. Dip your foam brush into the Mod Podge. Remove excess from brush by tapping or rubbing brush again edge of bowl (you don't want too much Mod Podge on your brush). Brush a thin layer of Mod Podge directly onto the shoes where you will be adding your character.
TIP: Avoid thick layers of Mod Podge, you want an even, thin layer. Thick spots will create areas where you napkin can tear when you are smoothing out wrinkles.
#6 Add your character to the shoe: Lay your character on top of the Mod Podge. Take your plastic wrap and tear off a piece and wad it up a bit. Use this to slowly and gently tap on the napkin and remove wrinkles. If you notice your plastic wrap sticking to the napkin at all, re-position the plastic wrap (stretch it out again and re-wad it) so you can use a clean spot with no Mod Podge on it (discard your plastic and get a new piece, if necessary).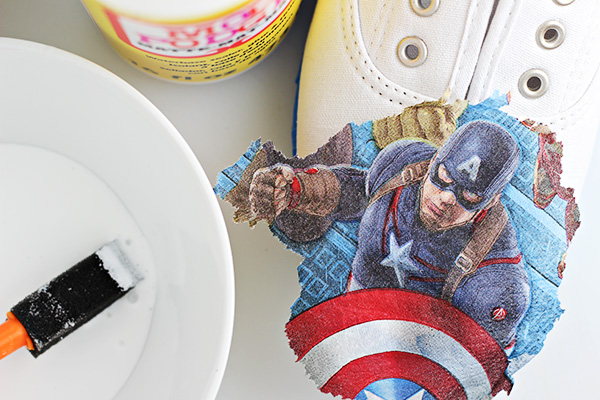 #7 Continue adding characters: Repeat steps #3 – #6 with additional characters until shoes are completely covered. As you are adding new characters, do your best to overlap the napkin slightly with other characters that have been added, matching up sections as best as possible. Cover tongue of shoe last, in the same way. When shoes is completely covered with napkins, give the entire shoe a final thin coat of Mod Podge to seal it.
TIP: If you accidentally tear the napkin, don't worry. While it's ideal to have no tears/holes, it's very easy to cover up small tears or holes at the end with a piece of matching napkin.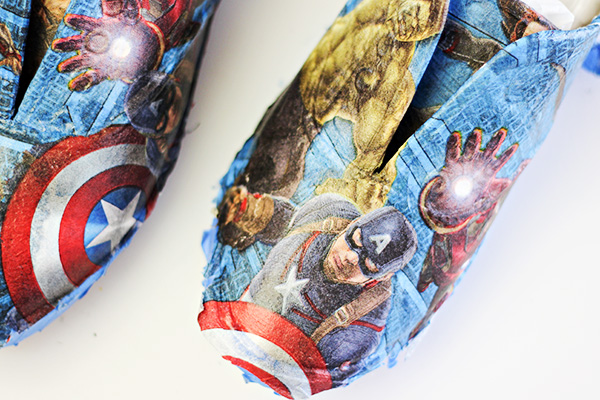 #8 Uncover the eyelets: As you can see in our photos, we didn't worry about leaving the eyelets (shoelace holes) uncovered. After you've applied your coat of Mod Podge sealer and it has dried completely, use the tip of a craft knife to carefully cut and scrape away the napkin and glue covering the holes. If you don't care about having the eyelets exposed, you can always push through the napkin covering the hole.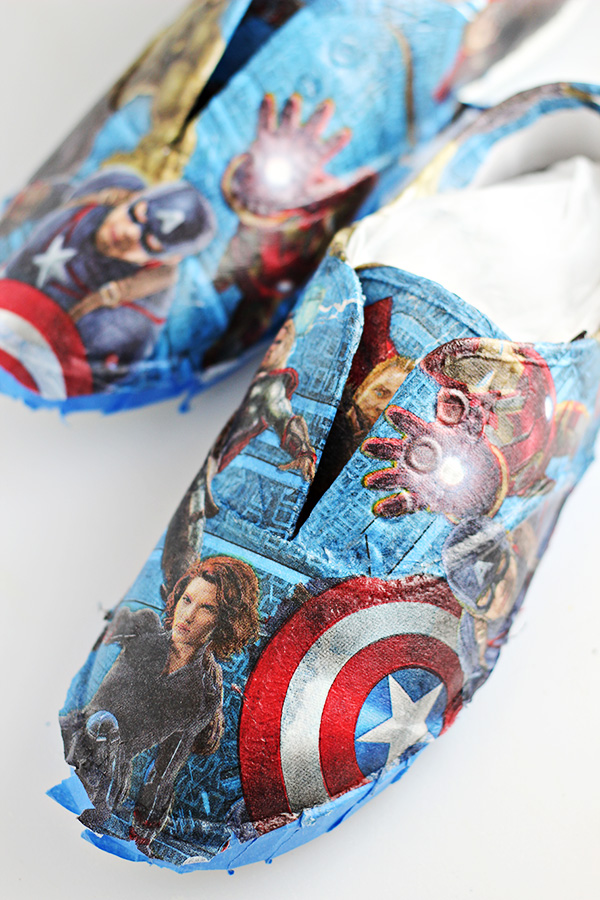 #9 Finish up: If you wish, you can spray your shoes with an even, thin coating of clear acrylic spray for extra durability (24 hours after you applied your seal coat of Mod Podge). We chose to not spray our shoes. We DO NOT recommend spraying with clear acrylic spray if these shoes are made for young children (Mod Podge is non-toxic, but the spray isn't).
To remove painters tape from the soles, turn each shoe upside down and work your way around the shoe pulling the tape mostly off, but not completely removing it. Then, using a craft knife, carefully cut away the napkin/tape where the canvas meets the sole. Take great care to only cut the napkin/tape and not the shoe.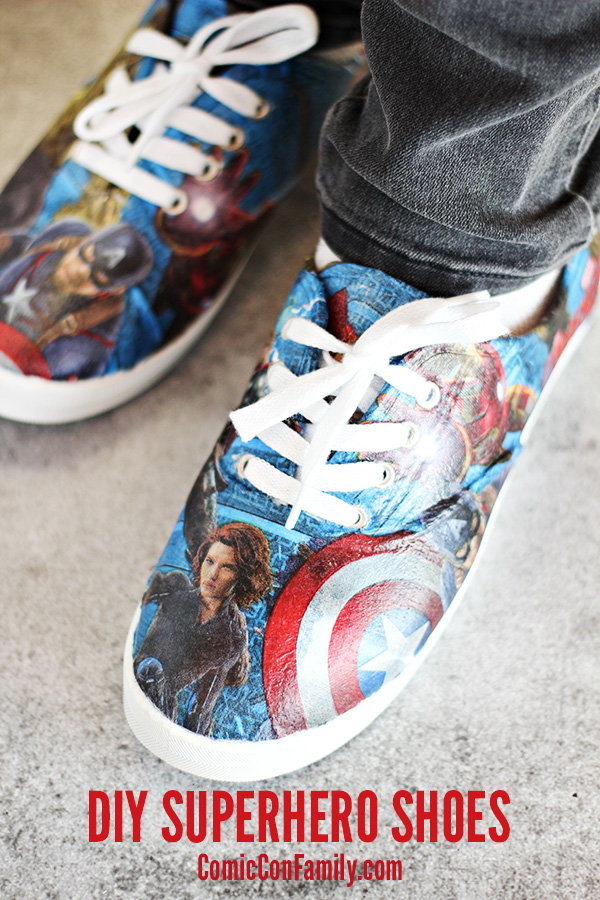 About 72 hours after the final layer of Mod Podge (or acrylic spray, if using) has been applied, and if shoes are completely dry, add the shoelaces. Shoes may be worn now, if you wish, however letting these cure even longer is highly recommended.
One last note, Mod Podge does make an Outdoor variety, which we didn't use. You can use that if you wish your shoes to be water resistant and it might be helpful if you are creating shoes for a young child.. However, even with the use of Mod Podge Outdoor, we still recommend not wearing these on rainy days to preserve the life of them.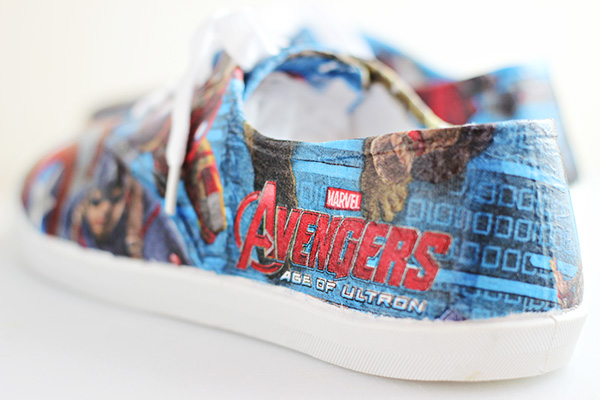 I hope you enjoyed this craft tutorial on how to make your own Avengers Mod Podge shoes. If you use this tutorial to make your own shoes, we'd love to see them. Leave a comment below with a link to your shoes.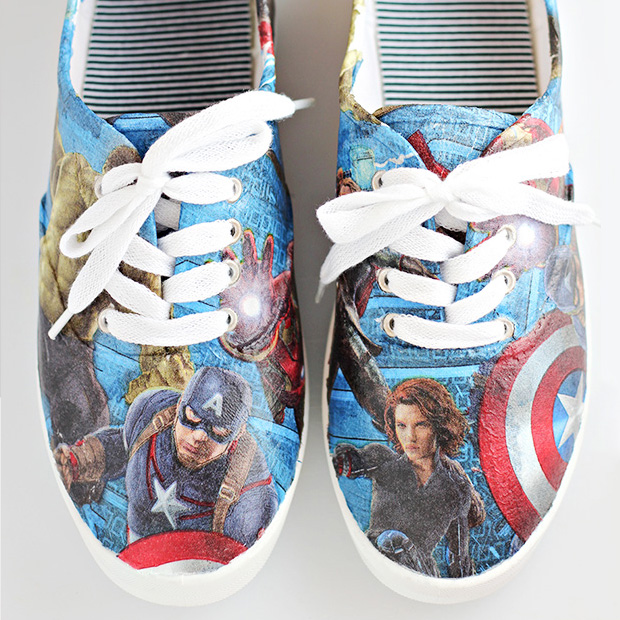 MARVEL'S AVENGERS: AGE OF ULTRON will hit theaters everywhere on May 1st!
Visit the official website: http://marvel.com/avengers
Like THE AVENGERS on Facebook: https://www.facebook.com/avengers
Follow THE AVENGERS on Twitter: https://twitter.com/avengers
Like this post? You might enjoy these too: