Comic Con is quickly approaching and you might be in a panic over how to cover the expense of your trip. To help out, we're sharing some tips for How To Save Money Fast For Comic Con this year.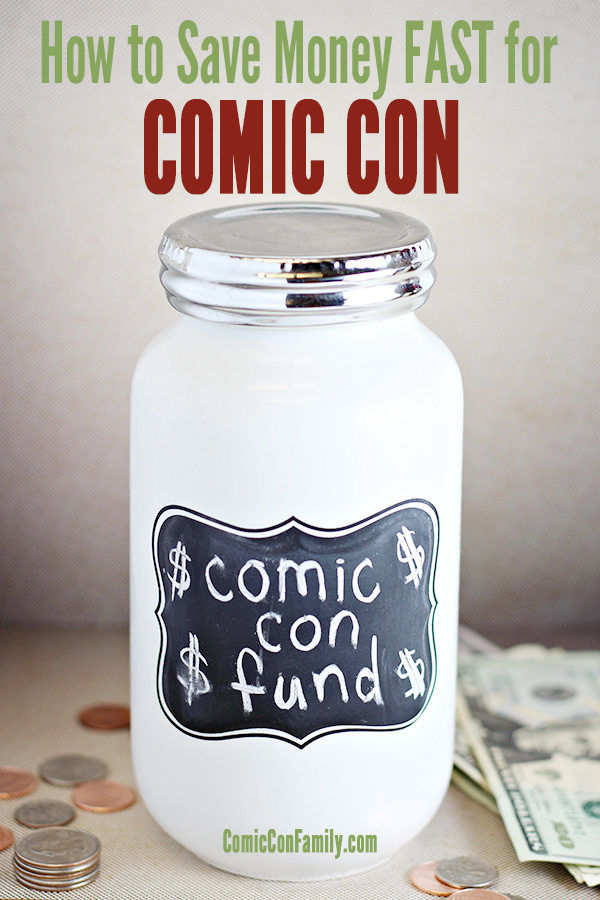 Some of these tips are simple, while others may take some work on your part. Regardless, these are tried and true ways to make extra money appear in a household budget. That money can then be set aside to pay for part of your comic con trip, perhaps your hotel or extra spending money in the exhibit hall.
How To Save Money Fast For Comic Con
Drop cable or satellite television service: This may be one of the easiest ways to save a large chunk of money each month. The average family spends $50-$100 a month on television. If you are no longer in contract with your provider, you can drop this service and either watch movies, stream through services like Netflix or Amazon Instant Video
, or simply go without completely and spend your time reading, crafting (like making a cool pair of shoes to wear at comic con), playing games or simply spending time as a family.
Host a yard sale: One mans junk is another mans treasure. Don't hesitate to load your yard up with tables, your junk and price tags. Furniture, tools, game systems, electronics and quality clothing usually sell best, but you can often sell off things like books, toys, music and movies for a nice amount as well. No matter what your "junk" may be, you can easily make some fast cash with a yard sale or even selling in local online swap shops.
Take on a part time job: This one may seem tougher than others, but it is a great way to earn and save fast money for vacation this year. Even working 2 shifts a week at a local retail store can give you up to $1000 in a couple of months. Look into locations you can work 2-3 extra shifts a week. You could even consider taking on some babysitting jobs like you did in high school.
Menu plan and ditch pricey foods: Everything from dropping the soda habit, to making your meals from scratch can save tons of money in your grocery budget. If you don't already use coupons, you may look into adding them into your routine. Making meals at home instead of buying take out or eating out saves hundreds a month for a family of four. There are a multitude of freezer meal plans, as well as menu plans for week to week shopping you can use to help organize and save even more money.
Get rid of all unnecessary expenses and focus on needs only: Needs are very simply a roof over your head, utilities paid, food on the table and transportation to and from work. This means you need to think about all of those little $1 and $5 habits that add up over the months. No more drive thru breakfasts. Stop the pricey coffee shop habit. Don't replace wardrobes this season. Carpool and make sure you do as much as possible each trip so you aren't wasting gas. There are dozens of ways to save money by eliminating those little extra things you take for granted.
These are basic things anyone can do in their own home to save money to put toward a great comic con trip. Fast savings really depend on how much you can sacrifice and for how long. Whether you drop your television habit, or get more organized in the kitchen to shave money off your grocery budget, these tips are tried and true methods of shaving money off your budget and creating savings that can go toward vacation expenses this year.
What your best tip for saving money fast for comic con trips?