Short story: we loved Avengers: Age of Ultron. But, there was a few specific reasons why we did, so here's our 5 Reasons To Love Avengers: Age of Ultron.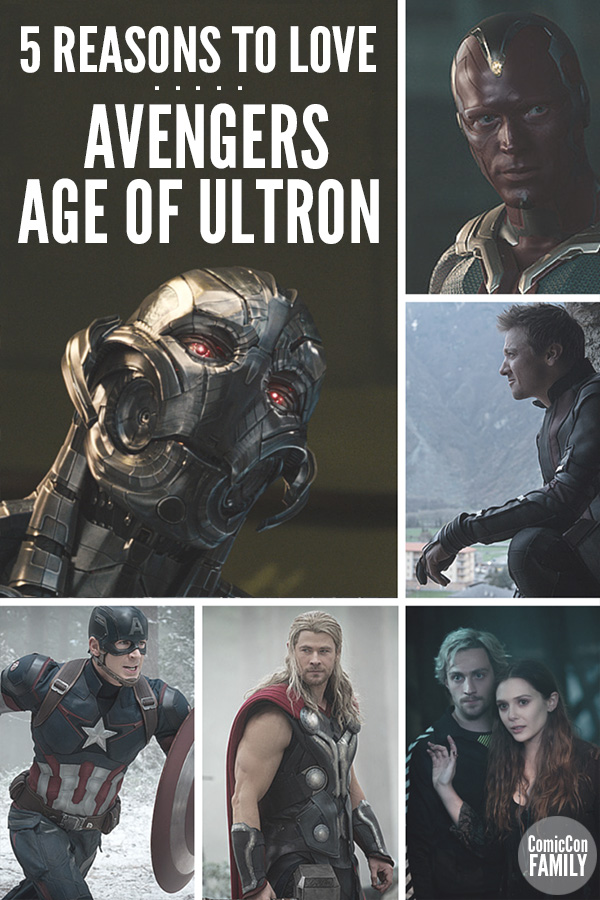 NOTE: This post may contain minor spoilers. If you haven't seen the movie yet, (first) make plans to see it and (second) continue on ONLY if you are okay with potentially being spoiled on minor details of the movie.
We've been telling you for weeks that May 1 was the date and now it's finally here: Avengers: Age of Ultron has opened in theaters! David and I were invited the press screening a few days ago and, while it was hard, we did our best to keep our thoughts and review contained until today. Ok, well, somewhat. We did give you a sneak peek at our thoughts if you follow us on Instagram:
The super short review of Avengers: Age of Ultron:
It's awesome, we loved it, and you have to go see it. It's a fast, action-packed, and funny too. We can't wait to buy it on Blu-ray!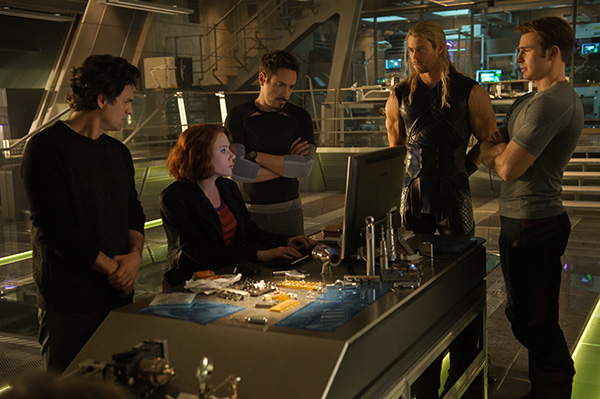 But, beyond all this, there was some specific things about Avengers: The Age of Ultron that have been the buzz in our house. I've broken down those things into our 5 reasons to love Avengers: Age of Ultron:
#1: James Spader as Ultron: David and I have work stations next to each other and he's played the trailers for the Avengers: Age of Ultron over and over again over the past few months. While he's watching, I'm listening. Without a doubt, hearing Jame Spader's voice as Ultron has been one of my favorite of those trailers playing. Now that we've seen the movie, seeing the sarcastic and evil Ultron come to life with Jame Spader's voice and mannerisms was another favorite of ours.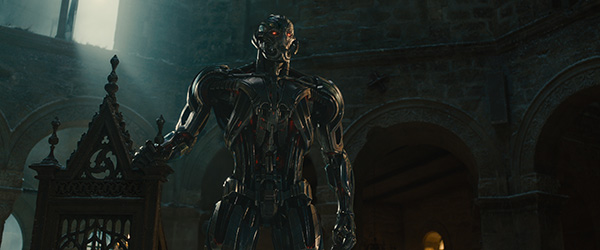 #2: Introducing….Vision: Our #2 reason for loving Avengers: The Age of Ultron is the addition of Vision to the team. If you've seen the Iron Man films, you recognize him as the voice of Jarvis. We like his kind, gentle, protect-all-mankind manner. I thought his coloring and costume were excellent. We can't wait to see more of him.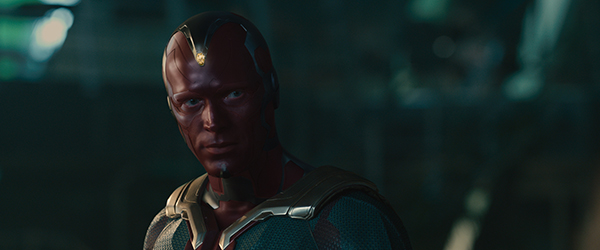 #3: Quicksilver and Scarlet Witch Relationship: Before seeing Avengers: Age of Ultron, I was most excited about the addition of Scarlet Witch. I was hoping she'd be as great as I was imagining her to be, and she didn't disappoint. Beyond my love of her, I was especially happy with the sibling relationship between Quicksilver and Scarlet Witch. They are good to each other and extremely protective, just the way any mother would want her own children to be with each other.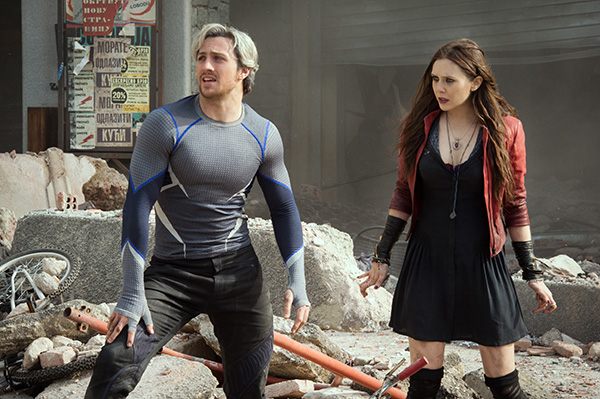 #4: Scarlet Witch's Powers: Scarlet Witch has a few different powers: telekinesis, mind control and telepathy — all of which are pretty cool. The one that we enjoyed the most was her mind control, where she is able to tap into the Avenger's greatest fears and manipulate their mind into thinking the fear was real. This had a major impact on Thor, but also affected Captain America, Black Widow, and Iron Man. Sure, we don't want our beloved characters to be tortured in this way, but this makes her an incredibly powerful character. It also gave us some great insight into the Avengers she affected. My only disappoint with Scarlet Witch was that I would have liked her to have even more screen time.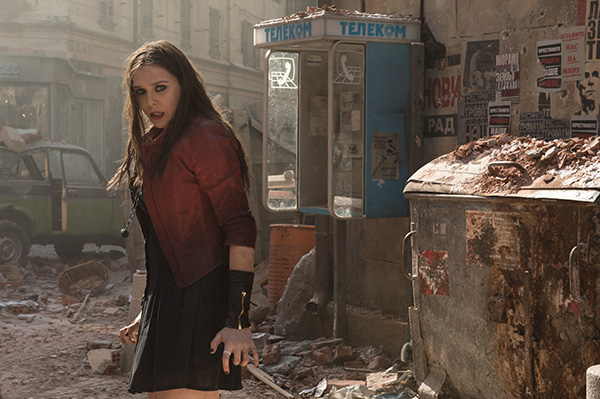 #5: Seeing more of Hawkeye/Clint Barton: It's fairly unanimous in our house that Hawkeye hasn't been on screen enough, so we were all thrilled to see more of him and to learn more of his story. Finding out that he's a "normal person" just like the rest of us was a perfect addition to the film. Our one concern though: is the introduction of his family a way to give him an acceptable excuse for not being as present in future films? We hope not. He's one of our favorites and we want to see even more of him.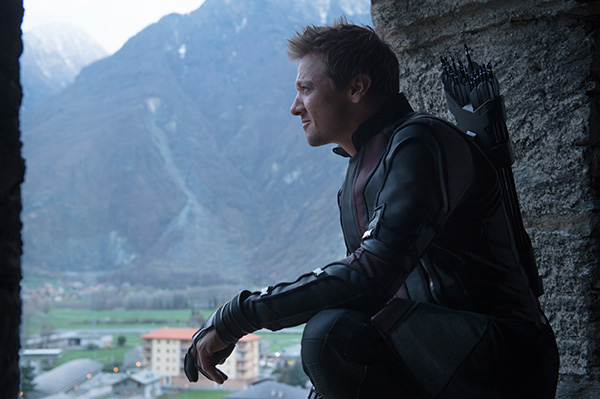 If you haven't seen Avengers: Age of Ultron yet, now's the time. Make plans to get to the theater ASAP!
Seen it already? We'd love to know if these were your favorite things about the movie or if you had other  favorites. Leave us a comment!
Want more Avengers? Be sure to check out these posts: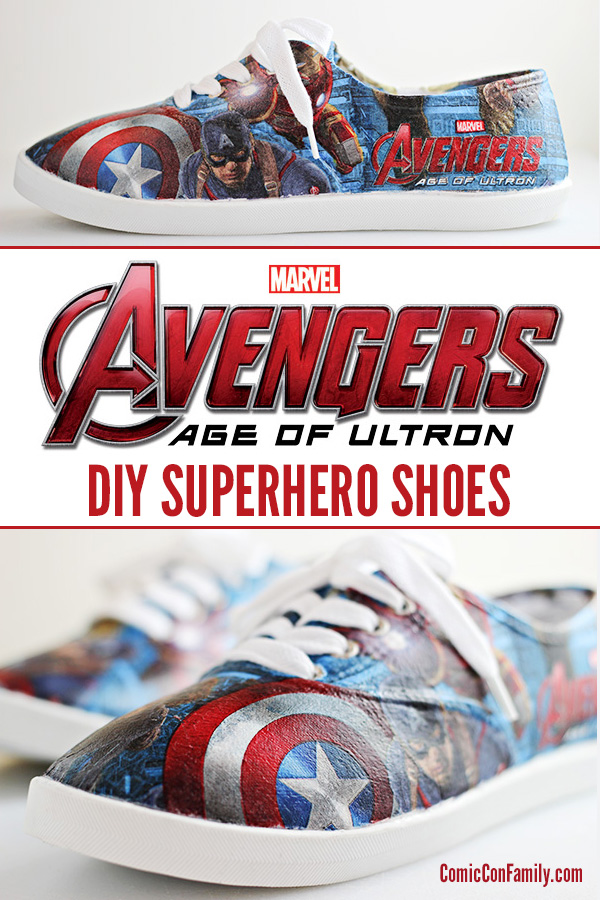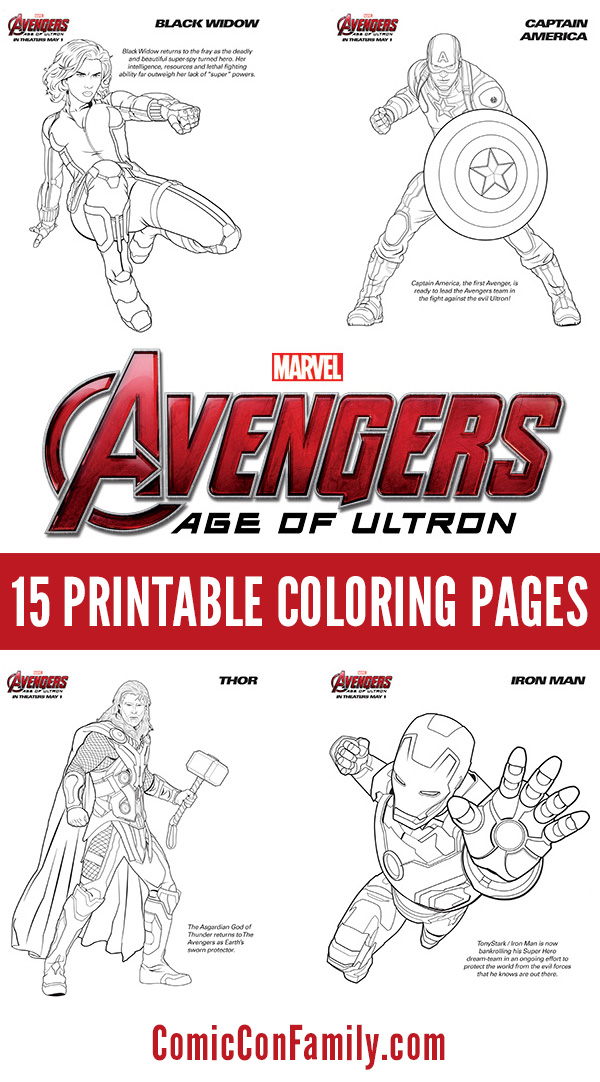 Visit the official website: http://marvel.com/avengers
Like THE AVENGERS on Facebook: https://www.facebook.com/avengers
Follow THE AVENGERS on Twitter: https://twitter.com/avengers