With thanks to Kia & Drive STI, we were provided with a 2015 Kia Forte EX for a test drive experience for our visit to Hoover Dam.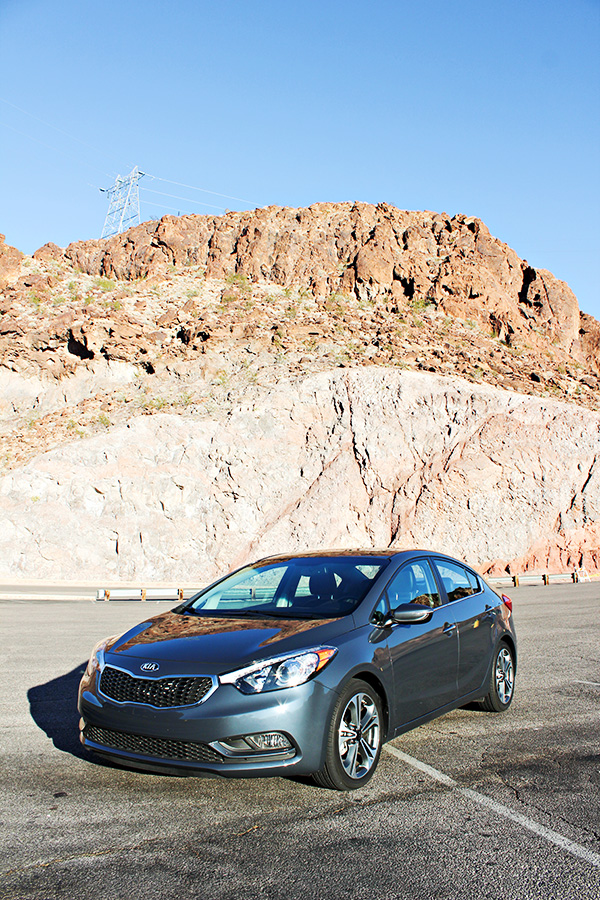 About 45 minutes from our house is one of our favorite destinations near Las Vegas. No, not the Las Vegas Strip, but rather Hoover Dam. Shortly after we moved to Vegas, we took a quick trip to Hoover Dam and I was truly amazed by its history and beauty. I didn't stay long on that visit, so we planned that someday soon, we would go back and spend more time there.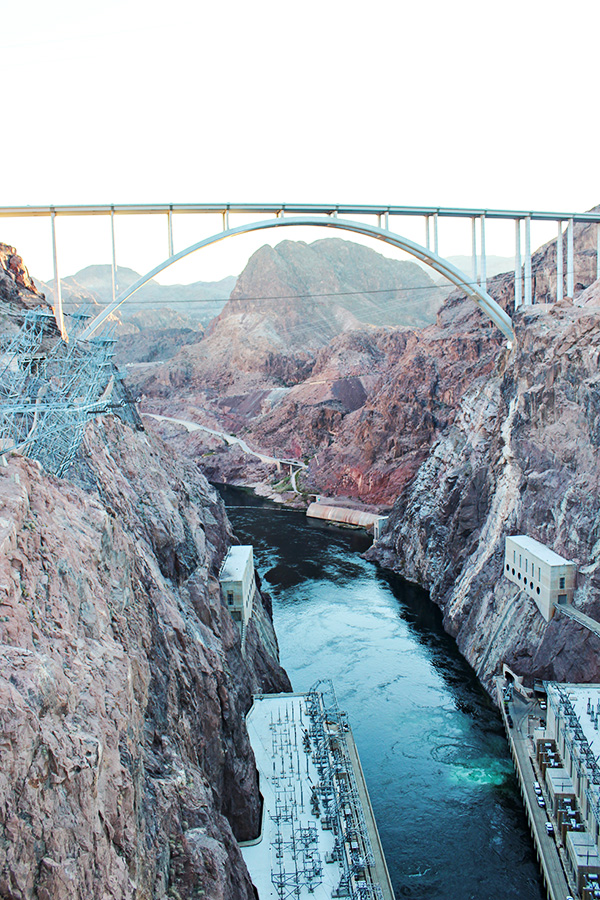 Recently, we were selected to have a week long drive experience in a brand new 2015 Kia Forte EX. We've had several of these drive tests in the past and we usually like to take the vehicle out on a road trip to get the full experience. With a busy work week ahead, we weren't able to get away far from home, but that was okay — Hoover Dam was just down the road waiting for us. It was a perfect excuse to take out the Kia Forte EX and see how it would do.
Our two youngest kids joined us for the trip (youngest = teenagers, in our house). They went with us the last time we went to the Hoover Dam and they were happy to join us again. Well, part of the reason could be that they knew they were going to dinner out. Boulder City is a small city just southeast of Las Vegas that was actual started because of the dam being built in the 1930's.
We've never ate in Boulder City, so I pulled out my phone and let Yelp help us to find a good place. We ended up at Fox Smokehouse BBQ, which had great reviews…and we agree! It was excellent.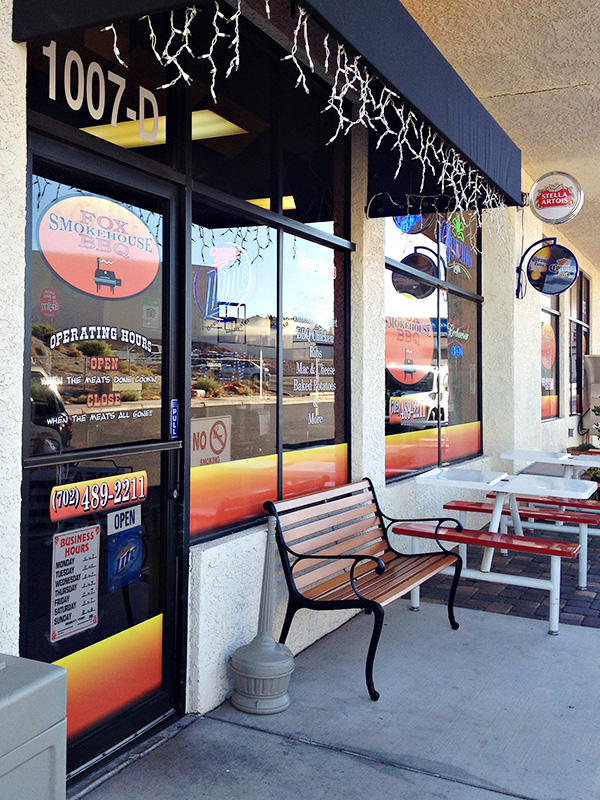 After dinner, we were back on the road to Hoover Dam. It's about 18 minutes from Boulder City and full of gorgeous views of Lake Mead. We were all very comfortable in the Kia Forte — the kids really liked having the center armrest in the back (they like their separate space) and were glad that the armrest had 2 cup holders. Our son, who is fairly tall, was satisfied with the leg room and head room in the backseat.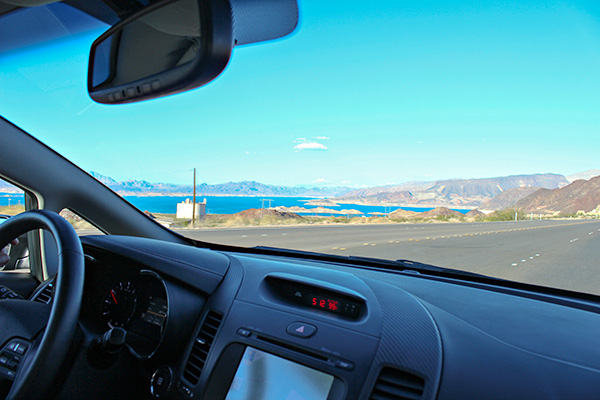 Of course, one of our favorite parts of any of the cars we've test driven is the center console area. We has Sirius XM radio, a rear back-up camera display, navigation, and everything else we've come to expect in the Kia's we've driven. With desert temperatures still at 100 degrees F, the cold A/C was one of my favorite things — especially that we both could have our own individual temperature settings.
Speaking of desert heat, there is one thing I have to share that I wasn't expecting: a cooling glove box! It actually keeps things chilled. How cool is that?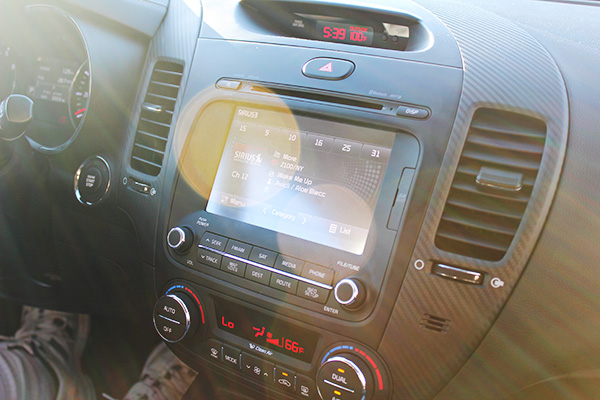 As we arrived at Hoover Dam, we drove across the Hoover Dam, which then puts us into Arizona. See, if you are visiting Vegas, a trip to the Hoover Dam let's you tell all your friends you want to Arizona too!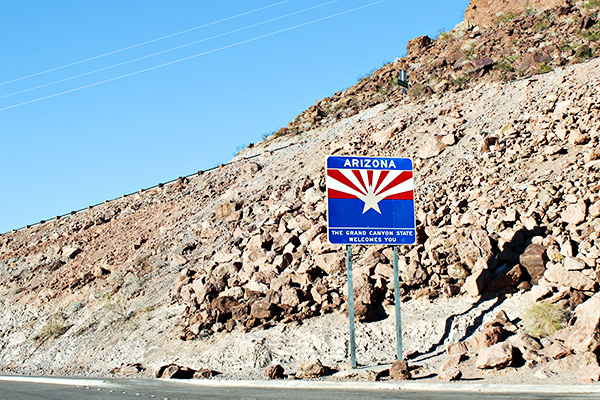 There is multiple parking lots, so if you find one lot full, drive up the road further and you can usually find another parking spot. But, the great thing about visiting Hoover Dam during the middle of the week, after the summer break, and kids have gone back to school, is that it's not crowded at all. We found a parking lot and got out to take some photos — both of Hoover Dam and of the Kia Forte.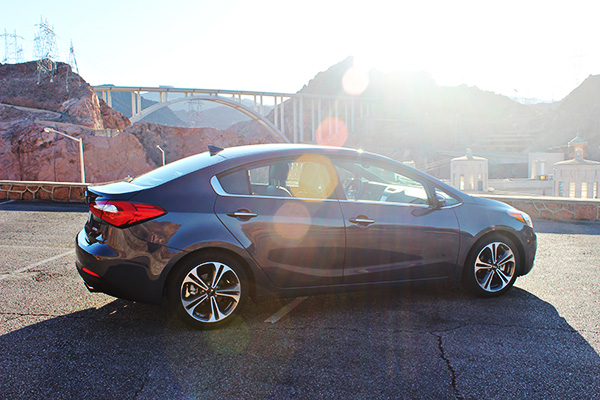 Our top favorite on the outside of the car, which totally affects the enjoyment inside the car, was the power sunroof. We absolutely love having a sunroof and I can't wait to own a car again that does. We also really liked the turn signal indicators that flashed on the side mirrors.
Another major bonus is the power-folding outside mirrors. We can fold the side mirrors in our mini van, but it's not automatic, so we don't do it very often. Having them fold automatically is very helpful when parking in crowded parking lots.
Overall, we like the sleek look of the Forte EX. It's an affordable compact, but it has a nice enough style that made us feel like it wasn't an affordable compact.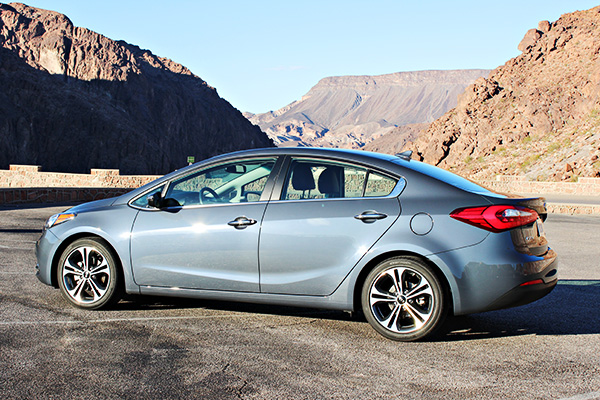 Since David has much more mechanical car knowledge than I do, I asked him for a few immediate thoughts about the Kia Forte that I could share. He mentioned that even though it is a 2.0, 4-cylinder vehicle, he felt that it took off nice from stops and didn't have any issues climbing the hills we encountered.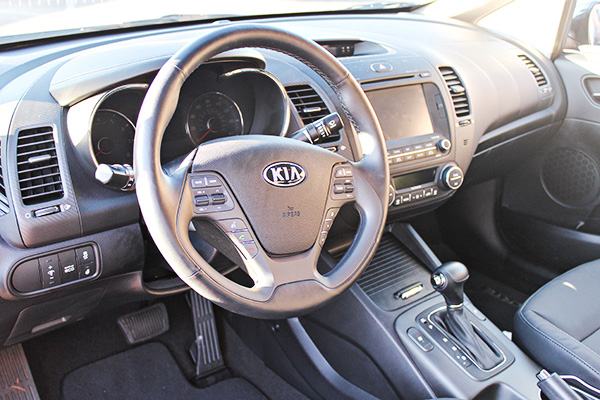 He was also very pleased with the interior, which he described as a "modern look".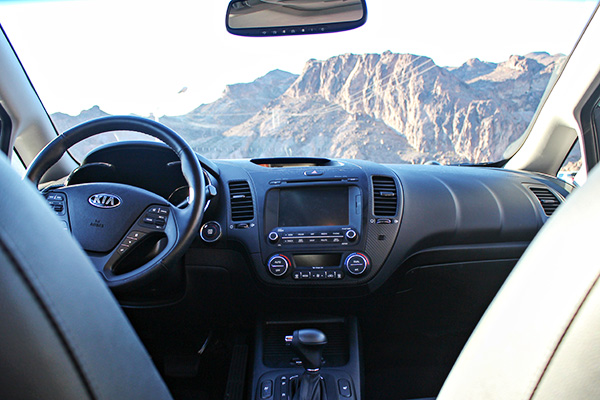 David mentioned that he was happy with the fuel mileage. This is something I never pay attention to, but he tracks the mileage on all of our tanks of gas (gosh, that's something my dad used to do too!). He said it did really well on gas and that it was really nice not having to fuel up before the week ended — even with this trip to Hoover Dam. Of course, we drive a mini van, which isn't as new, but it looks like we were getting at least 22-25 mpg.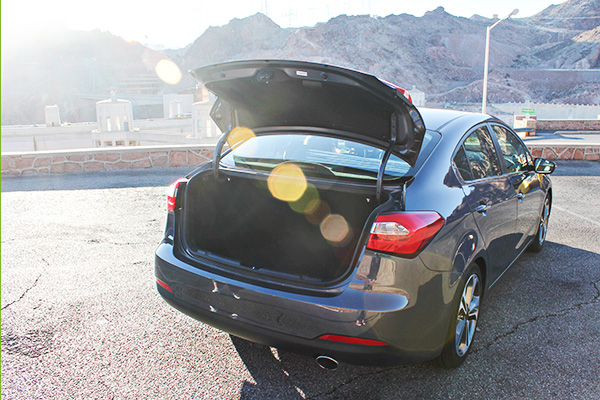 After parking and locking up the Kia Forte, we headed out to check out the Hoover Dam on foot.
Did you know that it's been named one of the Top 10 Construction Achievements of the 20th Century? Once you park, you can walk across the dam. There is plenty of photo opportunities and even restrooms, if you need them.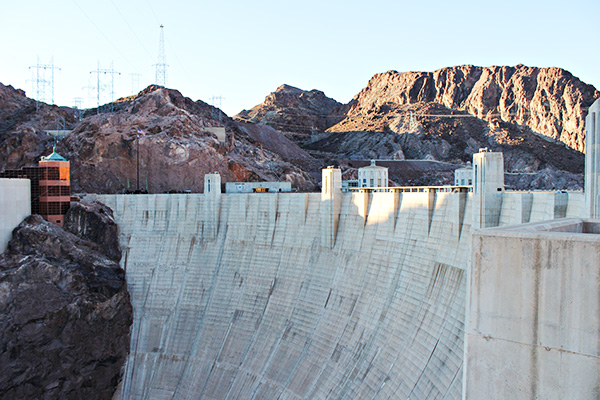 Just looking at this photo below make me a bit woozy! The dam is 726.4 feet tall from the foundation rock to the top. It's such an engineering marvel. If you're interested, there is lots of fascinating Hoover Dam facts on the US Department of the Bureau of Reclamation.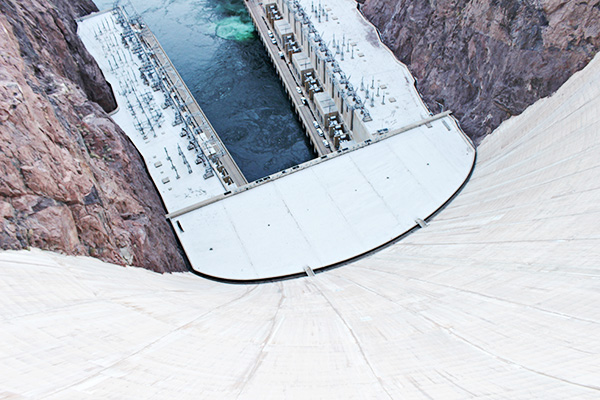 We've heard great things about taking a Hoover Dam tour, including seeing the exhibits, but we didn't plan for that on this trip. The disadvantage of going late in the day, when it's cooler, is that most everything was closed and there was no more tours for the day.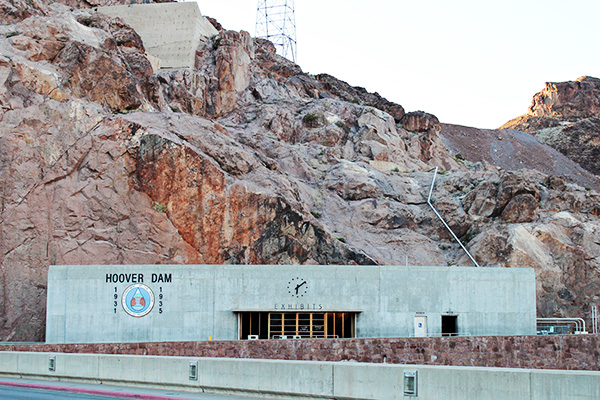 This plaque site exactly in the middle of the Nevada/Arizona state line. This plaque says: "A modern civil engineering wonder of the United States. One of seven selected by the American Society of Civil Engineers, 1955". If you look closely under the plaque, you'll see the words "Nevada" and "Arizona" with arrow pointing each way.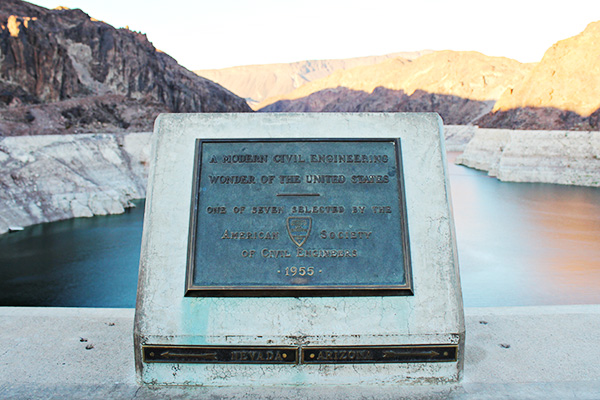 While this photo shows more of the beauty of Lake Mead, it's also sad to see how low the water is now. The top of the water used to sit near the top of the white areas you see on the rock. With the sun setting, it was time to headed back to our Kia Forte for the drive home.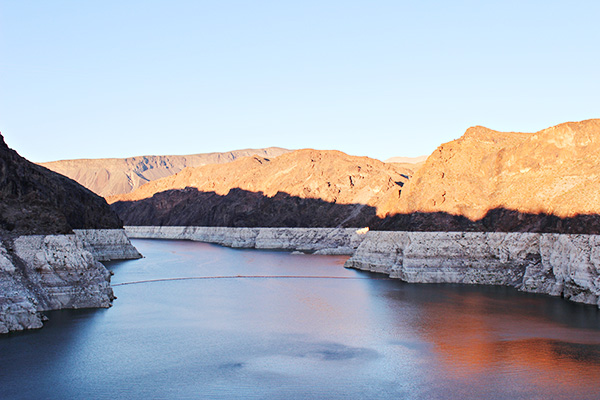 Well, that is, with one quick stop at Chilly Jilly'z in Boulder City for some Dole Whips!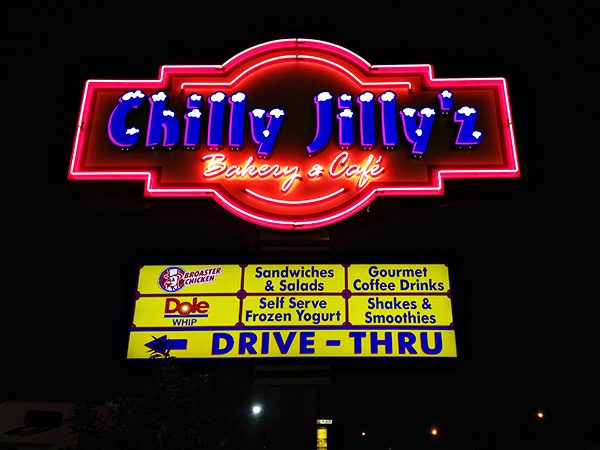 For more information on the 201 Kia Forte, visit www.kia.com
Want to read about some of our other drive experiences?