With thanks to Kia, we were provided with a 2014 Kia Soul for a test drive experience. Here's our thoughts….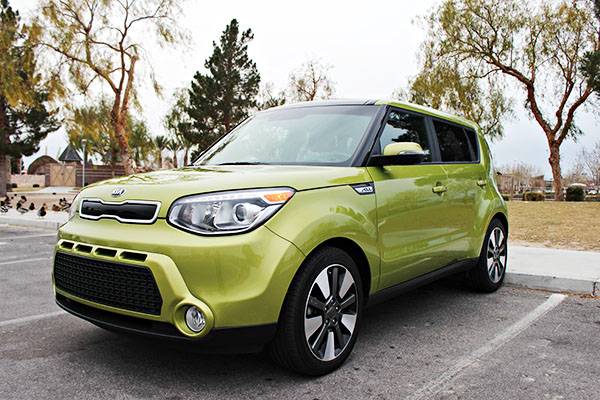 The 2014 Kia Soul makes me wish I could back in time.
As a family of 6 with 4 kids, that range in age from 13-24, the Kia Soul really isn't practical for us as a family car. I mean, it could work, considering that the two oldest kids are often at work or school or doing their own thing, but still, I don't consider the Kia Soul to be the best vehicle for our entire family. It could be a 2nd car, with no problem, but for the main family vehicle I like something that we can all load up in.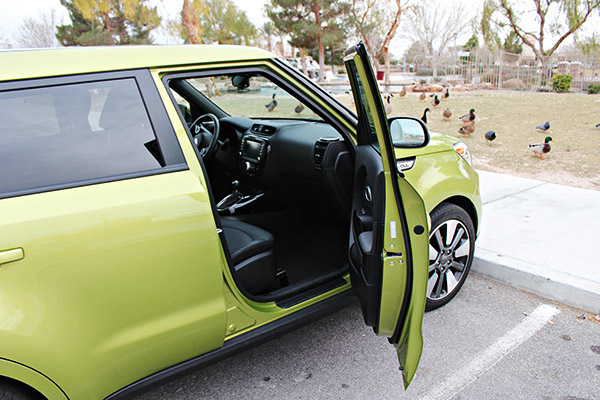 But, I have this belief: if you are right for everyone, then you are doing something wrong. I feel this in regards to to this blog. If our content is right for EVERYONE, or if we are trying to make our content right for everyone, then we are definitely doing something wrong. You can't please all people. And you can't be the right choice for everyone.
And the same is true of the Kia Soul.
It's not the best for our family as the main vehicle.
However, I love the 2014 Kia Soul.
I really, really love it.
I love it so much that I want to take the Kia Soul back to the 90's. Back to when our oldest two kids were little and when this vehicle would have been PERFECT for our small family. Sadly, I know that's not going to happen for us. But, I still had so much fun driving the Kia Soul around for a week, that I have so much good stuff to share with you, and while the Kia Soul won't be perfect for all of you — I know it will be for some of you.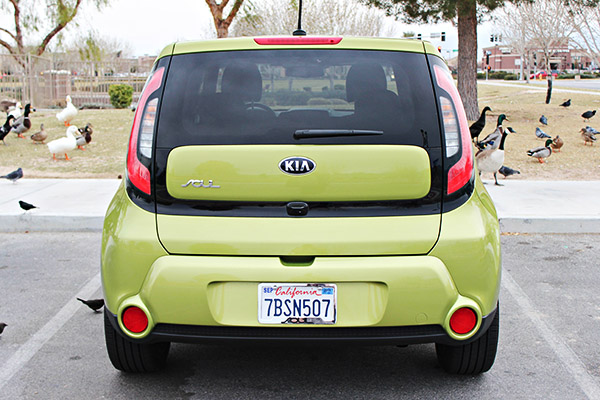 #1. The Look: When the "boxy" car style first came out, I actually didn't like them much. But over time, I've found myself drawn to vehicles — in all size classes — that have a "boxy" look. The updated look of the 2014 Kia Soul is one of my top favorites for a compact "box car". And while you might think "boxy" would give it a rigid look, it doesn't. It has a happy personality, and while "boxy", it has edges that are sleek and a bit curvy. I'm also a fan of the Alien green color.
#2 Panoramic Sunroof: While this isn't standard, I think it's a option you have to go for and I love that it's available. The Kia Soul is a fun car to drive around in no matter what, but add the sunroof? It's like driving a party around. With the shade open, but the sunroof closed, I feel like it makes the car seem bigger inside. Driving down the Las Vegas strip or driving down a scenic road? You'll be happy you have it.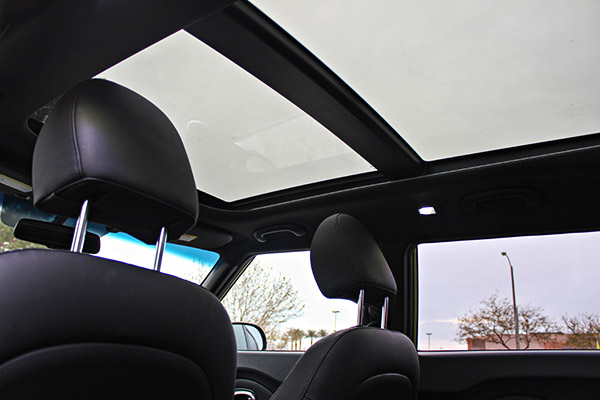 #3 It's compact, but actually roomy inside: One thing I was seriously surprised at with the Kia Soul was how small it looks on the outside (making it so easy to park), but the inside is actually quite roomy inside. We are a tall family (and not the smallest people either) and we were comfortable inside.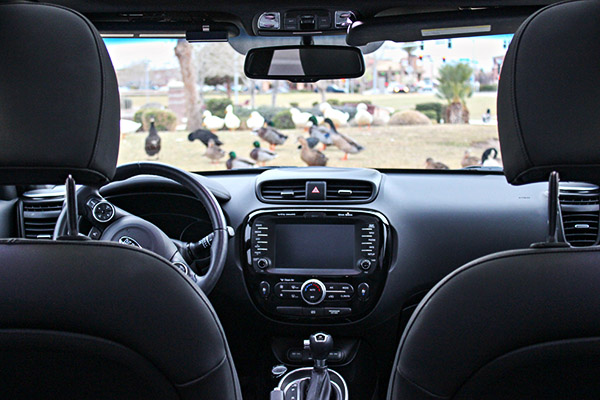 #4 The Hatchback and the Cargo Space: I'm not usually a big fan of hatchbacks. But, see that opening? I love the square-ish shape, making it a smaller version of what I get with my mini van. It has a decent amount of cargo space, but I really like that the backseat folds down, making even more room.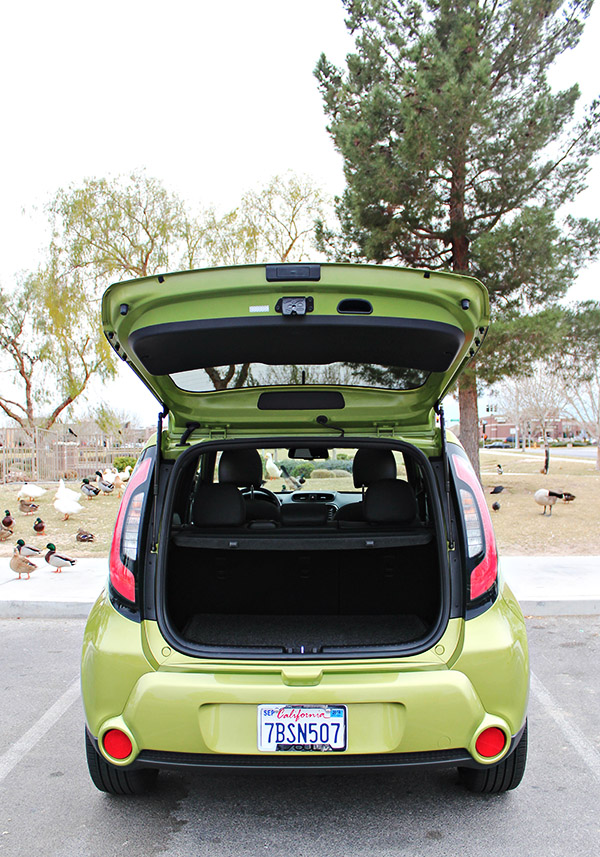 #5 SiriusXM Audio System, Navigation, and a Rear-Camera Display: I know I just lumped together 3 different things, but since they all take place on the display in the dashboard, I thought I would put them together. Having these three thing is now a must for me in a car. We used to have Sirius in one of our previous vehicles, but it wasn't built into the car so we had a separate receiver that I felt was an eyesore. Having Sirius built in is awesome, plus I've come to rely on navigation when we are out-of-town. And the rear-camera display? It's such piece of mind and a great way of be double sure that you are safe to back up.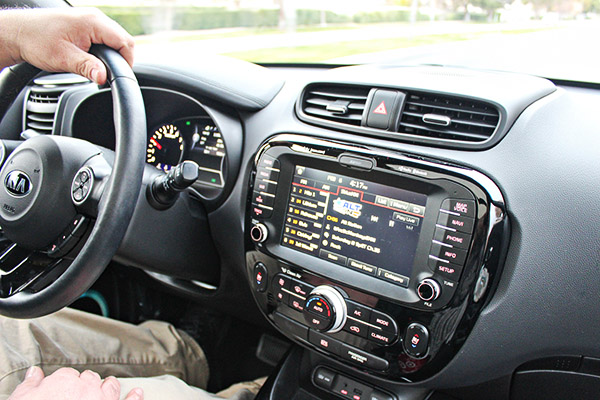 BONUS! Speaker Lights: I can't end this post without a mention one of the coolest features in the Kia Soul. I suppose not everyone will love it as much as I did, but I just thought that this is the best example of how the Kia Soul is a fun car to drive. Right around the front door speakers is lights that pulsate to the beat of your music and change color. The kids loved it!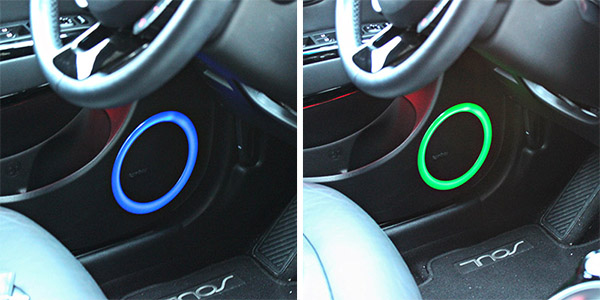 I could go on and on with more reasons I love it (the great price and gas milage come to mind), but I think it's something you'll need to experience for yourself.  Sure, it's not for everyone, but I think it's perfect for someone who is single, a college student, a husband and wife, or a young family. Speaking of which, a friend of mine (who is a wife and mom of 2) was so happy with the Kia Soul, that she bought one for herself. A  couple weeks later, she went back and bought one for her husband! Clearly I'm not the only one who loves the Kia Soul.
For more information on the 2014 Kia Soul, visit www.kia.com
Disclosure: With thanks to Kia, we were provided with the 2014 Kia Soul for this test drive experience