Low on ink or don't want to print all of the pages of a free printables PDF file?
In this post, we'll show you How to Print Only 1 Page of a PDF file from the free printables you might find here at ComicConFamily or other sites.
You can easily print just one page or as many individual pages, as you wish, by selecting the pages in the print dialog. Here's how to print just one page (or more) of a PDF file:
Step #1: Open the PDF file you want to print. After you view the PDF file, you'll see smaller thumbnails of all the pages on the left. Scroll down and make note of the page numbers that go with the coloring page or activity sheet you wish to print (show by arrow #1). For example, to print just Captain America in our Free Captain America Printables, he is on page 2.
Then click the printer icon near the top (as shown by arrow #2).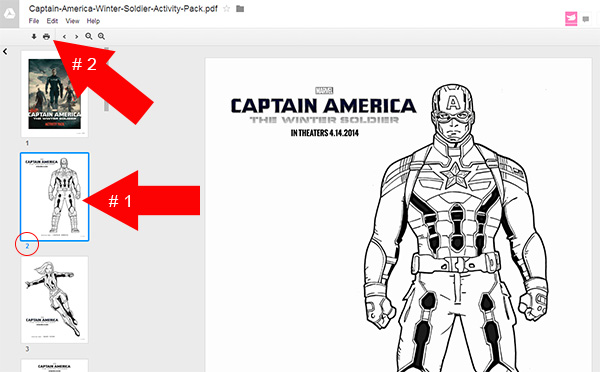 Step #2: The printer dialog screen will now show. In the "Pages" section (shown by arrow #3), click in the bubble next to the rectangle box (under the bubble for "all"), and in the rectangle box, type the page or pages you wish to print. For example, if you want the Captain America Coloring Sheet we showed in the last image, you would type the number "2" in the box.
Note: If you want, multiple pages that are in order, such as pages 2-5, you can type 2-5 in the box. If you want multiple pages that aren't in order — such as you want page 2, but also page 5 — you'll put those numbers in the box, but separated by commas, like this: 2, 5
Click "Print" (as shown by arrow #4). And that's it! The pages you want print and you didn't have to print the pages you don't want.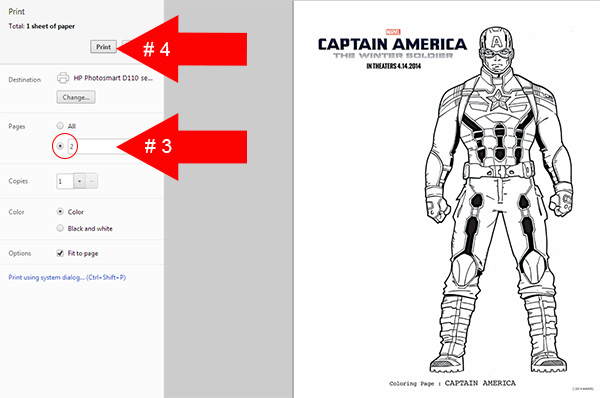 Want FREE PRINTABLE coloring pages & activity sheets?
Click the images below to get our most popular printables: