We're sharing Marvel Avengers Easter Basket Ideas for Kids, plus a DIY comic book basket made from old comic books as part of a #DisneyEaster shop that has been compensated by Collective Bias, Inc. and its advertiser. All opinions are mine alone. #CollectiveBias
Hello Comic Con Families!
I was talking to the my oldest son this week and he asked why Mom had already put up the "Happy Easter" banner.
"Kinda early, don't you think?", he asked. For a split second, I started to agree with him. She does tend to get decorations up early and if she doesn't get them up early, it's usually because I haven't gotten the boxes out from the garage yet.
As I thought for a second, I realized she was actually later than her usual "month before" rule because Easter is on April 5 – and that's only 2 weeks away.
This is where I might tell you that I freaked out. There is so much to do! But, truth be told, I don't do much of the Easter preparations. I do help, but my list is pretty much kept to:
Eating lots of jelly beans.
Shopping for Easter basket stuff.
Putting Easter basket stuff into Easter baskets.
That's what I do. That's the fun stuff.
As some of you might remember, our kids are older, but that doesn't mean a thing when it comes to Easter baskets. In our house, every kid gets an Easter basket, no matter how old they are – and our kids are between 14-24. That equals a lot of Easter baskets over the years and with all that experience, I thought it was about time that I share a fun Easter basket idea here. And the timing was right too – while Brandie and I were shopping at Walmart recently, we saw a whole section of Marvel Avengers Easter Basket ideas for kids. Lots of cool stuff that any Avengers fan would love on Easter morning.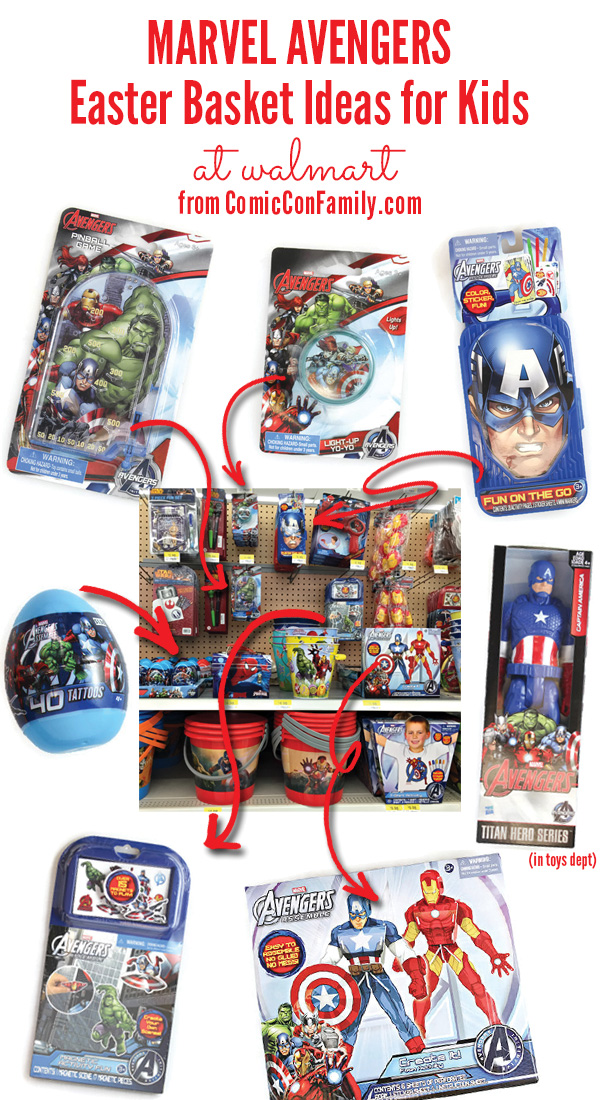 The photo above shows just part of what we found (there was a lot of options – including premade Easter baskets). We had to snatch this up too – a Marvel Avengers Egg Decorating Kit.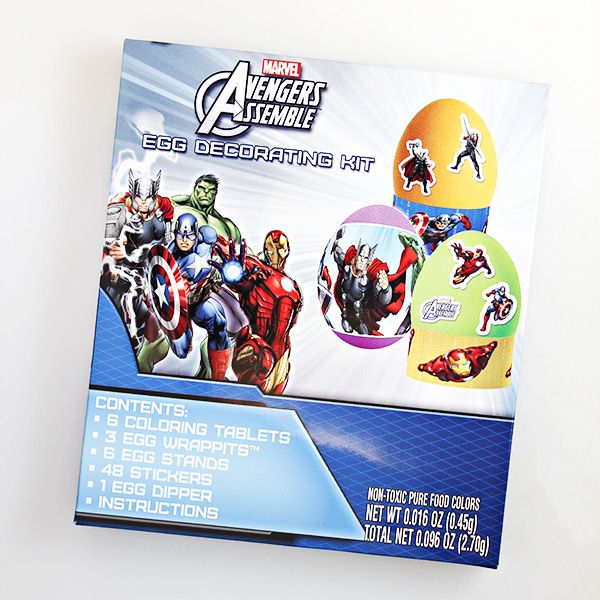 While Walmart had some Avengers themed buckets that would be great for an Easter basket, I decided to make an Easter basket out of old comic books.What I like most about this option is that after Easter, this box can be used to store comic books or anything else. To find out how I made the Comic Book Easter Basket, visit here: DIY Comic Book Basket Tutorial.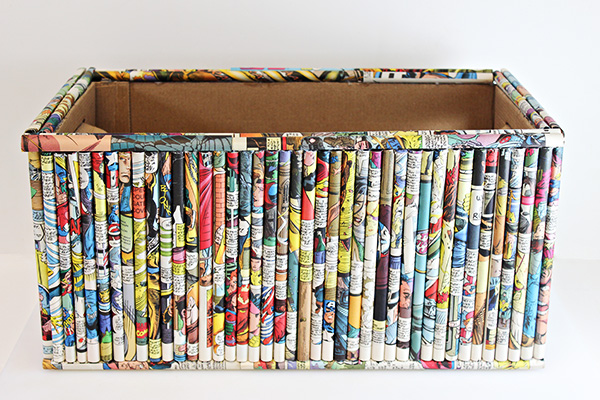 We picked up lots of Marvel Avengers Easter basket gifts at Walmart, but we also bought a few Avengers comic books from our favorite comic book store. I added the comic books, plus our Avengers finds from Walmart into the comic book Easter basket, along with the usual Easter grass.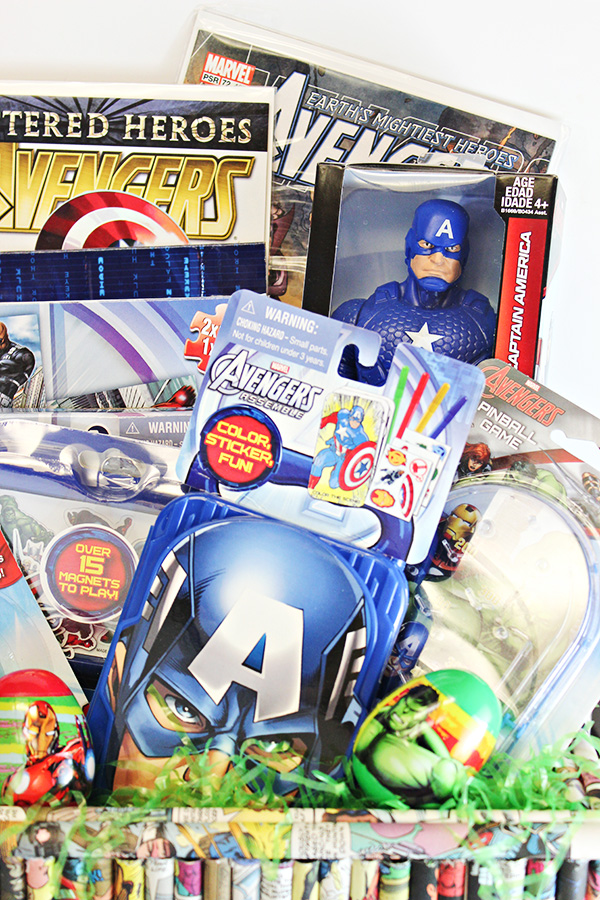 When you go to Walmart to look for these items, check their seasonal Easter area (most everything was there), but also check the toy department. That's where I found the Avengers Captain America action figure and a puzzle.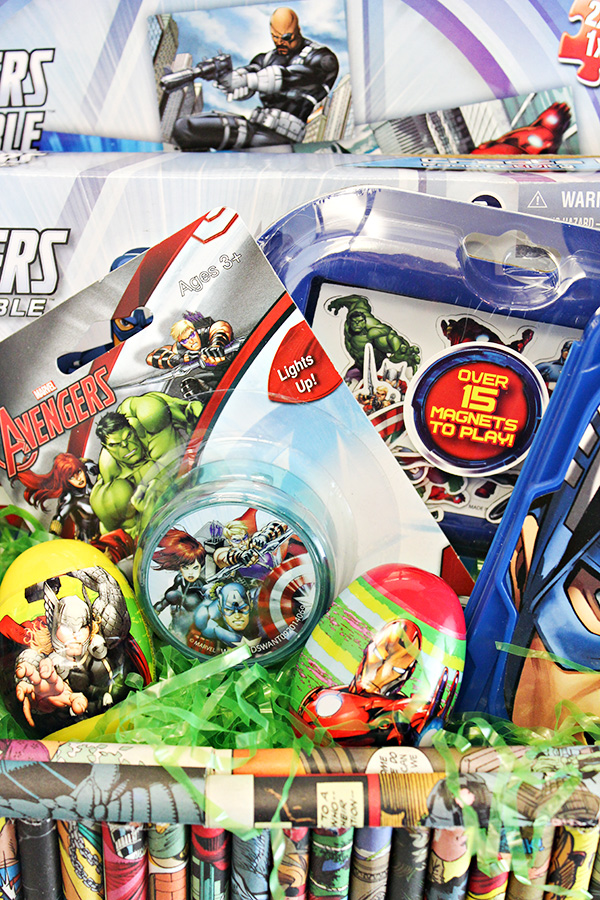 Are Easter baskets a tradition in your house? We'd love to hear how you do things!