Looking for a DIY gift idea for a zombie fan? This Zombie Apocalypse Kit is easy to put together with items of your choice, plus I give you a free printable label for a metal paint can that will hold it all.
TIP: Don't fill it and use as a Halloween trick-or-treat pail to go with a zombie costume!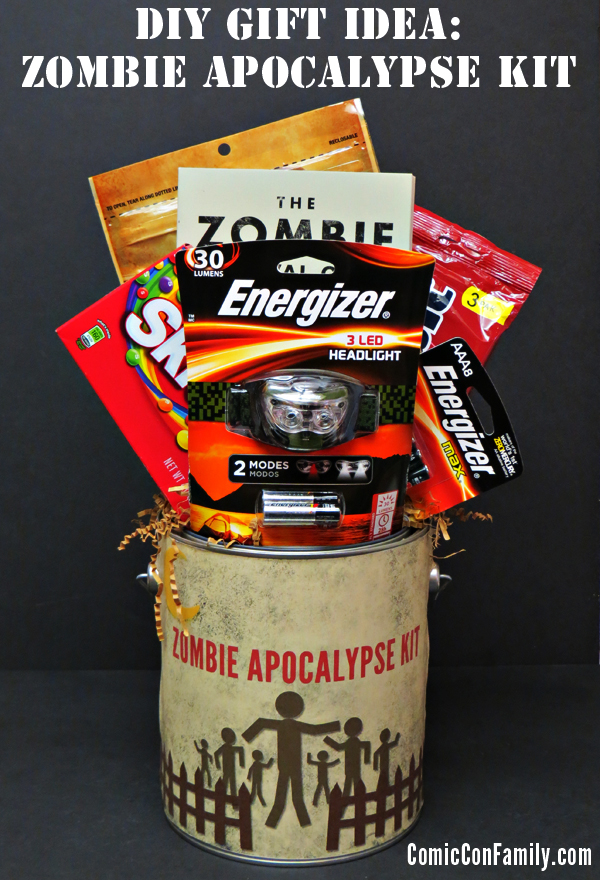 Disclosure: I am a member of the Collective Bias®  Social Fabric® Community.  This shop has been compensated as part of a social shopper insights study for Collective Bias and their client.
It's never too early to prepare yourself for a  Zombie Apocalypse, so I have put together a fun DIY gift for my son that I know he'll love. Unfortunately, it won't actually help him fight off zombies, but for a kids loves zombies (like my son), this is a really fun gift to open up.
The age I have in mind for this Zombie Apocalypse Kit is a pre-teen to teen, but you know your child best and you can always adapt the gift to fit a child younger or older, or even an adult. If you are giving this to someone else's child, you might want to double check that they are a zombie-friendly household.
The main star of my kit is Energizer Headlights. These headlights that give you a bright light and is totally hands-free because you wear it on your forehead. Let's be honest, I've watched enough zombie movies to know that you don't want to be holding a flashlight in your hands. You'll probably drop it and even if you don't, you might want find it useful to have two hands available for protecting yourself. These cool Energizer Headlights will do that.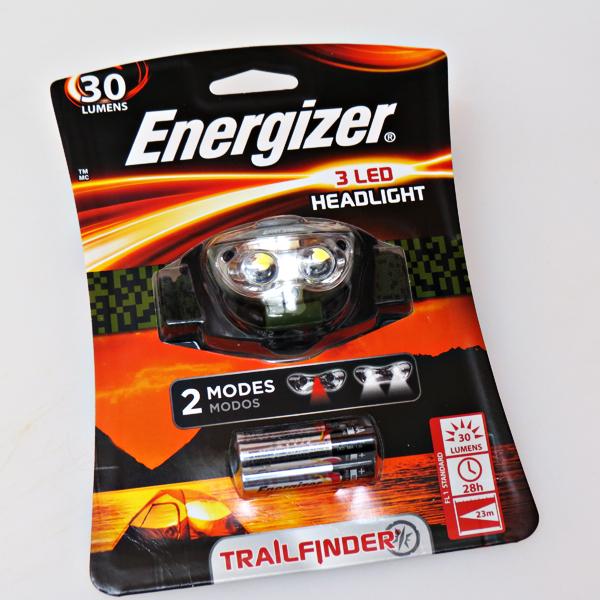 One thing I really like is that the Energizer Headlights don't come with those tiny round batteries, like you get in watches. All the varieties take AAA batteries. So, of course, I had to put an extra pack of Energizer Batteries into the Zombie Apocalypse Kit. Chances are, batteries will be quite popular in a zombie apocalypse, so my son will be set with for a while.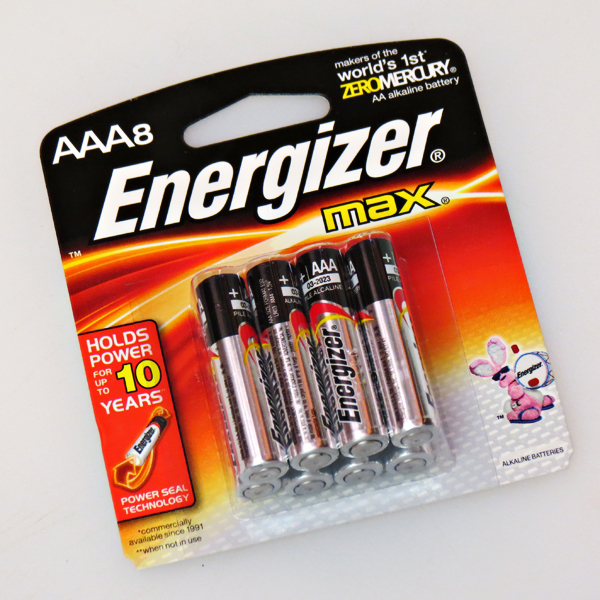 Food is a must in a zombie apocalypse kit. Beef jerky is a logical choice because it's full of protein and non-perishable. Candy may not be nutritionally preferred, but it's an apocalypse — you have greater threats to your health (Skittles, of course, since rainbows will be on short supply). My son will like the gum and he might be able to use it for some resourceful MacGyver tricks (even if he doesn't know who MacGyver is).
Fans of the movie Zombieland will be happy to know I tried to put a Twinkie in the Zombie Apocalypse Kit. But, as you know, Hostess (makers of Twinkies) is no longer in business. So, a Little Debbie Cloud Cake became the substitute. Not sure if Tallahassee will approve or not, but I'm sure I won't hear any complaints from my son.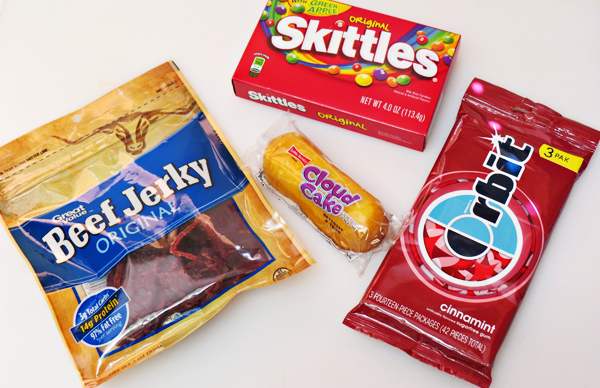 Last, but not least, I bought my son as copy of The Zombie Survival Guide. He requested it from the library, but it's been on hold for a while and I don't want him thinking "if only the my name moved up faster on the request list, I would know what to do". So, I bought him his own copy and I'm sure we'll all be thankful I did.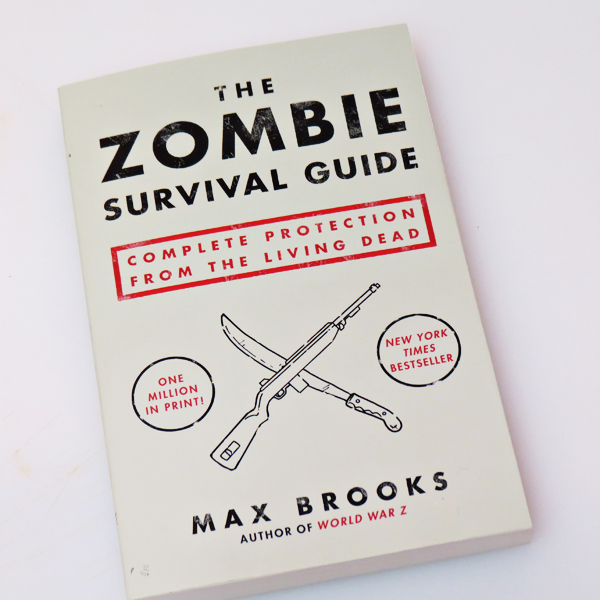 All of this was placed in a empty paint can. You can pick these up at your local home improvement store in the paint department.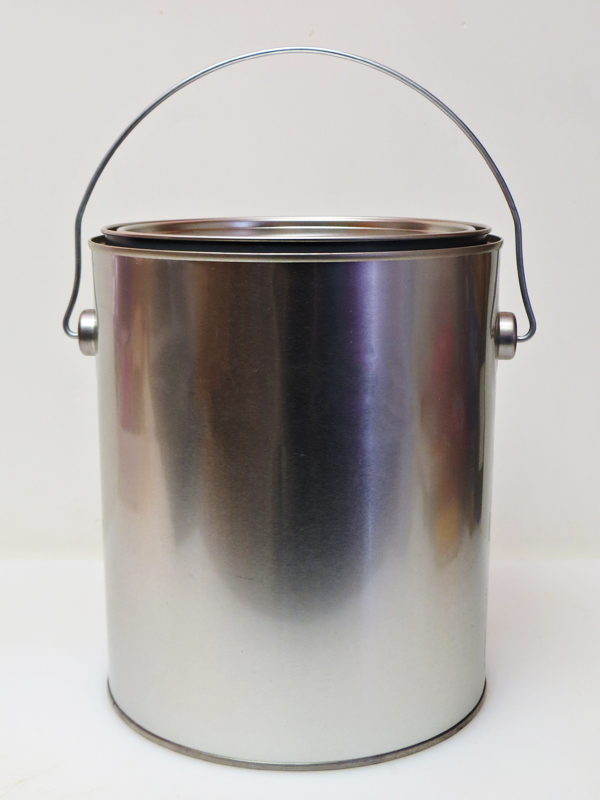 To make the gift more fun, my wife created a free printable Zombie Apocalypse Kit label. It's all ready for you to print, cut, and apply to your can with tape (double sided tape works great). You can download your free printable labels here (all 3 links below are needed for your label):
Free Printable: Zombie Apocalypse Kit Label (part #1)
Free Printable: Zombie Apocalypse Kit Label (part #2)
Free Printable: Zombie Apocalypse Kit Label (part #3)

 My son loved the kit, I'm officially a cool dad. He was most excited about the Energizer Headlight and The Zombie Survival Guide.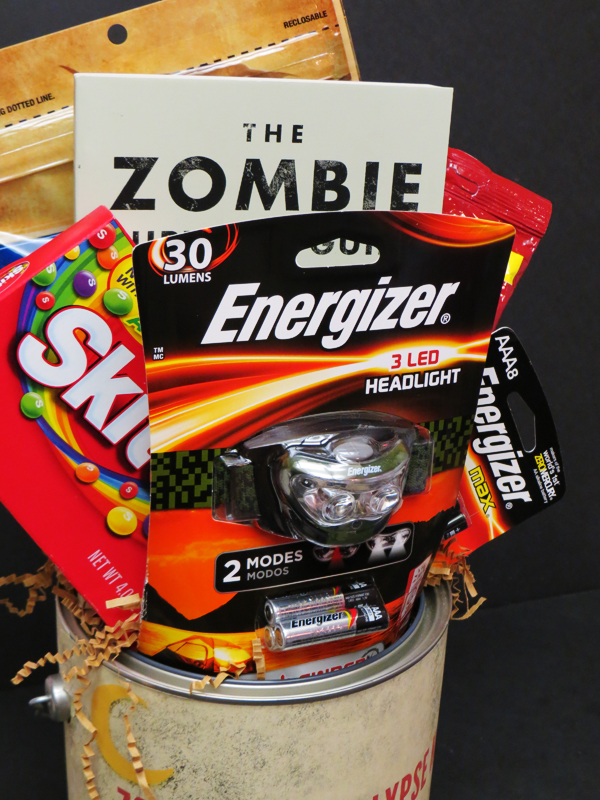 He put the batteries into the headlight and said it was really easy. Although, this wasn't fully tested with a zombie chasing him, so let's hope it stays easy even in challenging situations. One thing he's really like about the headlight is that he can read in the dark. He shares a room, so it can be used on his top bunk without disturbing his brother.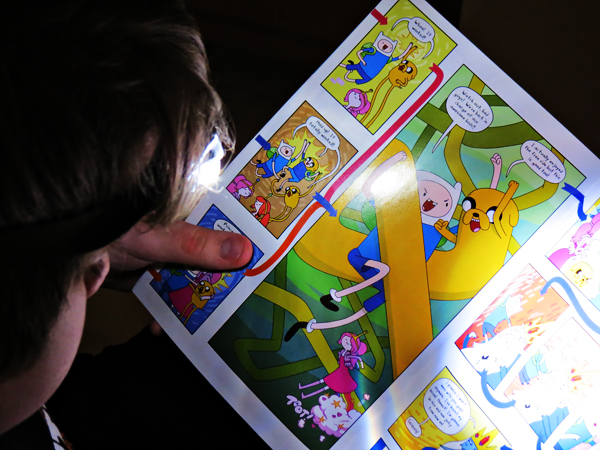 He also thinks the red light on the headlight is "awesome" (which I didn't realize it had a red light on it when I bought it).
I hope you like my idea and find the free printable useful. I'd love to hear your ideas of what you would put in a Zombie Apocalypse Kit, leave a comment below and let me know.
For more info on Energizer Headlights, you can follow them on Twitter @energizer & @energizerbunny and like Energizer on Facebook.