With thanks to Kia & DriveShop, we were provided with a 2016 Kia Kia Sorento SXL for a test drive experience for our 25th Wedding Anniversary Road Trip.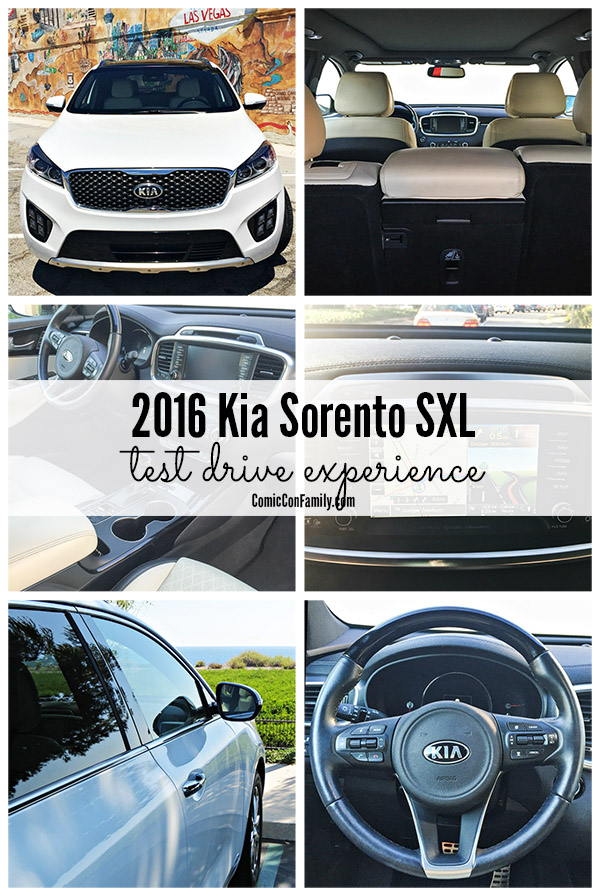 After considering a cruise for our 25th wedding anniversary, David and I ended up taking a much more simple approach to our special milestone: a road trip to California. While a cruise is still very much something we'd love to do someday, this road trip was a perfect fit for us and LOTS of fun. We attended our first Los Angeles Dodgers game together, we saw the gorgeous coastline as we drove miles & miles on Pacific Coast Highway, we went shopping at Daiso Japan, and we had amazing fish tacos and lobster rolls at a small restaurant in Long Beach.
To make our trip even more special, I made arrangement to take a week-long test drive of a 2016 Kia Sorento. Sure, I love our van, but driving a brand new vehicle? That's much more exciting.  Two years ago, we had a week-long test drive with the 2014 Kia Sorento. We loved that vehicle, so testing out the newer 2016 one, was particularly nice since we'd be able to compare the previous model with this one.
When the Kia was delivered to our house, the very first thing I noticed was the beautiful exterior color, which is called "Snow White Pearl". I'm not the biggest fan of white vehicles, but the stunning pearled shimmer within the white paint color was really nice looking.  Another feature that stood out to us when viewing the exterior was the LED Fog Lamps, which are displayed in a 4-light grid on each side. We thought this looked particularly nice, giving it an even more upgraded look. Overall, we enjoyed the stylish exterior of this newest Kia Sorento model.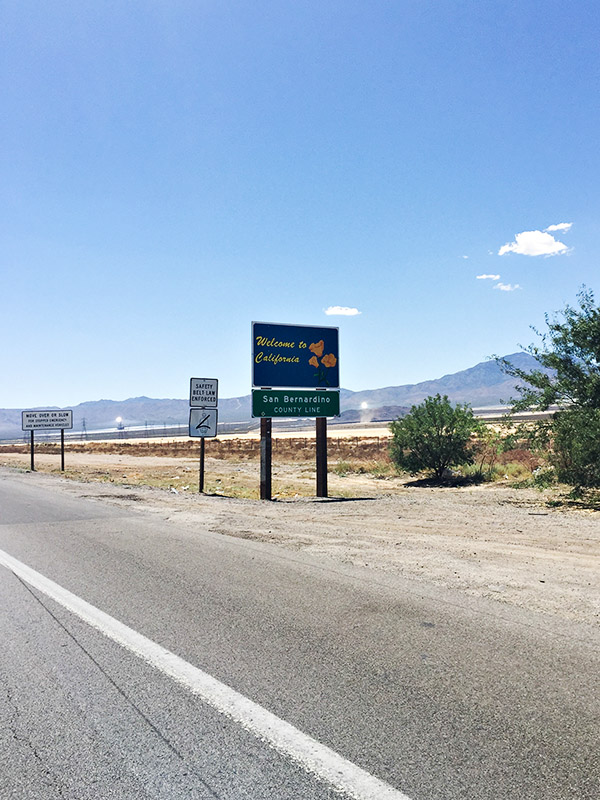 As we crossed the desert from Las Vegas to Los Angeles, the temps were over 100 degrees, but we were cool and comfortable in the Sorento. Years ago, I would have told you that something like dual-zone climate control air conditioning is no big deal, but you won't hear me say that these days. Another cooling feature I love is the ventilated front seats.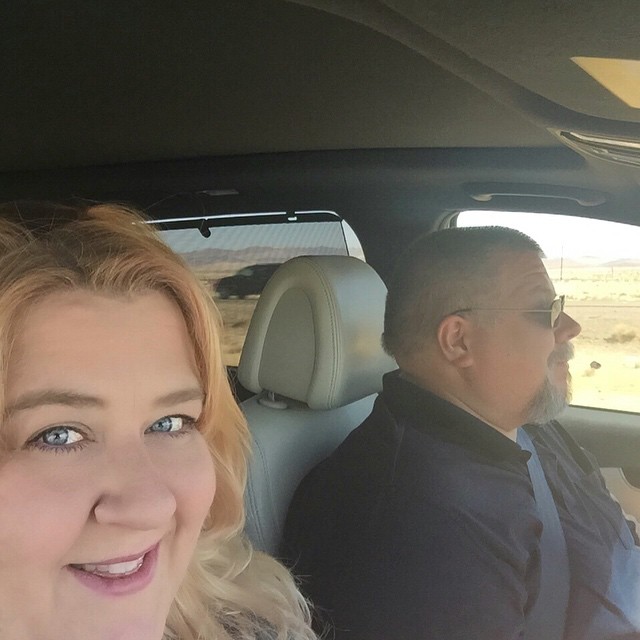 Speaking of the drive from Vegas to California – have you ever driven past Baker, CA & seen the world's tallest thermometer? We almost always stop in Baker during our road trips, so it's iconic favorite of ours. It was actually not operating for about 2 years (2012-2014) because of the expensive power bill, but as you can see, it's shining bright with its high temps!
Of course, there was lots more to the 2016 Kia Sorento interior that we enjoyed.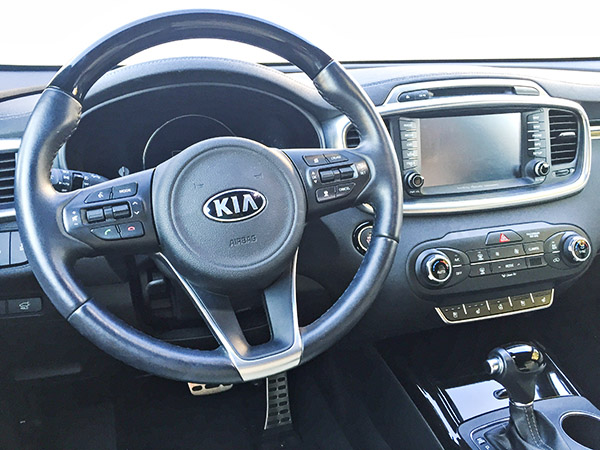 The leather trim seating in both front and back seats makes for a very classy look. David particularly liked the memory driver's seat position. He always likes his seat further back than I do, so there tends to be some bickering in our house with the constant moving and adjusting of the driver's seat in our van (I always have a hard time getting mine just right). With the memory driver's seat position, he could have his perfect position set and I could have mine.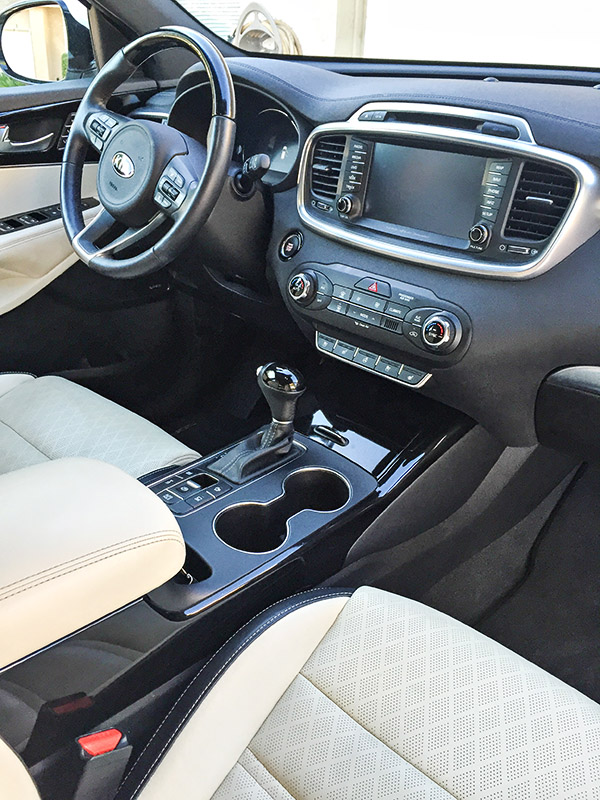 The 2nd row seating is quite roomy. Our adult daughter, who is over 6′ tall, was content because her head wasn't hitting the room of the car and her knees weren't hitting the seats in front. This is always a huge indicator to us if a backseat has enough room, and the 2016 Kia Sorento passed that test well.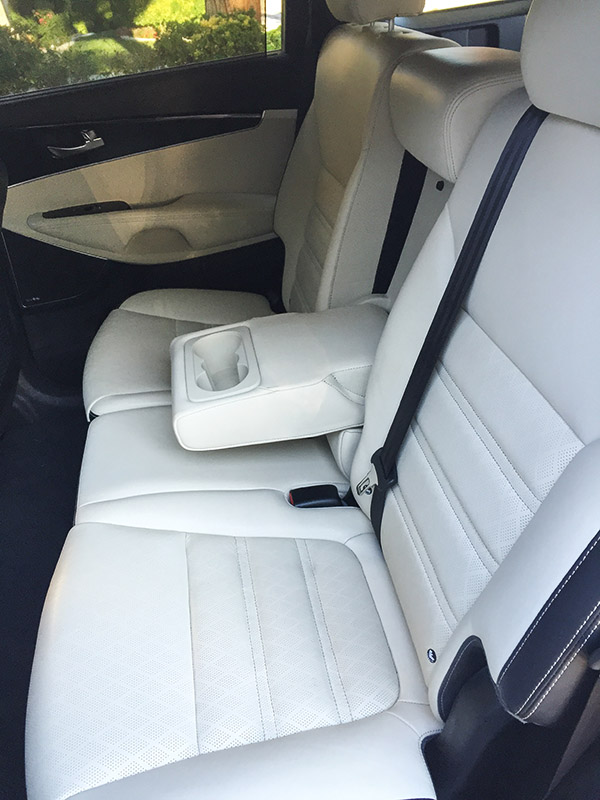 Now, with the 3rd row seating, there definitely isn't as much room. I can see the 3rd row seating only working well for younger children or possibly teens or adults who are much smaller in size. One of our teens is quite petite and she sat in the 3rd row during errands around town and she was comfortable. Our teen son, who is bigger, wasn't comfortable at all.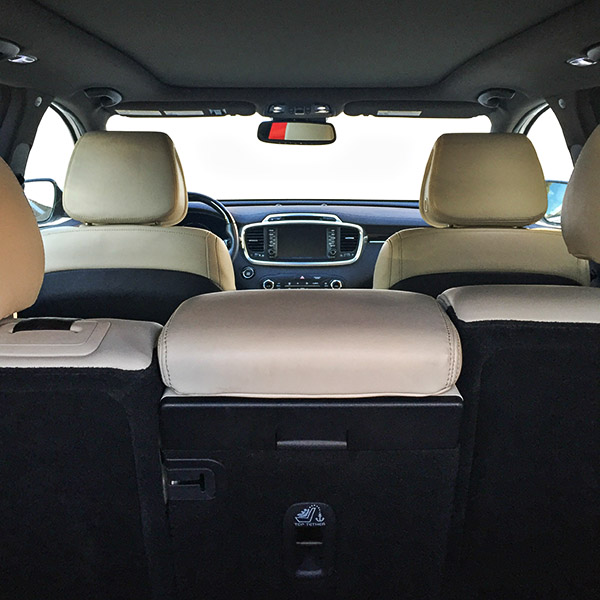 The 2016 Kia Sorento we test drove was also loaded with lots of great tech options. The navigation system (with 8″ screen) was essential for navigating through downtown Los Angeles to get to Dodger Stadium.  The entire UVO eServices  system is awesome, with its voice-command navigation to Google™ Send-to-Carconnect, Bluetooth connectivity, Pandora, and Yelp.
There was so many features I enjoyed, but I think the safety feature I enjoyed the most was the Surround View Monitor. Through multiple cameras on the vehicles, we were able to get an almost 360 degree view of the Sorento. This was a HUGE help with parking. There was even sonar sensors in the bumpers to warn us if we got to close other vehicles or objects.
One of our favorite features in the 2014 Kia Sorento was the Panoramic Roof with Power Sun Shade, so we were so happy to see that the 2016 model we tested also had this. It was cool to drive Pacific Coast Highway with it open, with the salty, cool breezes coming in and the palm trees overhead.
While blue skies are awesome, when we arrived back home, a storm came through Vegas and it was equally as cool to have the sun shade open — but the roof closed — while it rained. The panoramic roof is one of the best selling features of the Kia Sorento — this alone makes me want one.
I've had a few people asking me about the cargo space on the 2016 Kia Sorento, so I thought I would show a peek at our big grocery shopping we did with 3 of our kids after we arrived back home.
As you can see, there isn't a lot of cargo space in the back. But, with the 50/50 split folding 3rd row seat, we had plenty of room. If you plan to use the Sorento with the max 7 seats AND utilize the cargo area, you will likely have some challenges. But as long as you only have 5-6 passengers, you'll be able to fold down 1-2 of the 3rd row seats which will give enough room for groceries, luggage, or other cargo.
Overall, we loved our 2016 Kia Sorento test drive. If we were going out today to buy a new car, this SUV crossover would definitely be a major top contender for us. If you are seriously considering the 2016 Kia Sorento, but have some additional questions about it, please don't hesitate to leave us your questions in the comment area below. Our week-long test drive gave us some great real-life experience with it and we're happy to try to answer your questions.
For more information on the 2014 Kia Sorneto at www.kia.com
Disclosure: With thanks to Kia, we were provided with the 2014 Kia Sorento for this test drive experience