We were provided with a Kia Sedona SX-L for a test drive experience for our family road trip to Arizona. Here are our thoughts on the features we found most valuable.
Disclosure: With thanks to Kia, we were provided with the 2015 Kia Sedona for this test drive experience
I love how crazy our entire family is about road trips. Even if the destination isn't Comic-Con, a theme park, or some other amazing destination, our kids are just thrilled with loading up the car and hitting the road.
Last September, David and I were traveling to the 2015 Blended Conference — a great blogging conference in Arizona. The hotel room we booked was a good-size suite, so even though we'd both be busy with the conference most of the time, we decided to make it a family trip with our kids. And remember, in our family when I say "kids", I'm talking teens and young adults. Three of our kids went: our 25 year old, 17 year old, and our 14 year old.
There was many great things about our Arizona road trip, but one of the highlights was the vehicle that we were able to drive. I made arrangement to take a week-long test drive of a 2015 Kia Sedona SX-L. Now, we've shared our love of the Kia Sorento and honestly, I thought it would be hard to top. But, as a mini van fan, I fell in love with the Kia Sorento.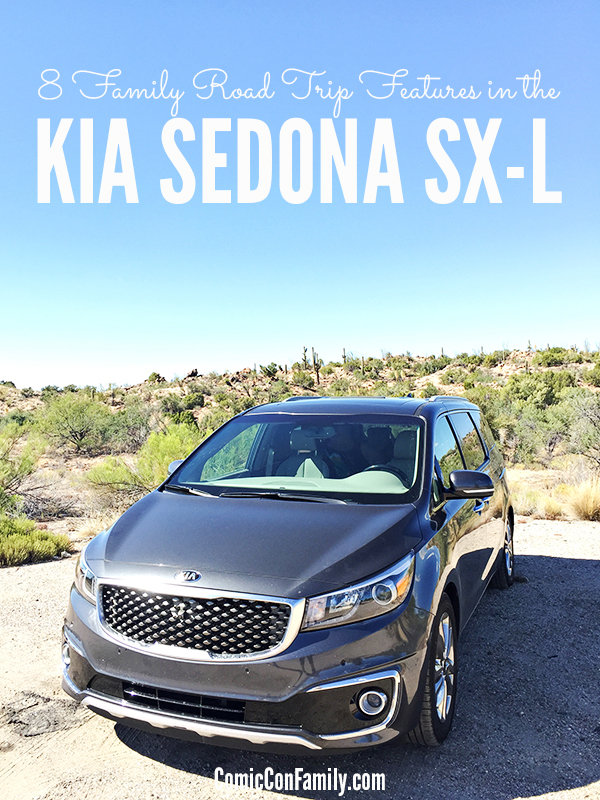 There is so much I could share about the Sedona that made me happy, but I decided to share with you some of the features I loved most from a road trip perspective since that's how we used it the most. There was a lot about the Sedona that really what made our road trip even more fun and enjoyable — road trip worthy, I like to say.
8 Family Road Trip Features in the Kia Sedona SX-L
Safety features: Before road trips, I usually have gloomy, negative thoughts. Will be get into a car accident? Will we be safe and arrive at our destination without problems? We're safe drivers and we take all the usual precautions, but you can't plan for everything and you can't always predict what other drivers will do. There was several safety features that really set my mind at ease: a lane departure warning system, forward collision warning system, smart cruise control, and blind spot monitoring. This didn't change our usual safe-driving practices, but it gave that extra peace of mind. The safety features alone have me wanting to buy the Kia Sedona even more.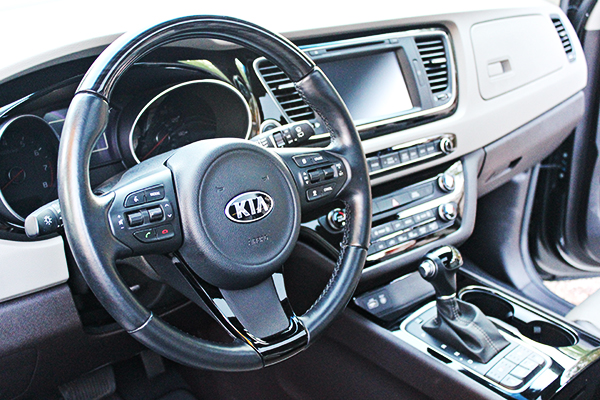 Dual Sunroofs: We've driven in plenty of cars with sunroofs, but TWO sunroofs so even the backseat passengers can enjoy the view…even more awesome. Our favorite thing? Driving at night, when the weather is cooler, and opening up the sunroofs.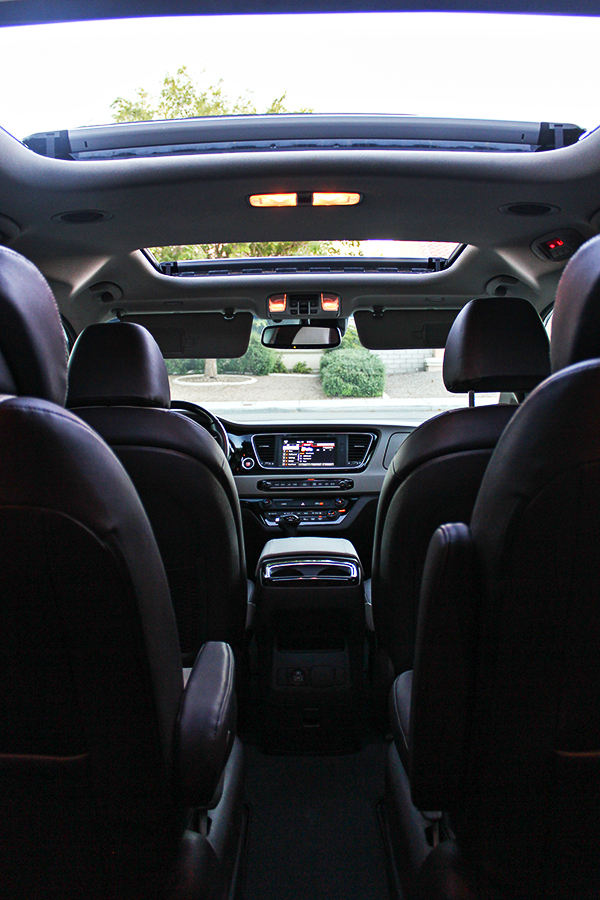 Comfortable & Roomy for Passengers: In some vehicles, the seats in the front get all the fun. But in the 2015 Kia Sedona SX-L, the passengers in the back get luxury as well. The 2nd row seats are heated. Yeah, we didn't need it during this trip, but in the winter, the kids would have loved this. Also, the 2nd row are recliners with adjustable lower leg support (I forgot to take a photo with the bottom leg support up). There is also lots of room. Most of our kids are tall — were talking 2 teenagers and a young adult on this particular trip — and they got the room they needed in the Kia Sedona.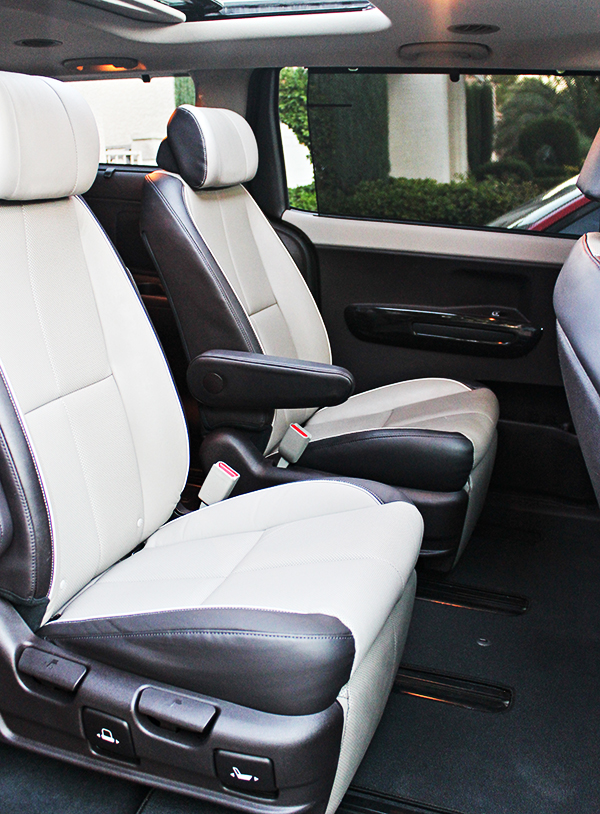 Premium Navigation: One of the features we used the most on our Arizona road trip was the navigation. The Phoenix valley is a big area, with lots of traffic, and the navigation system helped get where we wanted to go as efficiently as possible.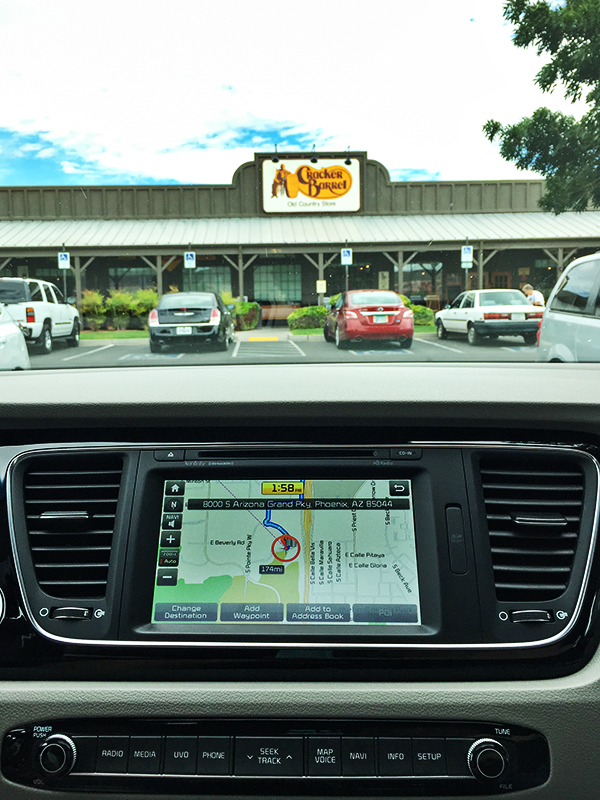 Audio System with Touch Screen Audio Display: Music is always a big part of our road trips. We have SiriusXM® in our  own van, so we've become accustomed to having it for road trips. We loved that we were able to use it for this trip too. Our kids also like put together playlists for our road trips, so hooking up their devices via the bluetooth was used a lot on our trip.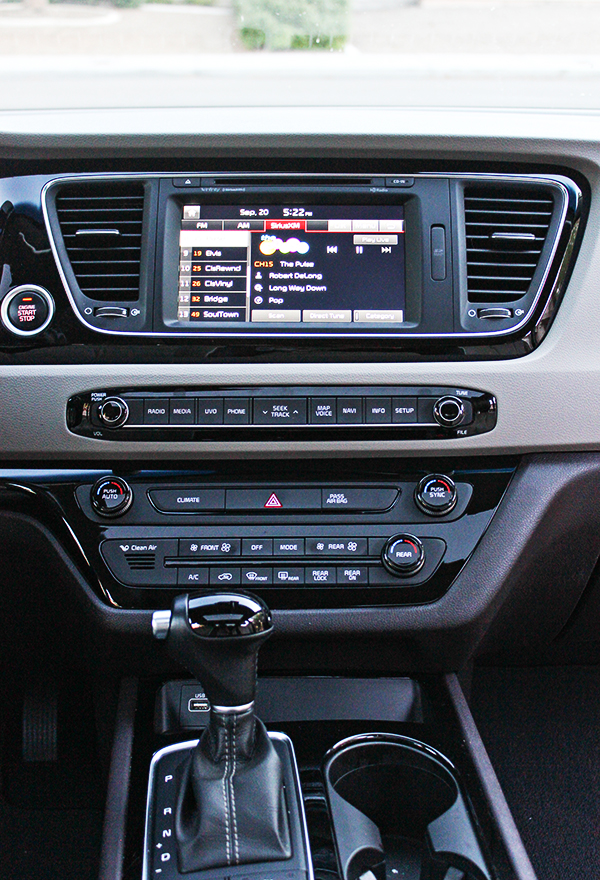 Front & Rear Parking Assist System: I'm not bad at parking, but I'm not the best. It's not uncommon for me to have to back up and pull in again to get my parking just right. Our current van has a back up camera that I use constantly, but the 2015 Kia Sedona has BOTH front and rear parking assist systems. This was incredibly helpful because while most of the place we visited in Arizona has your usual parking spaces, there was some places that had very tight parking. The parking assist systems made parking so much easier.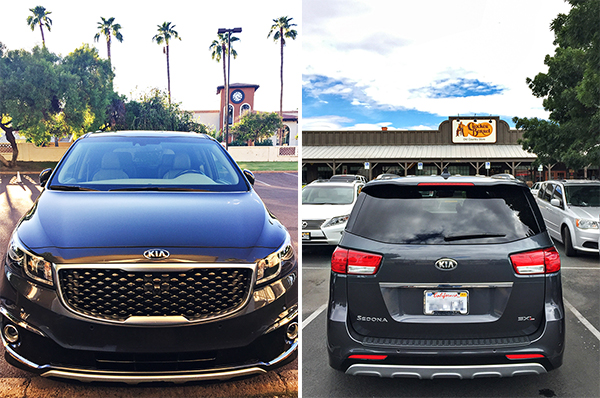 Rear Air Conditioning: I don't want a van without rear air conditioning. Plain and simple. And, I can't even imagine driving across the Vegas to Phoenix desert without rear air conditioning. Last summer, our rear air conditioning went out on van and it's wasn't fun in our Vegas heat. Having the rear air conditioning makes summer road trips (or September road trips where Arizona is still hotter than the rest of the country), much more bearable. Also, our kids usually feel that their dad and I set the thermostat in the front way too cold, so they can adjust to their preference and everyone is happy.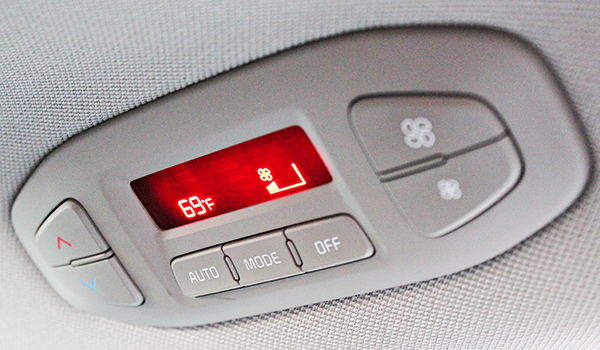 Cargo Space: I've been a mini van driver for many, many years, which means I'm a bit spoiled when it comes to cargo space and the Kia Sedona cargo space didn't disappoint. There was lots of space, so getting all our luggage in (luggage for 5 people for 1 week) was no problem. The split 3rd row seat was also helpful. While I think we could have gotten our luggage in without folding the seat down, it was nice to have that option (since we didn't have anyone sitting there anyway). Also, the 3rd row has the "fold-in-the-floor" feature, if you wanted even more room.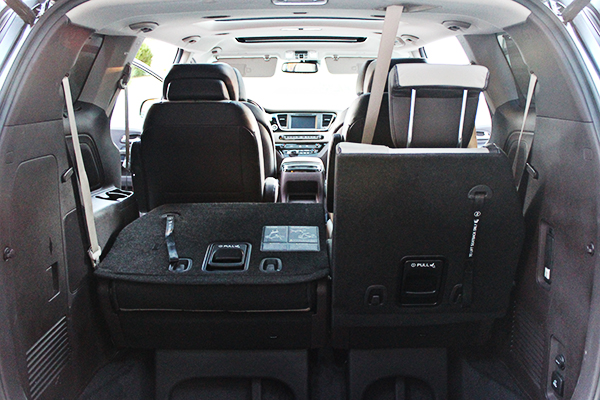 The biggest test, though, was when we headed home. We always come back with more stuff after our road trips. Between shopping trips to IKEA and malls, plus swag from the Blended Conference, we needed all the extra space we could get.EVERYTHING fit and we could have added even more.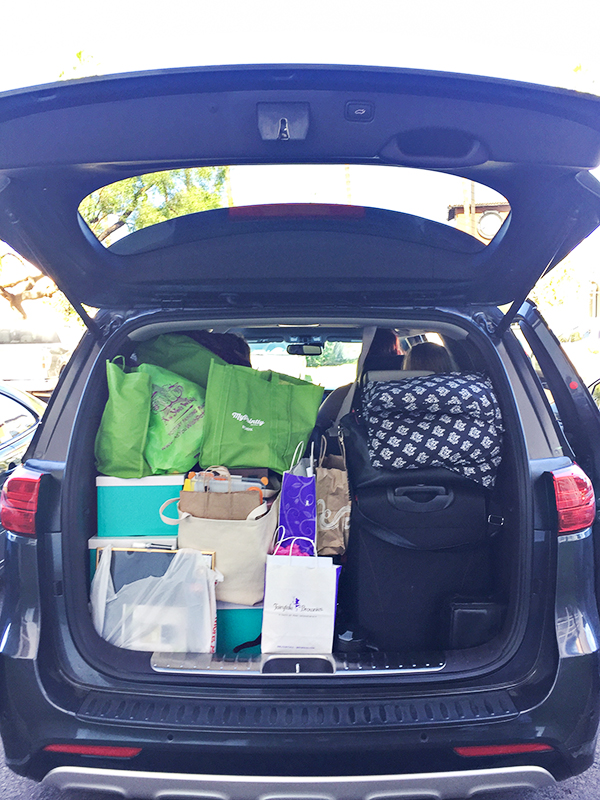 Giving back the Sorento at the end of our week-long test drive experience was HARD. But having a real-life 1-week experience with it was awesome. Sure, I would have been impressed with the Sorento in a short test drive near a dealership, but taking it on a road trip and being able to experience it for real with my family, truly made me a fan.
For more information on the Kia Sedona at www.kia.com