Have kids that love the Trolls movie? Here's a fun Trolls Movie Night Popcorn recipe – perfect for family fun night, birthday parties or slumber parties!
This post contains some affiliate links for your convenience.  Click here to read our full disclosure policy.
The Trolls movie is now available on DVD & Blu-ray, which means lots Trolls movie nights are going to be happening! If you brought home Trolls and are planning your own neon-filled movie night, we have the perfect movie night treat for you: a bright and colorful Trolls Movie Popcorn recipe!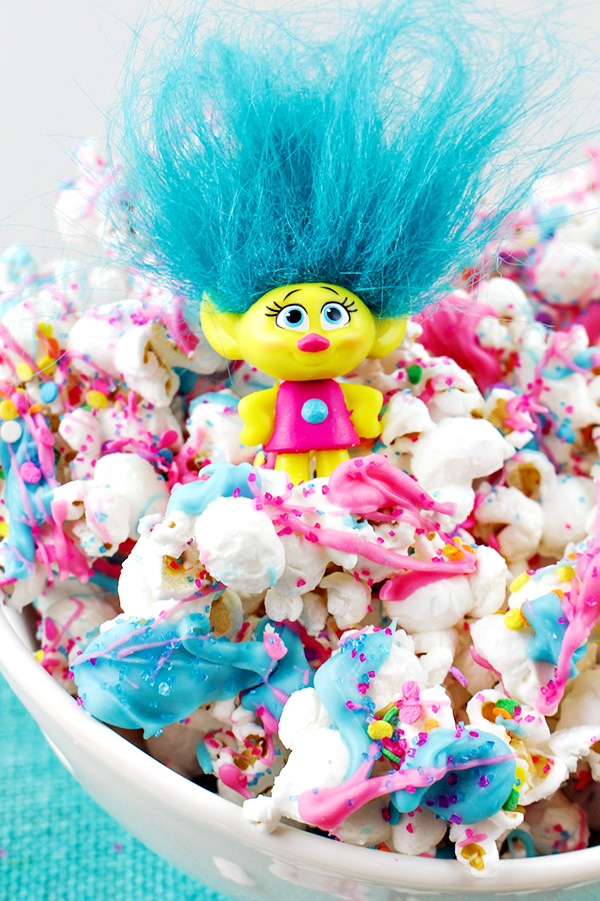 This fun recipe is easy to make and the kids can help to make it too (with adult supervision, of course). While we think it's excellent for family movie nights, it's also a fun treat for a Trolls birthday party.
To make this Trolls Movie Popcorn recipe, you'll need a few ingredients: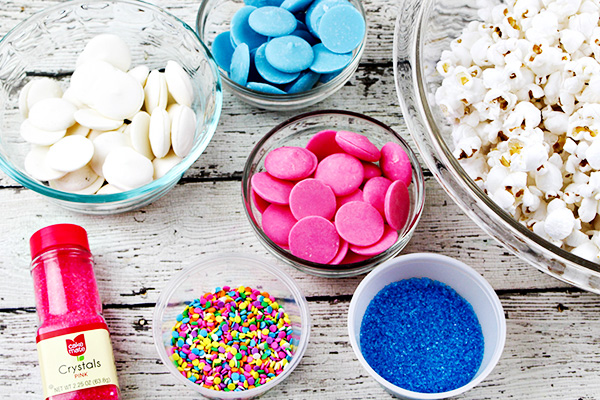 You'll start off by popping your popcorn kernels and placing your popped popcorn in a large mixing bowl. Melt the white chocolate melts in a microwave-safe bowl and once they are fully melted and smooth, pour it over the popcorn.
With a rubber spatula, carefully turn and coat the popcorn with the melted white chocolate until nearly all the popcorn is coated. Be sure to do this carefully — not only is the melted white chocolate hot, but you also want to avoid breaking up popcorn.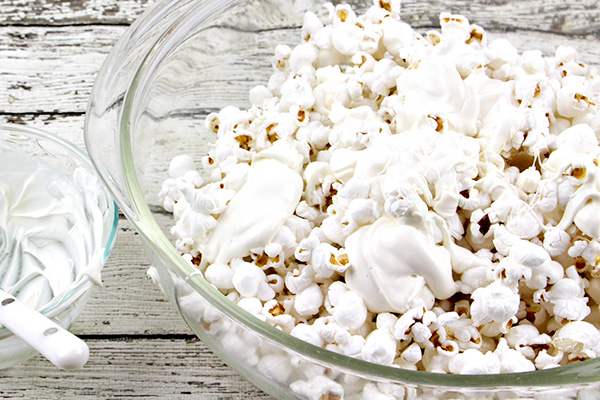 Pour the white chocolate coated popcorn onto a parchment or wax paper-lined baking sheet. Spread out the popcorn evenly with the rubber spatula. Working quickly, generously sprinkle the top of the popcorn with 3 different kinds of sprinkles before the white chocolate cools and sets. There is no right or wrong types of sprinkles to use, but we recommend using a pink sugar, a blue sugar, and pastel sprinkles.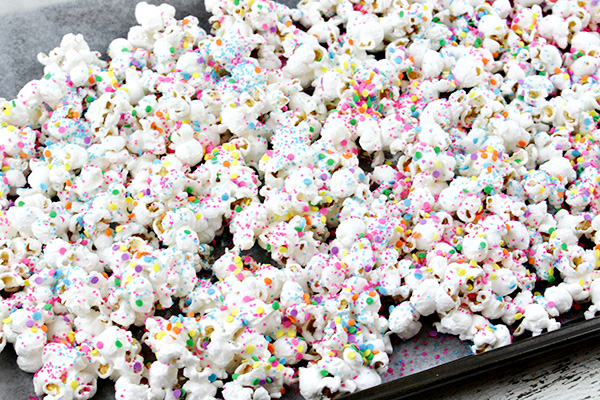 In another microwave-safe bowl, microwave your blue chocolate melts until fully melted and smooth. With a spoon, drizzle the blue melted chocolate all over the popcorn.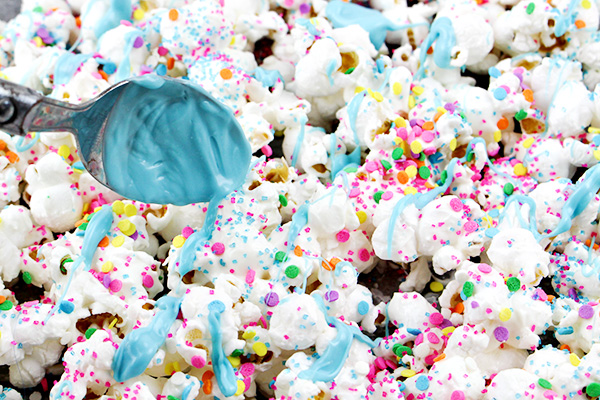 Repeat the same steps with pink chocolate melts.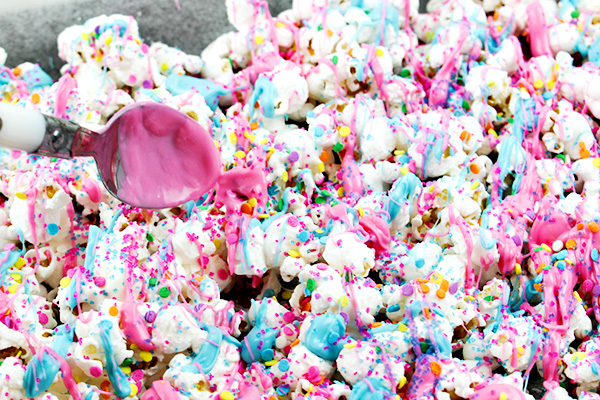 Once you are done drizzling with both colors, you can add additional sprinkles, if you wish, and if the candy melts haven't fully set. Once everything has fully set, you can separate the popcorn into pieces and place in a bowl for serving.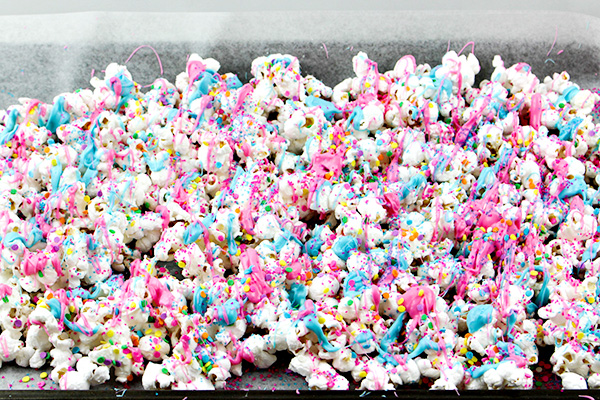 Of course, you can use any bowls you have on hand, but if this is for a movie night or birthday party, large neon colored snack bowls would be fun or you could even use small party cups in neon colors if you are serving a large group of kids.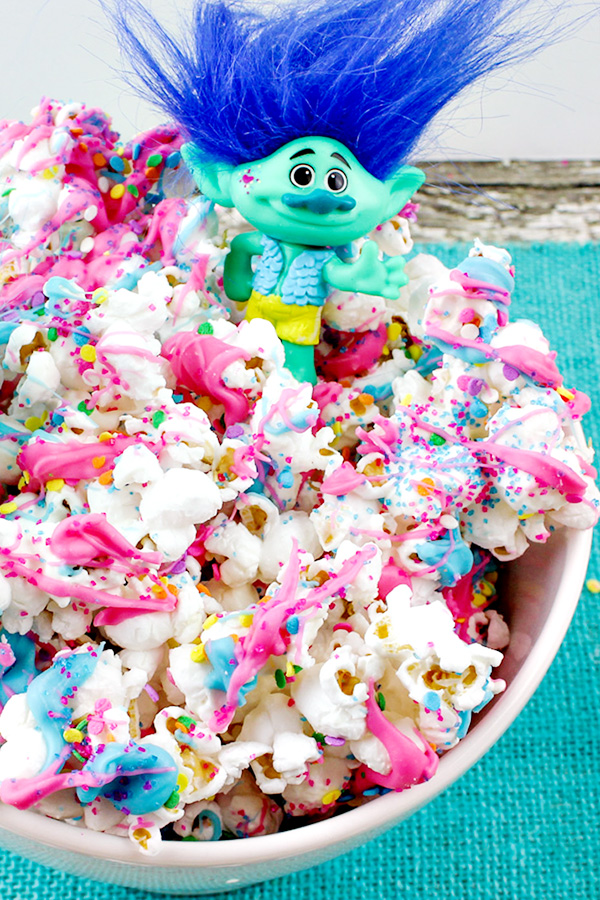 Trolls Movie Night Popcorn Recipe
Here's the complete instructions for making your own Trolls Popcorn! Feel free to print or save it to your Pinterest board.

Trolls Popcorn
Ingredients
1 cup Wilton bright white chocolate melts
10-12 cups plain white popcorn (no butter variety)
⅓ cup Wilton bright pink melts
⅓ cup Wilton light blue melts
Hot pink and blue sprinkles
Pastel confetti sprinkles
Instructions
DIRECTIONS
Line a large baking sheet with wax or parchment paper and set aside.
Place popcorn in a large mixing bowl and set aside.
In a microwave safe bowl, microwave the white chocolate melts for 45 seconds. Remove from microwave and stir. Depending on your microwave wattage, you may have to microwave in additional 10 second increments until completely melted and smooth.
Pour the melted white chocolate all over the popcorn and toss to coat.
Transfer the popcorn onto the lined baking sheet and spread out evenly with a rubber spatula.
Before the white chocolate sets, generously add the sprinkles on top of the popcorn.
In a microwave safe bowl, microwave the blue chocolate for 45 seconds. Stir until melted and smooth. Drizzle the melted chocolate all over the popcorn.
In a microwave safe bowl, microwave the pink chocolate for 45 seconds. Stir until melted and smooth. Drizzle the melted chocolate all over the popcorn. Add additional sprinkles, if desired.
ENJOY!!
Store in an airtight container up to 2 weeks