Disney's Phineas and Ferb have come to Subway restaurants with free printable activities and a free download in each Fresh Fit for Kids™ meal!
Our son has been a Phineas and Ferb fan from the start — we recently even went to the Phineas and Ferb Live Tour. We know many of you are are too, so we wanted to be sure to share this.
For a limited time, each SUBWAY FRESH FIT FOR KIDS™ meal at Subway comes with a fun reusable Phineas and Ferb lunch bag. There will be six different bags available.

The lunch bags are pretty cool by themselves, but each bag also comes with a code for a free 99 cent Phineas and Ferb download — with it, kids can download things like the "Where's My Perry?" app, music, episode downloads and more.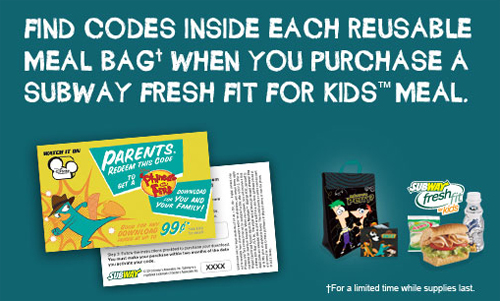 Each bag also comes with a cool make-your-own wallet project. This lunch bag with  is the one that my son wants the most — can you tell he's a Perry fan?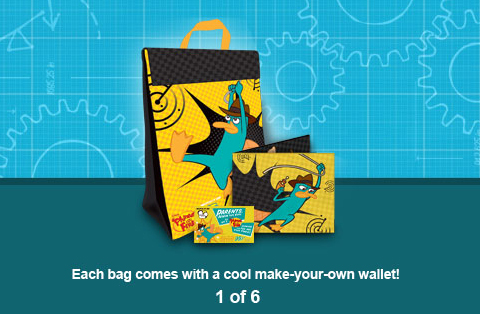 Of course, I'm always happy to see when promotions like this also include some free activities and downloads online. Even if you can't get to Subway, they are offering four free activity and project downloads on their website (all are printable PDF files):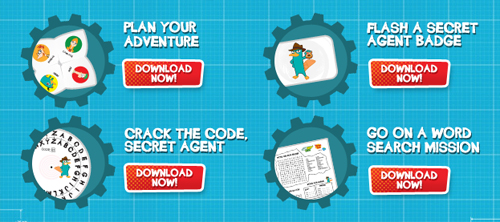 Are you kids Phineas and Ferb fans? Who's their favorite character?
Note: This is not a sponsored post. We were not asked or encouraged to post or share this. We are Phineas and Ferb fans and wanted to share this with our readers.