"Mom! Phineas and Ferb are going on a LIVE tour!!!"
Coming to the Orleans Arena on Oct. 5 – 7 is  Disney's Phineas and Ferb: The Best LIVE Tour Ever!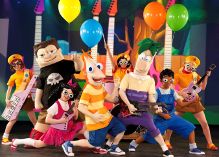 School's out for summer and anything is possible as Phineas and Ferb create their biggest invention yet! Phineas, Ferb, and the whole tri-state area gang embark on a bold escape jumping out from behind your TV and onto the stage in a live action adventure – right in Las Vegas!
And, before you can wonder, "Hey, where's Perry?" the beloved pet platypus shifts to his secret double life as Agent P to foil another one of Dr. Doofenshmirtz's evil plans.  Musical madness abounds in an escapade so awesome that even Candace can't help but join the hilarious hijinks.
It's the ultimate end to summer vacation, so seize the day 'cause Phineas and Ferb are gonna do it all! 

I'm excited to share with you a way you can save on tickets!
You can SAVE $4 on Tickets by using this code: KIDS12
To get your tickets, or for more information, visit: