New movies coming out on DVD means movie themed food in our house! When Avengers came out on DVD, I decided I had to make Marvel superhero cupcakes, since I enjoy coming up with new cupcake ideas. I wanted to make cupcakes inspired by Captain America's shield, but I wanted to do something different than what I had seen. The result was easy layered cupcakes that the kids can help you make.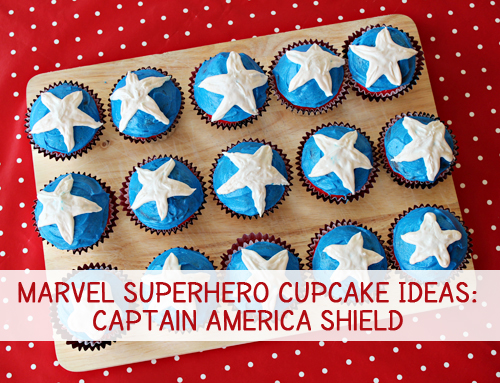 To make this Marvel superhero cupcake idea, you'll first make a box of white cake mix, according to the package directions. Divide the cake mix into two bowls, keeping about 2/3 in one bowl and the remaining 1/3 in another bowl.
Add red food color to the bowl with 2/3 of the cake mix. You'll want to add enough red food color until you achieve the color you want — and it may take 1 ounce or more (I use gel food colors).
Did you know there is white food color? There is! I used Wilton's White Icing Color. You'll want to add the white food color to the bowl with less cake mix so you can achieve a more true white color.

Line your muffin tin with cupcake liners. Place a layer of red cake mix in the bottom of each cup. Then add a layer of white cake mix on top of the red cake mix. Top the white cake mix with a final layer of red cake mix. You will now have three layers.
NOTE: Be careful when spreading the different colored layers on top of each other so that you are not mixing them.
Bake according to the cake mix directions.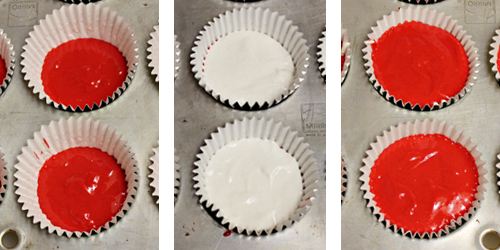 After baking, you will have a  red and white layered cupcake.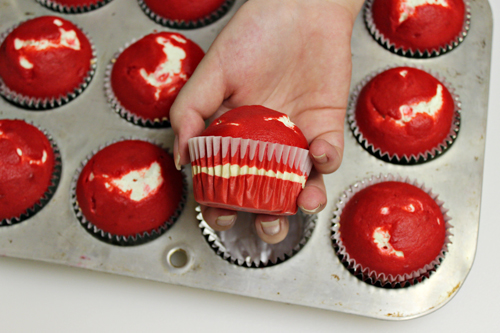 Now you need frosting!  I made some basic homemade frosting, and I set aside approximately 3/4 cup of the frosting to be used for the stars, which I tinted with white food color to achieve a more true white color. Tint the majority of your frosting blue with blue food color.
If you wish to buy premade frosting, I would recommend buying two tubs — one for blue and one for white (tinting as explained above). You'll probably have leftovers, but that's better than not having enough.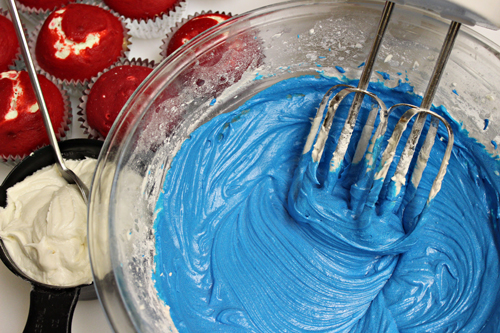 Spread the blue frosting on the top of the cooled cupcakes. Don't go all the way to the edges — this will allow some of the red cupcake to show through. Fill a pastry bag with a small pastry tip with the white frosting. Draw & fill stars on top of the blue frosting with the white frosting.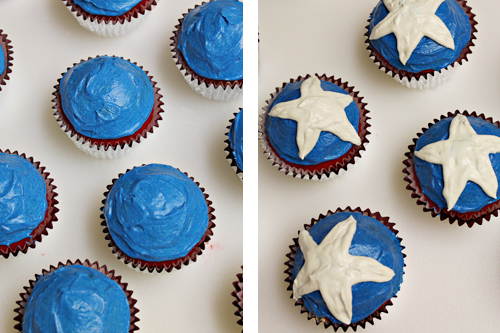 See, we told you it was easy! This Marvel superhero cupcake idea is great for birthday parties or for making your Avengers movie night special, like we did.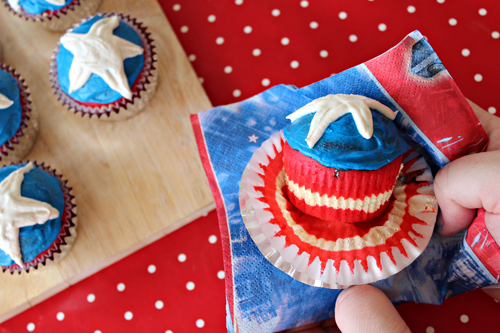 If you like our idea, we'd love for you to pin it on Pinterest. If you do make them, we'd love to see how they turn out!