Ant-Man will be available on Blu-ray and DVD on December 8th and we're giving away a FREE printable Ant Man Mask! Just print, cut, add string and the kids can have their own Ant-Man adventures. We also have some fun movie costume facts to share about the actual Ant-Man helmet & suit that were created for the movie.
It's amazing what costume designers can do. Most of the time, the first thing people talk about when they see a movie is the story or the acting, but where would it be without costume design? We saw Ant-Man this weekend and the Ant-Man costume — both the helmet and the suit — are still etched in my mind and one of my top favorite parts of the movie.
One of the cool things about Ant-Man, is that the suit is very much part of the movie. It's almost as if it was a character all on its own. I liked that you get to plenty of shots of the Ant-Man suit without it actually being on wore by Scott Lang. He doesn't  just shows up one day all suited up like magic. You get to see him shove it into a backpack, examine the suit, puts it on, and even check himself out in the mirror. A superhero suit that is more real.
Here's some fun facts about the helmet and suit: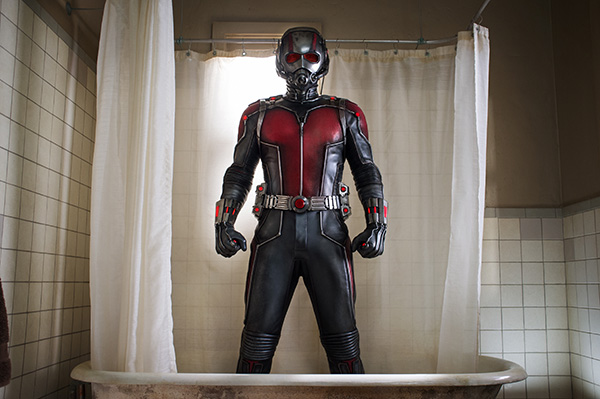 As you would probably expect, there wasn't just one Ant-Man helmet and suit. All together, costume designer Sammy Sheldon Differ and head suit designer Ivo Coveney, plus a team of artists, made: 13 Ant-Man suits, 17 helmets, 17 belts, 8 pairs of gloves, 15 backpacks, 6 pairs of shoes, 15 balaclavas and 14 necklaces (that go on the balaclava).
The Ant-Man suit is made of leather and is designed to resemble a vintage motorcycle suit. It was purposely given a worn and battle-scarred look because it was previously worn by Hank Pym when he wore the suit on his missions.
The Ant-Man suit has over 159 remote-controlled LED lights, which can light up the whole suit, including the closes and belt. The circuitry and batteries for the lights are in a very small backpack.
The Ant-Man helmet has 54 different pieces and 10 LED lights. If you include all of the nuts and bolts and the helmet lining, there is over 60 individual pieces.
Want a FREE printable Ant Man Mask?
We have something cool for all the kids who love Ant-Man: we're giving away an FREE Printable Ant Man Mask! Just click the link or photo below to print the mask (don't print the image below — make sure you click it first and print the image that opens for the best quality). After printing, cut along the dotted lines and tie string onto the round areas shown with an "X".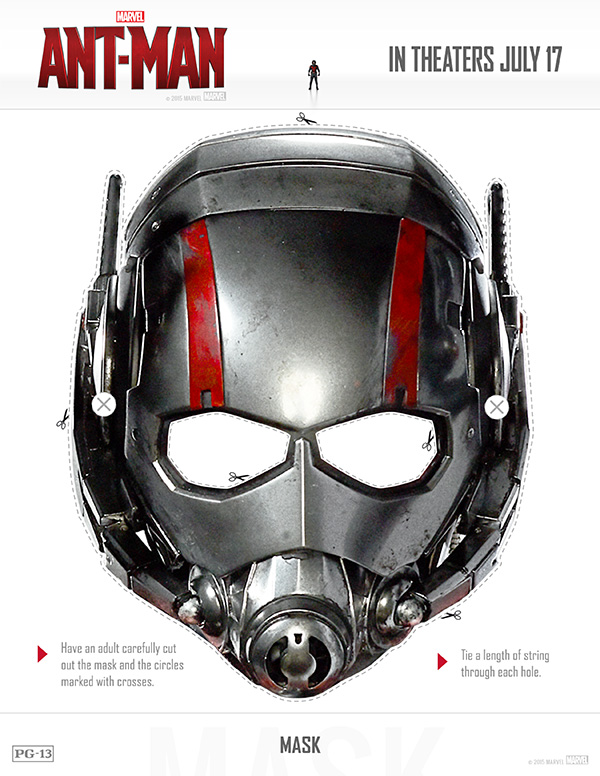 If you haven't seen Ant-Man yet, we HIGHLY recommend that you take your family to see it! We loved it!
ANT-MAN will be available on Blu-ray and DVD on December 8th!
Visit the official ANT-MAN site: http://marvel.com/antman
Follow ANT-MAN on Twitter: https://twitter.com/antman
Like ANT-MAN on Facebook: https://www.facebook.com/antman