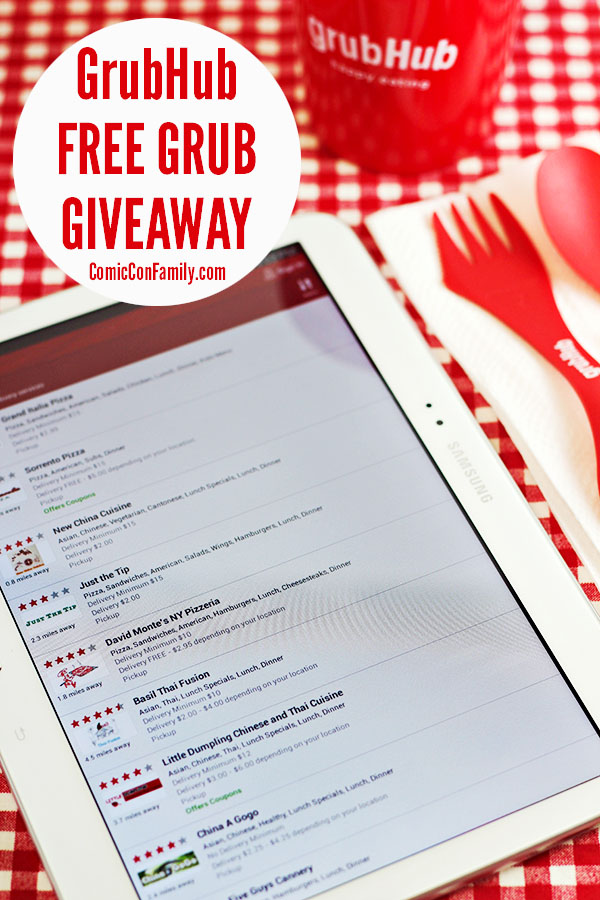 Don't want to cook tonight? I hear you.
As someone who runs a food blog, I generally cook more often than we ever order takeout. But sometimes, ordering takeout is the best thing in the world. It can make a horrible day into a beautiful one. It can be the relief I am desperately needing.
Sometimes, it's because we're having a movie night. Or because we've decided to catch up on every episode of The Strain that we've DVR'd. Other times it's an intense game and pausing is NOT an option.
Sometimes it's just because I DON'T WANT TO COOK. That's reason enough.
Just before we headed to San Diego Comic-Con this year, the tasty folks at GrubHub wrote us and fixed us up with some cool swag and some free grub. Oh, and I DIDN'T KNOW WHO THEY WERE. I guess I was the only one in my house who was clueless because the rest of the clan had heard of GrubHub, but they had never ordered through them. But with our free grub codes, we were able to experience the wonders of GrubHub — a website and a app (for Android and iPhone) that allows you to easily order food and have it delivered.
Our first time of using GrubHub was on a movie night — and there was no way I was cooking. We ordered Chinese and the whole process was simple, efficient…and delicious. Since that night? We've used GrubHub two more times. Yeah, we're hooked on it and that's why I'm happy to share it as one of our favorites.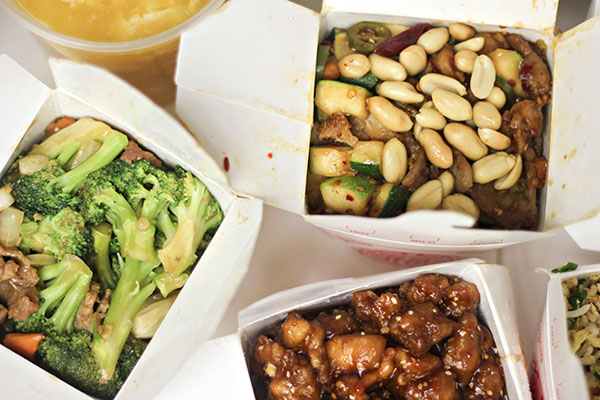 Now, a friend of mine said, what's the big deal with this GrubHub site? And before using GrubHub, I might have asked that too. But now that I have used them….I can explain:
1. Finding restaurants is simple: Enter your zip code and wham…bam…restaurants to pick from! You can sort by the type of food you want, such as Chinese, Thai, Sushi, Pizza, Italian, Burgers, and more. You can choose if you want the best, the cheapest, or the closest.  You can choose ones that offer coupons. There's lots of different filters to narrow down your listing to the perfect ones for you.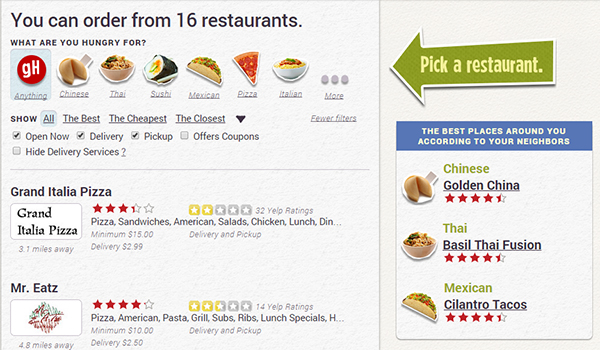 2. Menus are posted on GrubHub: I absolutely love that I can see an entire menu for the restaurant on GrubHub…and that it's accurate. Some of the restaurants in Las Vegas (like many other areas, I'm sure) are small business owners without big, fancy websites. And, if they do, sometimes they get outdated when the menu is changed or prices increase. I also really like the "Popular Items" and "Trending Items" feature because I tend to be a bit indecisive.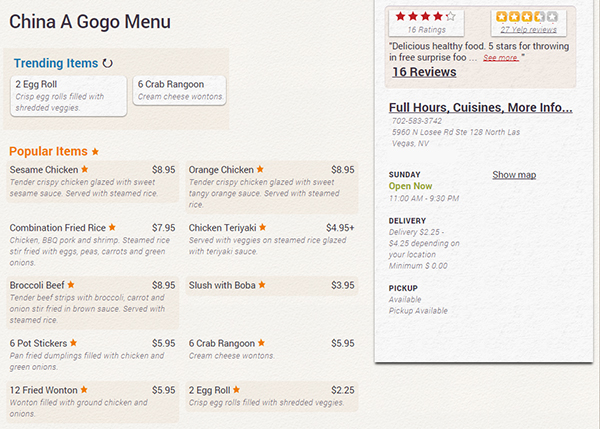 3. Reviews and ratings are right there: You only live once so it's good to take chances, but if a restaurant has bad reviews, I'd rather skip it. On GrubHub, there is GrubHub ratings and reviews by other GrubHub users, but they also share ratings from Yelp. You can even click to read the Yelp reviews. With all this said, reviews can sometimes leave me even more unsure than when I started, so this is when flipping a coin comes in handy.

4. Ordering food is crazy easy: The design of the site makes it very fast and user-friendly. As you are browsing the menu, you just click to pick what you want. If you change your mind, deleting choices is easy too. Most of the restaurants they listed in my area don't even have online ordering, which requires you to call the restaurant. I find it's so much easier to make my choices on the GrubHub site (and our orders have always been delivered 100% correct).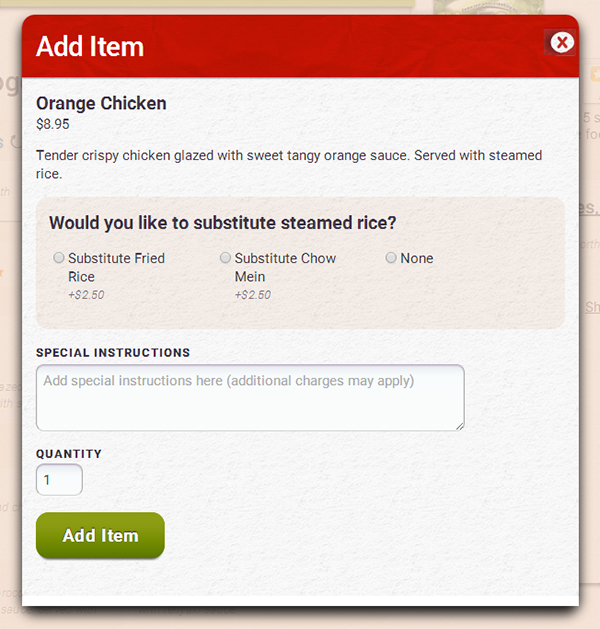 5. Everything in one place: If you order take-out from 5 difference restaurants, you've now given your credit card info (if that's how you paid), to 5 different restaurants. With GrubHub, you've only given your information to 1 business…GrubHub. Plus, they save your order details (so you can reorder easily), they keep a record of all of your receipts (how much does your friend owe you??), and they even save multiple address (work, home, friends house, etc).

Now, how about you? Want to try out GrubHub?
Well, you're in luck — the folks at GrubHub have given us some free grub to give away to Comic Con Family readers! We're giving away $20 free grub from GrubHub to 5 winners. Hopefully you have GrubHub restaurants in your area, but even if you don't, GrubHub is great to use when you are on vacation or at a comic book convention, like Comic-Con. I love eating out in restaurants, but sometimes you are so tired at the end of your day that clicking your mouse on the GrubHub website is about all the energy you have!
For your chance to win one of the GrubHub $20 gree grub codes, enter on the Rafflecopter below — the only required entry to leave a comment (the first option on the Rafflecopter), but we've given you other ways to get an extra entries too! Good luck!!
Hungry? Order grub at GrubHub! They are pretty fun to follow on Twitter and Facebook too.
Disclosure: As mentioned above in this post, we were provided with free GrubHub swag and promo codes from GrubHub. We were not required to write about GrubHub, or to host a giveaway. All opinions are 100% my own.