Disclosure: This Minions Movie Night shop with Easy English Muffin Pizza recipe has been compensated by Collective Bias, Inc. and its advertiser. All opinions are mine alone. #MinionsMovieNight #CollectiveBias
Make this Easy English Muffin Pizza recipe for movie night!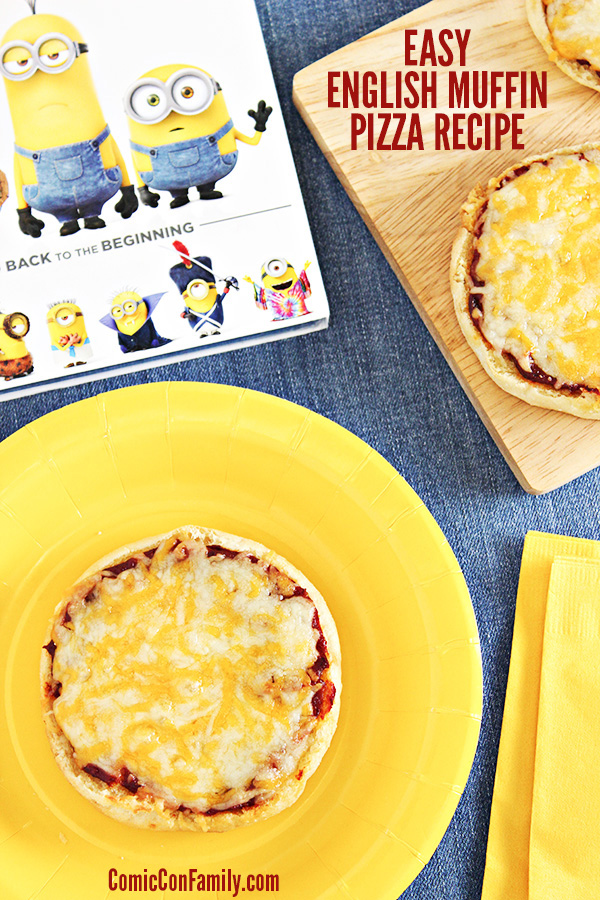 Disclosure: This post contains compensated affiliate links which help support the work on this blog.
Ever since my kids were young, there is meals that I call my go-to "dad meals" – dinners that my family requests time and time again. For example, in our house, I always make the spaghetti sauce. No one else in our house makes spaghetti for dinner; it's one of their most favorite "dad meals".
Another meal that became a trusty "dad meal" with the kids is English Muffin Pizzas. My wife can make an awesome homemade pizza dough, but I leave that to her. When I would make pizza for movie night, I always made my Easy English Muffin Pizza recipe. Our kids loved them and if you mention English Muffin Pizzas to our oldest (adult) daughter, she'll say: "that's my childhood RIGHT THERE!".
It's been a LONG time since I made my English Muffin Pizzas. But with the recent December 8th, 2015 release of Illumination Entertainment's Minions movie on Blu-Ray/DVD, I thought it was the perfect time to pay a visit to one of my early "dad meals", like how the minions go back to their beginning in the Minions movie. We picked up a copy of  Minions on Blu-Ray + DVD, and bought everything we need to be make English Muffin Pizzas for a fun Minions movie night!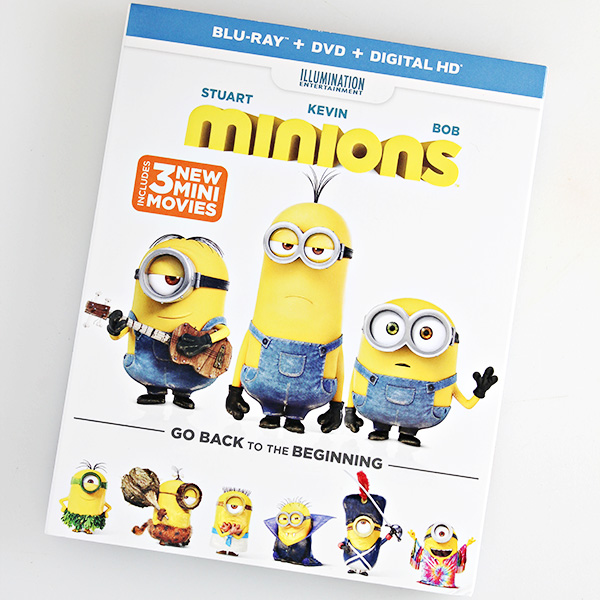 Minions © 2015 Universal Studios. All rights reserved.
This Easy English Muffin Pizza recipe is a favorite of kids of all ages. What's really nice is that they are a small and hand held. You can even skip the plates for this meal and just use napkins. If you want to make them even more fun, you can cut each English Muffin pizza into quarters, for super mini pizza slices.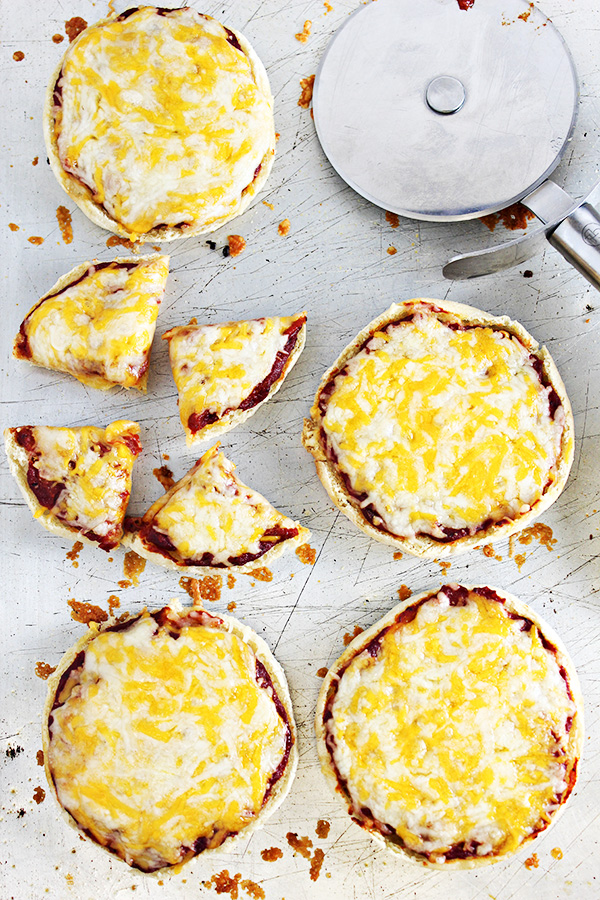 I think the best part of my Easy English Muffin Pizzas is my homemade pizza sauce. It's a very simple sauce that I've been making for almost the entire time that I've been a dad (25 years now!). As a matter of fact, this is the same pizza sauce that I mix up for my wife's homemade pizza too. All you will need is tomato paste, water, a bit of olive oil, and some seasonings.
When making my Easy English Muffin Pizzas recipe, I thought about how this would be a great gift idea too. Just fill a basket with a jar of homemade pizza sauce, some English muffins, plates, napkins and a Blu-Ray/DVD copy of Minions. Print a copy of the English Muffins Pizzas recipe (at the end of this post) and put that in the basket too. I think this would be a great idea for a family who might be going through a rough time and who could use a night of laughs.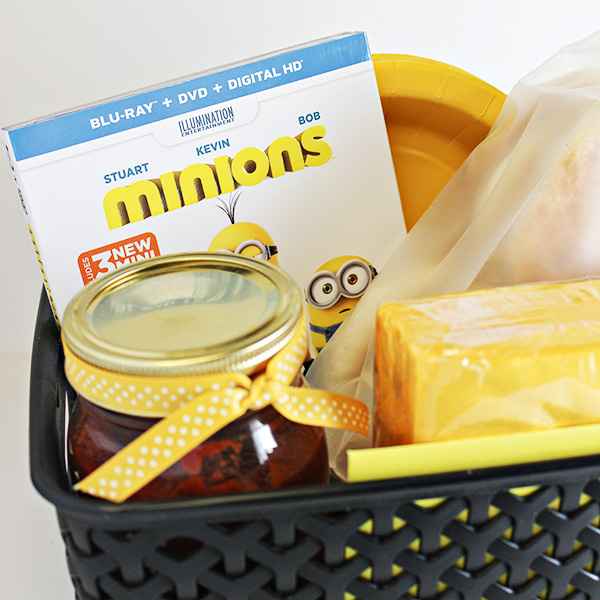 For your own Minions move night, you'll need to make up a batch of my homemade pizza sauce first. It will make enough for about 20 English Muffin Pizzas. You'll spread about 1 tablespoon of pizza sauce on each split English muffin half and then top with about 2 tablespoons of shredded cheese.
If you want to add additional toppings, you can add those too. My kids have enjoyed these topped with pineapple and ham, pepperoni, or olives, to name a few.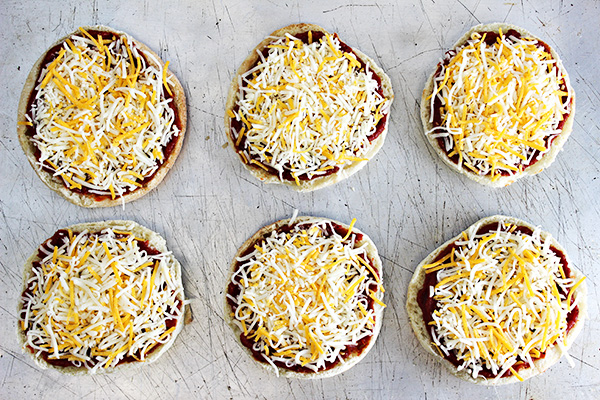 You'll bake them in the oven until the cheese is hot and melted.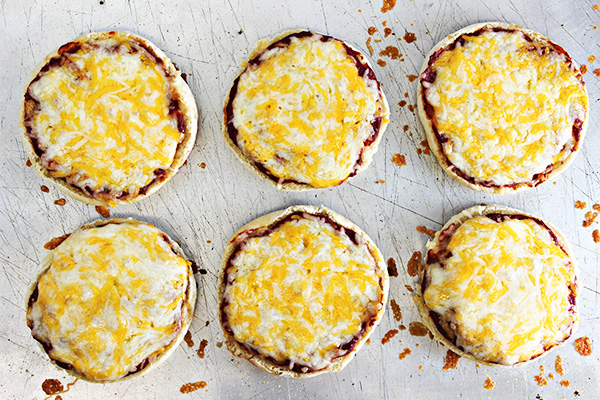 And then they are ready to serve and enjoy during your Minions movie night!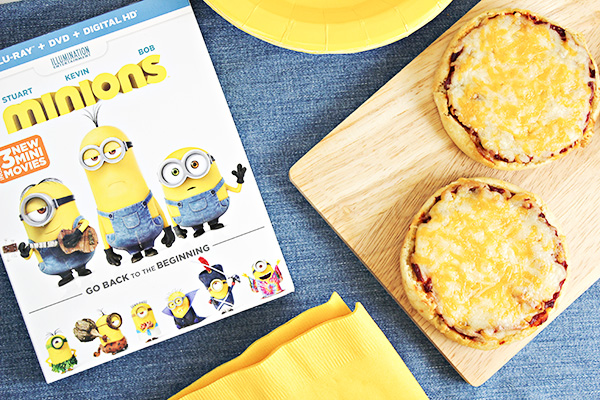 Easy English Muffin Pizzas Recipe
Ingredients
10 English Muffins, split into 20 halves
Homemade Pizza Sauce (recipe below)
8 ounces finely shredded cheddar cheese (or other cheese of your choice)
Homemade Pizza Sauce with Tomato Paste
12 ounces tomato paste
1 cup water
1 tablespoon olive oil
2 teaspoons Italian seasoning
1 teaspoon garlic powder
1 teaspoon onion powder
1½ teaspoons sugar
1 teaspoon salt
⅓ teaspoon pepper
Instructions
Homemade Pizza Sauce
In a small saucepan over low heat, combine tomato paste, water, and olive oil. When thoroughly combined, stir in remain ingredients. Heat until hot, stirring frequently. Remove from heat and allow to cool for at least 10-15 minutes.
English Muffin Pizzas
Preheat over to 400 degrees F .
Spread approximately 1 tablespoon of pizza sauce on each English muffin half. Top with approximately 2 tablespoons shredded cheese. Place on large baking sheet. Repeat with remaining English muffins.
Bake in for 8 - 10 minutes or until cheese is hot and melted.
Notes
Pizza Sauce recipe makes approximately 14.5 ounces of sauce (about 1½ cups)
With the holidays almost here, it's the perfect time to pick up
Minions
for a movie night or for gift giving. Visit the
Minions movie website
for a list of retailers where you can purchase it today.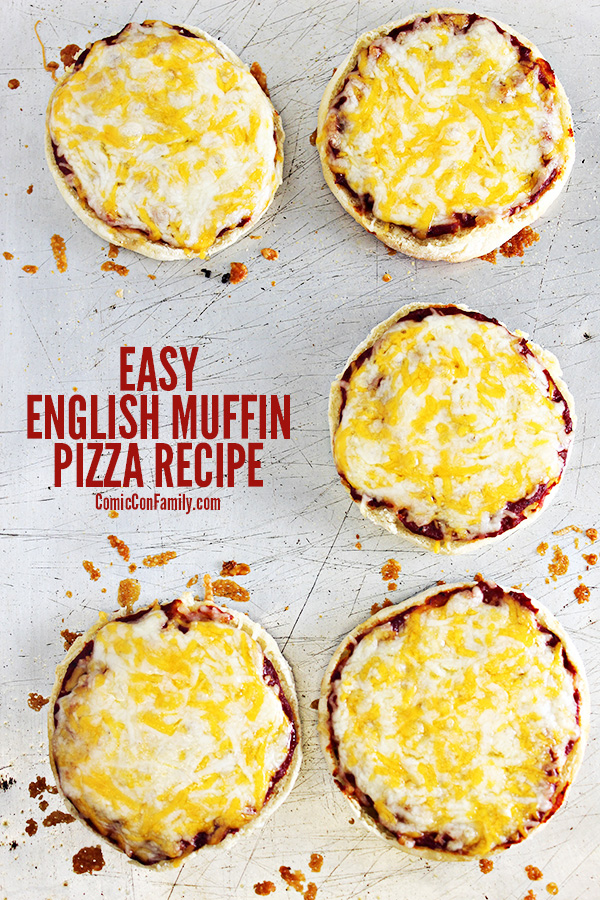 Want more minion fun? They're all over social media!
Follow the minions on your favorite channels: