This shop that has been compensated by Collective Bias, Inc. and Walmart Family Mobile. All opinions are mine alone. #DataAndAMovie #CollectiveBias
Do you use the Snapchat app on your phone? Here's how to make a DIY Snapcode Keychain with your unique code for quickly adding friends while you're on-the-go!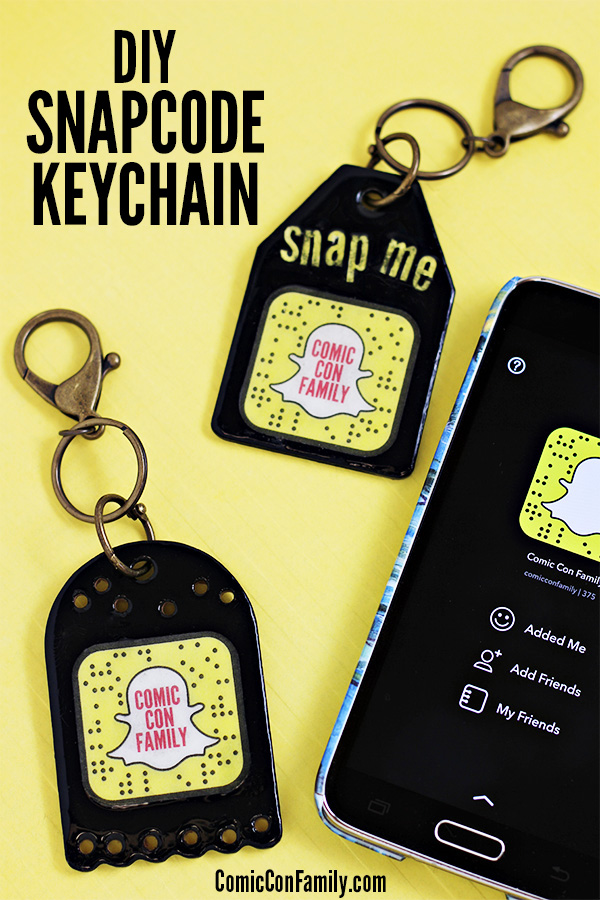 You know those Walmart Family Mobile plans we signed up for? The ones with the unlimited data? It's been several months since we signed up and all that data is coming in very handy. The kids are excited that they will have it at San Diego Comic-Con this year too. With limited WIFI, data is used constantly while we're there. In the past, this is when several of our family members have exceeded their data plan, so it will be nice to know that won't be happening this year for those on the Walmart Family Mobile unlimited plan.
Even though Comic-Con is still about 3 months away, the data isn't going to waste. One of our kids has the Samsung Galaxy S5 (which you'll see used in this post) and she's been using the unlimited data for lots of fun social apps while we're on-the-go. Apps like Periscope, Instagram, and especially Snapchat. It's been used much by our kids that it's motivated both Brandie and I to start using it more.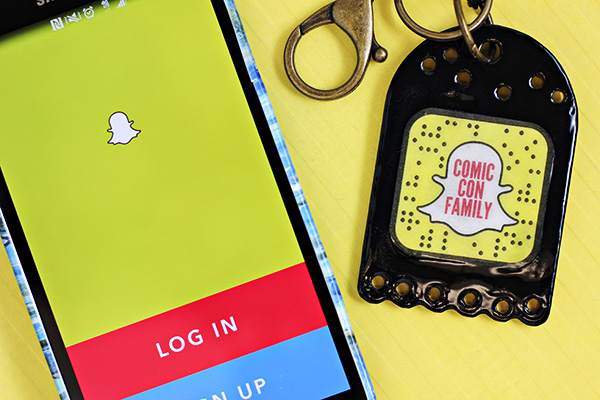 For those new to Snapchat, it's an image and video messaging social media app. Photos and videos only last for up to 10 seconds and anything you post only to your "story" lasts for 24 hours. You can follow people, and people can follow you.
Of course, using Snapchat while you are on-the-go requires data on a cell phone plan. Even if you don't share your own "snaps" (photos/videos), but views the ones that people post, you'll still need data. This is why having the Walmart Family Mobile PLUS plan with Unlimited Talk, Text, & Data with up to 10GB of 4G LTE data has been ideal in our house. It's a huge amount of data with plenty for all the usual stuff, like email, but also the fun extras.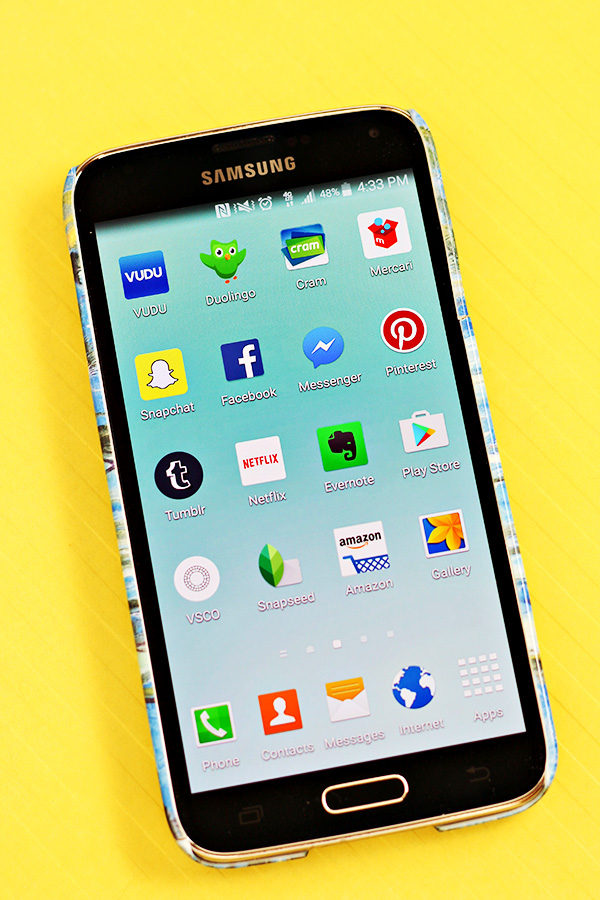 To follow people on Snapchat, you'll need either their username or their "snapcode", which is a unique code that people can take a photo of or "scan" with the app.
To give you another way to share your Snapcode while you are on-the-go, I've created a fun craft project: DIY Snapcode Keychain! It's great for people like us who use Snapchat as part of our blogging business, but also for anyone who wants to make it easier for others to add them. And even though I'm calling it a keychain, you don't have to actually use it with keys. It can be hung on a backpack, tote bag, or purse too.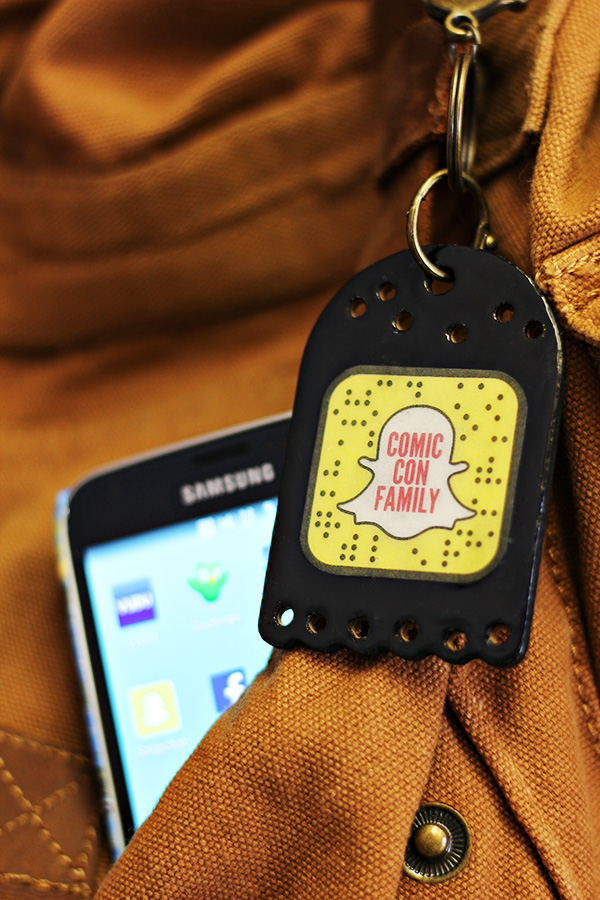 How to Make a DIY Snapcode Keychain
You'll need:
Photocopy of your Snapcode
Scissors
Wooden tag
Drill (optional)
Decoupage adhesive and/or dimensional sealant
Keyrings
Instructions:
First, you'll need your Snapchat code. Open your Snapchat app and login. From the center screen (where you take a photo or video), click on the small ghost icon at the top center of your screen. This will take you to the area where you snapcode is, plus where you can add friends. Tap on your snapcode. Click on the symbol near the top right (where the red arrow is pointing) and this will open up options for saving your code. (note: this is how it looks on the android version. If you have an iPhone, it's similar, but the symbol looks a bit different.)
Resize your code in Photoshop or PicMonkey. I used small wooden tags, so resized my Snapchat code to be about 1 1/2″ by 1 1/2″.  Print your Snapchat code. If you have an inkjet printer at home (like we have), you'll have to make a photo copy of your print on a dry-toner copy machine. So, I printed at home and then took my copy to a office supply store where they made me a copy on one of their big copy machines. The reason for this is that inkjet ink will usually smear when covering with sealants. Your Snapchat code will not work if the ink smears.
Cut out your Snapchat code. Be sure to keep part of the black frame around the outside edge.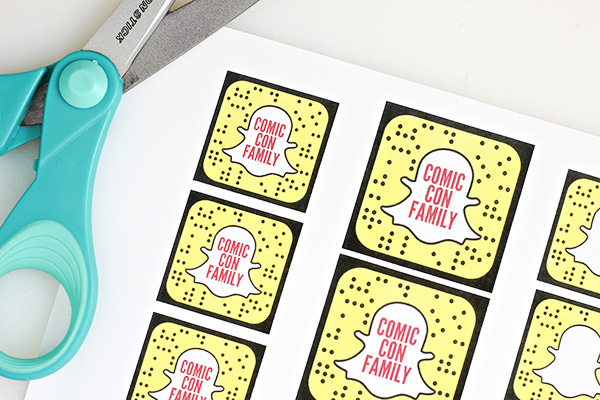 3. If you wish, you can add random holes in your wooden tag. I used my drill with a small drill bit and added some holes (I love using my drill, so I'll use any excuse to use it). If you do this, make sure you leave enough space for your code. If you don't have a drill, don't worry – you can skip this part.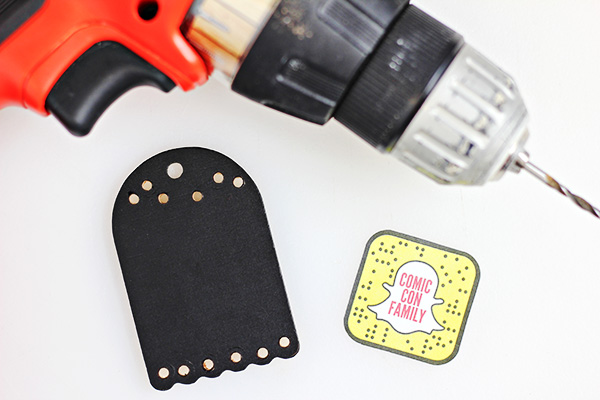 4. Using a decoupage adhesive, carefully glue your code to the middle of your tag. Then, cover your tag with either more of the decoupage adhesive (using a small foam brush) or use another similar product that dries clear. I used a product that not only sealed my tag, but also added dimension called "Dimensional Magic". To apply it, just add some of the top of your tag/code and use a toothpick to gently push the sealant around to cover the entire surface, all the way to the edges.
Note: You'll notice it looks blue in the photo below, but it actually dries clear.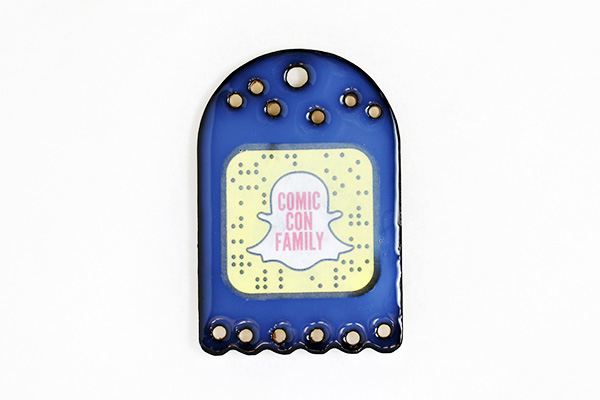 5. Once your tags have dried completely (I recommend allowing them to dry for at least 3 days), you can add keyrings.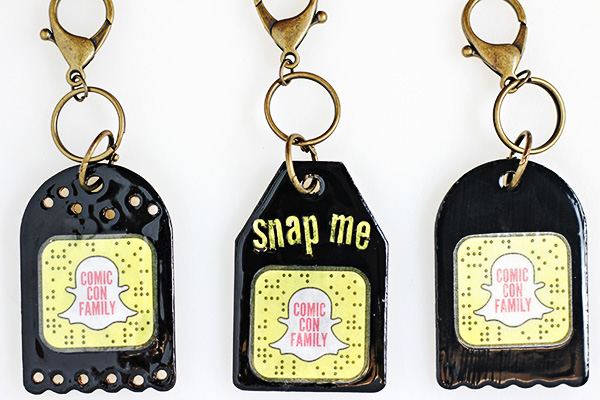 That's all there is to it! Your snapcode keyring is ready to use. When someone wants to add you on Snapchat, they just have take a picture of your code to add it in Snapchat or they can view your code in the Snapchat photo viewer and press and hold on your code on their screen.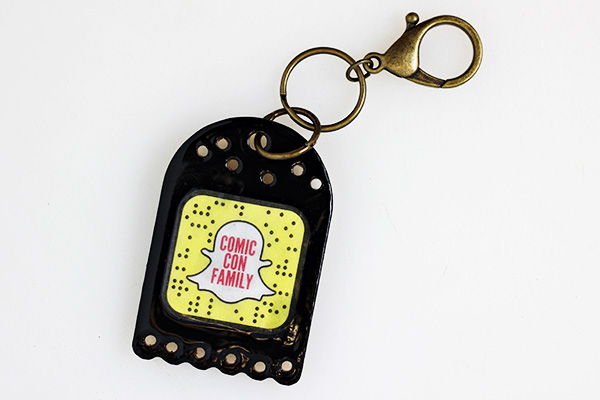 Disclaimer: All prices for phones and plans included in this post are accurate as of the date of posting; however, these prices are subject to change. Please refer to http://cbi.as/3edbq or your local Walmart for current pricing.
If you're ready to move to a cell phone plan that gives you plenty of unlimited data, I highly recommend that you check out the Walmart Family Mobile PLUS plan. It's priced at $49.88 per line and it will give you Unlimited Talk, Text, & Data with up to 10GB of 4G LTE data.
Also, here's another cool bonus: you'll get a free new release movie rental from VUDU (up to $7 value), every month on every Walmart Family Mobile PLUS plan line. VUDU has tons of movies that we can't get at the local movie rental machine (like Fantastic Mr. Fox), so we've been enjoying watching those during a family movie night on the VUDU app on our Playstation.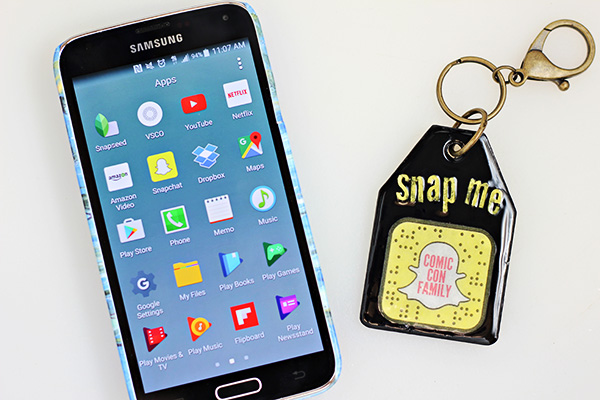 Also, right now through July 7th, 2016, the Starter Kits are cheaper than before and now on rollback for just $19.88 (usually $25). That will help you save even more money when setting up your new service. To get started, visit the entertainment area of your local Walmart store.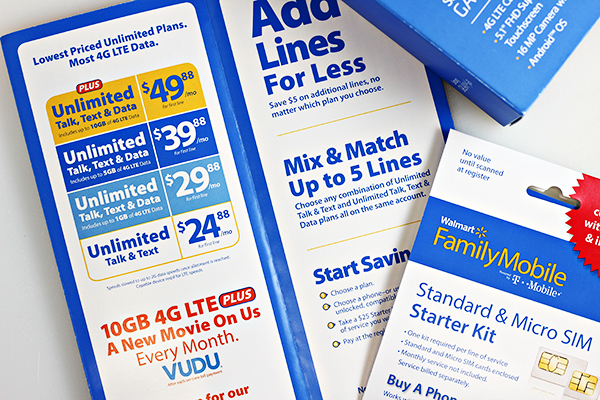 Want more info on Walmart Family Mobile?