Enter our giveaway to win a copy of Disney's The Good Dinosaur on Blu-Ray + DVD + Digital HD combo!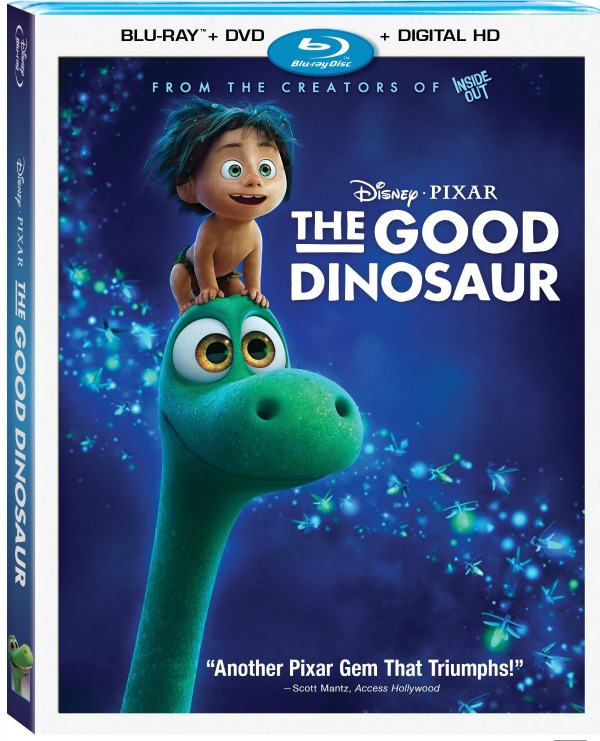 Last week, Disney's The Good Dinosaur was released on Blu-ray and DVD. Our family loved this movie, so much that we wanted to give away a  copy to one of our readers.
One winner will receive The Good Dinosaur Blu-ray + DVD + Digital HD combo, which comes with over two hours of bonus materials.
The bonus extras include:
The filmmakers journey –  Director Peter Sohn and team share their experience of making the movie.
Hide and Seek – Watch a short animated promotional clip.
True lies about Dinosaurs – Learn what separates the movie's dinosaurs from real ones.
Recyclosaurus – The crew competes to create the best dinosaur ever… from discarded items.
Every part of the Dinosaur –  Explore the movie's special animation challenges.
Follow the T-Rex trail – Meet the family who inspired the T-Rex ranchers.
Deleted Scenes with intros – View scenes developed for previous versions of the movie.
For your chance to win, enter on the Rafflecopter below. We've giving you lots of ways to earn entries, so maximize your chances by completing all the tasks. Good luck!
Follow The Good Dinosaur on:
Facebook –  Twitter –  Instagram – You Tube
Visit The Good Dinosaur