If you're thinking about visiting Universal Studios Hollywood this summer, you've picked a great time to go! Universal Studios Hollywood has announced 5 new additions for summer 2018 that will surely delight Harry Potter fans.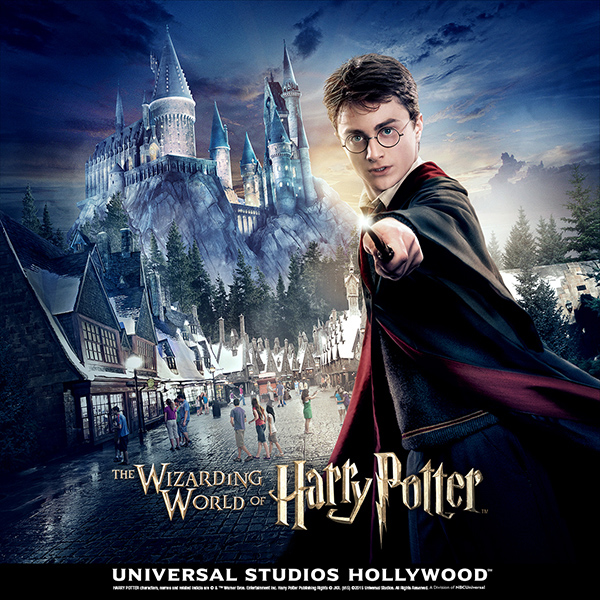 It's looking like summer 2018 is a great time to visit "The Wizarding World of Harry Potter" at Universal Studios Hollywood! They have announced that they will have 5 new theme park additions that will begin Sunday, June 24th, 2018.
If you've been to The Wizarding World of Harry Potter at Universal Studios Hollywood, you know that Universal Studio is one of the coolest places for Harry Potter fans to visit. After arriving at the park, guests are transported to a world inspired by J.K. Rowling's stories and characters. Everything takes place right in Hogsmeade village, with its iconic focal point, Hogwarts castle. You'll actually feel like you've been transported to the places that you watched in all your favorite Harry Potter movies!
As you walk along Harry Potter's world of cobblestone streets, you can enjoy theme park rides like "Harry Potter and the Forbidden Journey" thrill ride, as well as "Flight of the Hippogriff" — Universal Studios Hollywood's first outdoor family coaster. And, of course, there is everyone's favorite: FOOD! Enjoy authentic food and beverages at Three Broomsticks and Hog's Head pub, as well as the Magic Neep and Butterbeer carts. There is plenty of shopping too! Buy sweet treats at Honeydukes, let a wand choose you at Ollivanders, or grab some new wizard threads at Gladrags Wizardwear — to name a few.
Even with all this fun, Universal Studios Hollywood is adding 5 new experiences to "The Wizarding World of Harry Potter" for summer 2018. Starting on Sunday, June 24th, 2018, they will introduce new wand magic experiences, authentic costume replicas, new lunchtime menu items, the Talking Mirror will keep guests entertained, and there will be the return of popular "The Nighttime Lights at Hogwarts Castle." Want to know even more? Read on to get the details!
5 Must-See Summer Additions at
"The Wizarding World of Harry Potter"
at Universal Studios Hollywood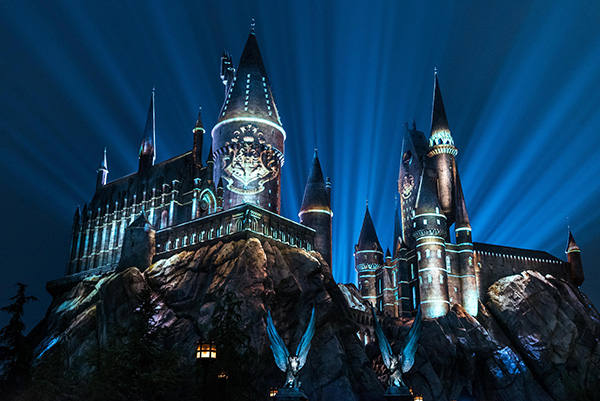 #1 – New Wand Magic Experiences
With a gentle flick of the wrist and just the right touch, guests can cast spells throughout "The Wizarding World of Harry Potter" at dazzling wand magic locations. This summer's installation of two additional spells ups the tally to 15 thrilling wand magic experiences to practice. The Incendio fire-making spell will conjure flames of varying size based on skill level, and the Alohomora spell will unlock a series of intricate locks that may reveal the fiery breath of a creature hidden behind a secret door.
#2 – Enjoy British Lunchtime Options
Three Broomsticks restaurant expands its lunchtime menu with a selection of traditional British fare, including:
Ploughman's Lunch, featuring an imported selection of ham, salami, country paté, English cheese, homemade pickles and a warm scotch egg served with bread, cranberry chutney and grain mustard
Cheese Toastie with Chicken, featuring grilled English Cheddar cheese with chicken, crispy bacon, mustard and sliced tomato topped with a sunny side egg served with a fresh salad or potato wedges
Sunday Roast Sandwich served on a freshly baked baguette filled with warm prime rib, caramelized onions, English Cheddar, horseradish sauce and homemade garlic pickles served with fresh salad or potato wedges
#3 – The Nighttime Lights at Hogwarts Castle
The Nighttime Lights at Hogwarts Castle: returns for a limited time only!
As night falls on Hogsmeade village, "The Nighttime Lights at Hogwarts Castle" shines brightly with an awe-inspiring spectacle that showcases the four houses of Hogwarts: Gryffindor, Ravenclaw, Hufflepuff and Slytherin, and culminates with awesome beams of lights that fan into the night sky. The colorful state-of-the-art light display and special effects projection is accompanied by a special musical arrangement created by Academy® award-winning composer John Williams based on his original scores composed for the film series. The musical arrangement that emanates in a surround sound environment was conducted by prolific arranger William Ross and recorded by the London Symphony Orchestra in London.
#4 – Wizard Attire
Guests can channel their inner wizards at Gladrags Wizardwear with a wide array of apparel inspired by the films. The billowing house robes worn by the students of Hogwarts School of Witchcraft and Wizardry and accompanying house uniforms, including hand-loomed cardigans from Scotland, scarves and ties are available for purchase. New to Gladrags Wizardwear this season is a high-end replica of Professor Severus Snape's robe, as well as a replica of Hermonione's dress worn at the Yule Ball as seen in Harry Potter and the Goblet of Fire, which is now available in adult and children's sizes. Other wizard attire includes a replica of the cardigan worn by Neville Longbottom in the Battle of Hogwarts scene in the film series finale. Select attire is available in a variety of sizes from toddler to adult.
#5 – Madam Malkin's Talking Mirror
Just like the talking mirror in the Harry Potter films, Madam Malkin's Talking Mirror makes quite a reflective entrance this summer, located in the corridor between Dervish and Banges™ and Gladrags Wizardwear. Speaking with an English accent, the Talking Mirror will entertain guests with a variety of complimentary remarks.