During San Diego Comic-Con 2017, Amazon Rapids announced the launch of "Signature Stories" within their app which offers unlimited short stories for kids.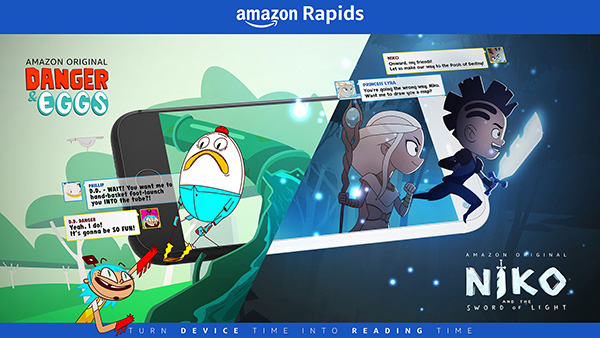 This post contains some affiliate links for your convenience.  Click here to read our full disclosure policy.
Amazon Rapids already brings hundreds of original short stories for kids, ages 5-12. But now with the addition of Signature Stories, kids will have access to the first set of stories featuring characters and voice talent from Amazon original TV shows: Niko and the Sword of Light and Danger & Eggs.
The original stories for both Niko and the Sword of Light and Danger & Eggs are authored by the shows' writers. The stories will give a glimpse into unique adventures that take place beyond the TV series storylines, making the stories a perfect partner for kids who are already watching the shows.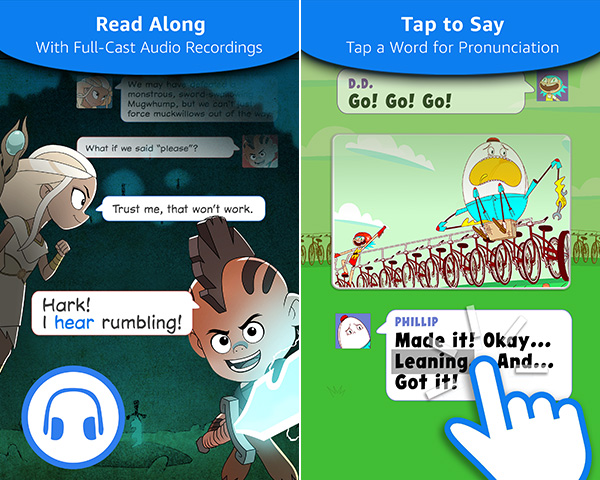 If you have Amazon Prime, your kids might have already started watching these animated shows, but if you are new to them, here's more about them:
Danger & Eggs follows the endless adventures of a fearless, teal-haired future stuntwoman, D.D. Danger, and her ever-cautious best friend, a giant, talking egg, named Phillip. As the daughter of a world-renowned daredevil, D.D. is always chasing her next big thrill.
Niko and the Sword of Light follows 10-year-old Niko who is the last of his kind in a strange, fantastical world. He must embark on an epic quest to defeat the darkness and bring the light back to his land. Armed with his magic sword, brave Niko journeys to the Cursed Volcano, making new friends and powerful foes along the way, all while uncovering secrets about his mysterious past.
Within the Amazon Rapids app, children can see these stories come to life through the characters talking to each other, chat messaging style. But with Signature Stories, kids can also hear the actual voices of Aidy Bryant (from Saturday Night Live) in Danger & Eggs and Tom Kenny (from SpongeBob SquarePants) in Niko and the Sword of Light.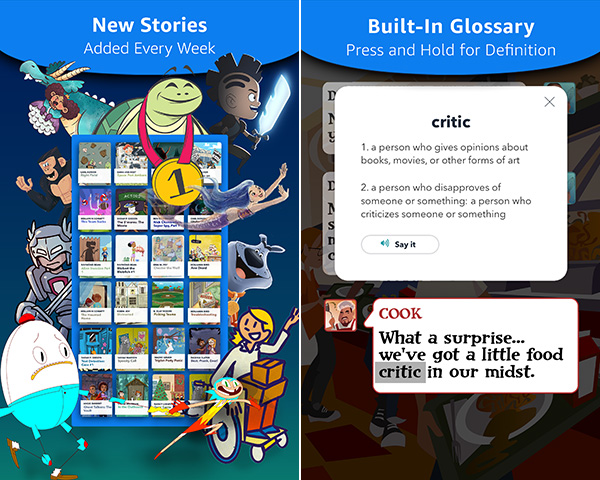 Amazon Rapids app also includes:
Read Along Mode: Kids can listen to voice actors read their favorite stories while following along with words highlighting as the adventure unfolds.
Tap to Say & Built-in Glossary: Kids can simply tap a word to hear its pronunciation or hold the word to see its definition. Each time kids look up a word, it is automatically added to their personal glossary for easy reference.
New Stories every week: Kids can explore an expanding library of hundreds of titles spanning adventure, fantasy, humor, mystery, science fiction and sports, with new stories added weekly.
Age-appropriate content: All content is thoughtfully edited to be appropriate for kids ages 5-12.
Amazon Rapids is available for iOS, Android and Amazon Fire devices. Parents can subscribe at an introductory price of $2.99 per month, which gives their kids unlimited access to 100's of short stories. You can also get a free two-week trial at http://rapids.amazon.com.