Spring may have just arrived, but I've already got my eye on some of the geekiest 2013 summer movies. With every trailer and movie poster I see, I'm getting more and more excited for several of them, so I've put together a list of my top 5 must-see geek summer movies.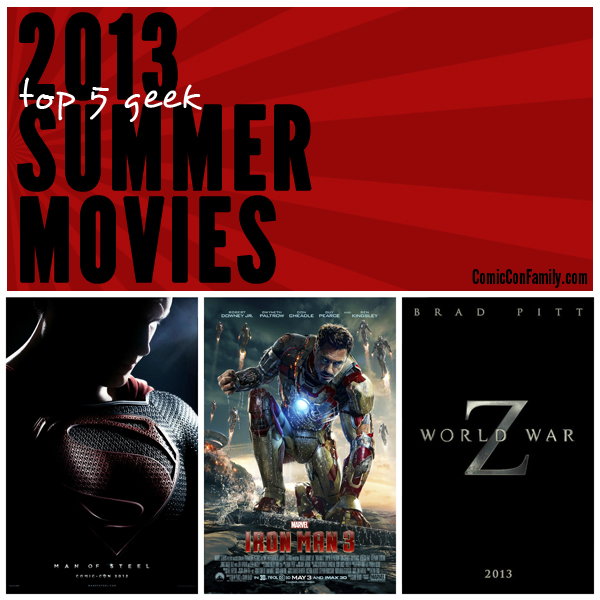 Some of the 2013 summer movies will get put on the "wait to see it on DVD" list, but these films won't. These are movies I plan to give my hard-earned dollars to go see them in the theater. Because I want that big screen experience. And because I'm not waiting until the Fall (or later) to see them. No way.
Now, choosing which one of these five I'm most excited for is hard.  I'm leaning towards World War Z, but the others are making it hard to make an official decision. So, rather than list this in order of my favorites, I've listed them in order of their theatrical release dates.  Enjoy these trailers – I know I am.
May 3,2013 – Iron Man 3
Premise: In Marvel's Iron Man 3, Tony Stark/Iron Man finds his world reduced to rubble by a malevolent enemy and must use his ingenuity and instincts to protect those closest to him as he seeks to destroy the enemy and his cohorts.

May 17,2013 – Star Trek Into Darkness
Premise: When the crew of the Enterprise is called back home, they find an unstoppable force of terror from within their own organization has detonated the fleet and everything it stands for, leaving our world in a state of crisis. With a personal score to settle, Captain Kirk leads a manhunt to a war-zone world to capture a one man weapon of mass destruction. As our heroes are propelled into an epic chess game of life and death, love will be challenged, friendships will be torn apart, and sacrifices must be made for the only family Kirk has left: his crew.
;
June 14,2013 – Man of Steel
Premise: A child sent to Earth from a dying planet is adopted by a couple in rural Kansas. Posing as a journalist, he uses his extraordinary powers to protect the his new home from an insidious evil.
June 21,2013 – World War Z
Premise: A researcher for the U.N. Postwar Commission interviews survivors of the flesh-eating zombie attack from all over the world in order to put together a post-mortem on a war that destroyed every country around the globe.
July 26,2013 – The Wolverine
Premise: Based on the celebrated comic book arc, this epic action-adventure takes Wolverine (Hugh Jackman), the most iconic character of the X-Men universe, to modern-day Japan. Out of his depth in an unknown world, he will face a host of unexpected and deadly opponents in a life-or-death battle that will leave him forever changed. Vulnerable for the first time and pushed to his physical and emotional limits, he confronts not only lethal samurai steel but also his inner struggle against his own immortality.
So tell me, do you agree or disagree?
Which summer movie of 2013 are you the most excited for?