If you want to know how to save at the movie theater — whether it's a date night or a family outing — we have money saving ideas for you.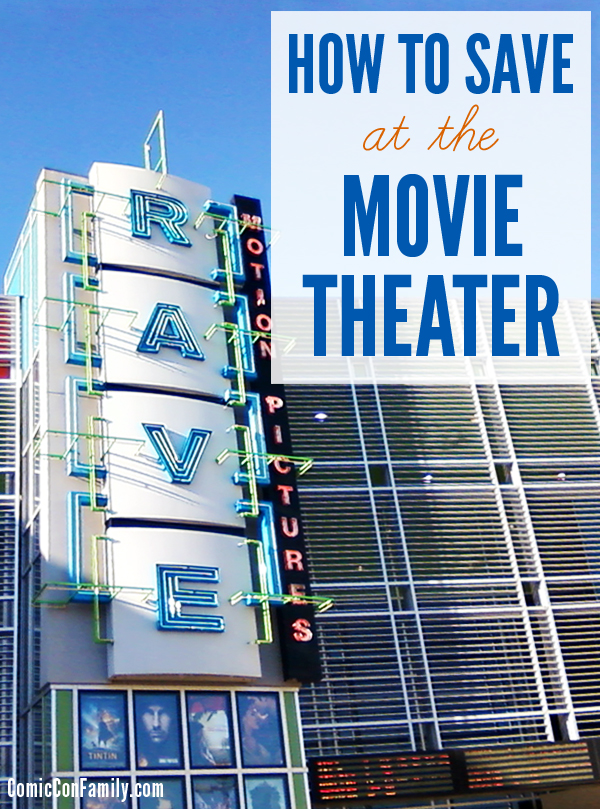 When you think of date night one of the first things that come to mind is the classic dinner and movie date.  Whether going with your significant other, kids or friends movie tickets can be pricey so here are a few tips on How To Save At The Movie Theater that will help stretch your budget and allow you this fun entertainment.   Just because you have a large family doesn't mean you can't afford a ticket to go see a movie in the theater from time to time.
HOW TO SAVE AT THE MOVIE THEATER
SIGN UP FOR THEATER EMAIL CLUBS:  Most movie theaters have a social media page or email club available online for coupons, special discounts and promotions.  The major brands all have special programs and smaller local theaters will offer something as well.  Check AMC & Regal Theater Groups websites for information regarding what they offer.  Call your local chain or independent theater and ask if they offer any special promotions.  Even if it's a simple "buy 5 get 1 free" that is a savings worth looking into.  Many offer concession and ticket discounts.

SIGN UP FOR MOVIE DISCOUNT PLANS:  Two common sites that offer special discounts on movie tickets are Movie Pass and Dealflicks.  Movie Pass is a once per month fee that allows unlimited viewings at select theaters.  If you see at least one movie per week this will save money.  Any less than that and it won't be worth your monthly investment.  Dealflicks offers discounts on tickets at specific theaters and is limited to number of participating theaters but worth checking into.

GO TO MATINEES MIDWEEK:  Every theater has a lower matinee price but many also offer a weekday cost of $1-$2 less per ticket.  Check your local theaters and rather than going for a weekend evening date take off work early one afternoon and take in an afternoon matinee instead.

USE YOUR STUDENT OR MILITARY ID:  Nearly all theaters offer a discount for those who are active military or students.  That applies to high school and college student ID's.  Take your ID with you and ask for your discount.  Also note that many have Senior ticket prices that are lower as well.

BUY SPECIAL PACKAGES ON DAILY DEAL SITES:  Check sites like Amazon Local, Living Social, Groupon and DealChicken for special "date night" packages that give you gift cards for popular theaters at discounted prices.  These are typically available close to holidays to be used as gifts.

TAKE ADVANTAGE OF SUMMER KIDS DEALS:  Most theaters offer inexpensive or even free movies on select days during the summer months.  These are typically in the mornings and are movies already out on DVD that are kid friendly but they can be a fun and inexpensive way to take your kids to the movies when you might otherwise not be able to afford that.

LOOK FOR YOUR LOCAL "CHEAP SEAT" THEATER:  Larger cities will often have one theater that charges $1.50-$3.00 per ticket for movies that are about to release on DVD and have left the mainstream theaters.  These are great to go take in that movie you wanted to see on the big screen but didn't want to pay full price to see.
About the Author: Katie Hale is an author and freelance writer who delves into her passions of geek culture, frugal living, database programming and homeschooling at You Brew My Tea.