Take the family out for some fall fun! Here's a bunch of pumpkin patch and corn maze coupons for fall festivals throughout the United States.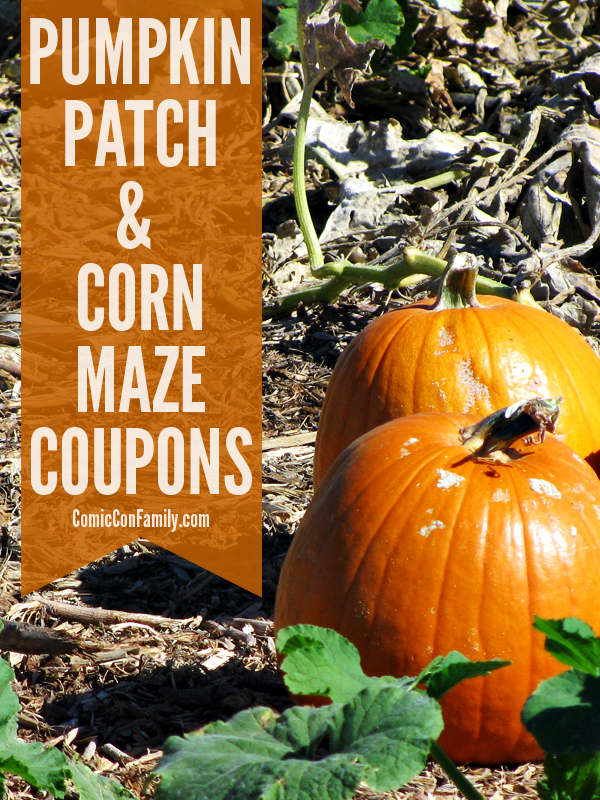 Fall is our favorite time of the year. Here in Las Vegas, we have a real pumpkin patch that is part of a u-pick orchard that we visit. They offer fresh apple cider and even sell hot donuts. It's a lot of fun and we also really like supporting local businesses.
There is so many awesome pumpkin patches, corn mazes, and fall festivals throughout the US, that we thought it would be great to share some of them with you. The links below will take you to pages where you can download & print coupons for fall fun in your area:
(valid for Autumn 2013 or until offers end)
Arizona
Schnepf Farms – Queen Creek
Tolmachoff Farms– Glendale
California
Forneris Farms – Mission Hills
Colorado
Anderson Farms – Erie
Flat Acres Farm – Parker
Fritzler Maze – La Salle
Sunflower Farm – Longmont
Mile High Farms – Bennett
Wishing Star Farm – Calhan
Harvest Farm – Wellington
Florida
Harvestmoon Farm– Masaryktown
Georgia
Lane Southern Orchards – Fort Valley
Poppell Farms – Odum
Indiana
Amazing Fall Fun – Waterloo
Harvest Tyme Pumpkin Patch – Lowell
Hobson's Fun Farm – Rockville
Guffey Acres– Kokomo
Illinois
All Seasons Orchard – Woodstock
Kuipers Family Farm – Maple Park
Odyssey Fun Farm – Tinley Park
Siegel's Cottonwood Farm – Lockport
Kansas
KC Pumpkin Patch and Corn Maze – Gardner
Louisiana
CM Farms – Dry Creek
Maryland/DC
Summers Farm – Fredrick County
Massachusetts
Sauchuk Farm – Plympton
Michigan
Farmer Charley's Corn Maze Adventure – Monroe
Minnesota
Afton Apple Orchard – Hastings
Mississippi
Seward Farms Maze – Lucedale
Missouri
Shuck's Corn Maze and Pumpkin Patch – Pleasant Hill
Montana
The Maize at Grandpa's Farm – Billings
Nebraska
Camp Fontanelle – Nickerson
New Jersey
VonThun Farms – Monmouth Junction
Sahl's Father Son Farm – Egg Harbor City
New York
Wright Family Farm – Warwick
Harbes Family Farm – Mattituck
North Carolina
Patterson Farm Market and Tours – Mount Ulla
Ohio
The Corn Maze at the Sharp Run Market – Millersburg
Meadow View Growers – New Carlisle
Oregon
The Maize at The Pumpkin Patch– Portland
Pennsylvania
Hurricane Hill Farm – Coatsville
Triple B Farms – Pittsburgh
Reillys Summer Seat Farm – Pittsburgh
Rhode Island
Confreda Greenhouses & Farms – Hope (Western Cranston)
Texas
Devine Acres Farm – Devine
Fiesta Farm – San Antonio
Yesterland Farm – Canton
South Texas Maize – Hondo
Dewberry Farm – Brookshire
Brazos Valley Maize– Brenham
Utah
Cornbelly's Corn Maze & Pumpkin Fest – Spanish Fork
Virginia
Cows-N-Corn – Midland
Wayside Farm Fun – Berryville
Belvedere Plantation – Fredericksburg
For updates on these coupons and coupons for other family attractions, visit: http://www.usfamilycoupons.com
Disclosure: This list has been provided by US Family Guide & a complimentary ticket is available to us for sharing.