Need to save time or money on your next cosplay? These 10 places to find used cosplay costumes for sale may help when making a handmade costume won't work for you.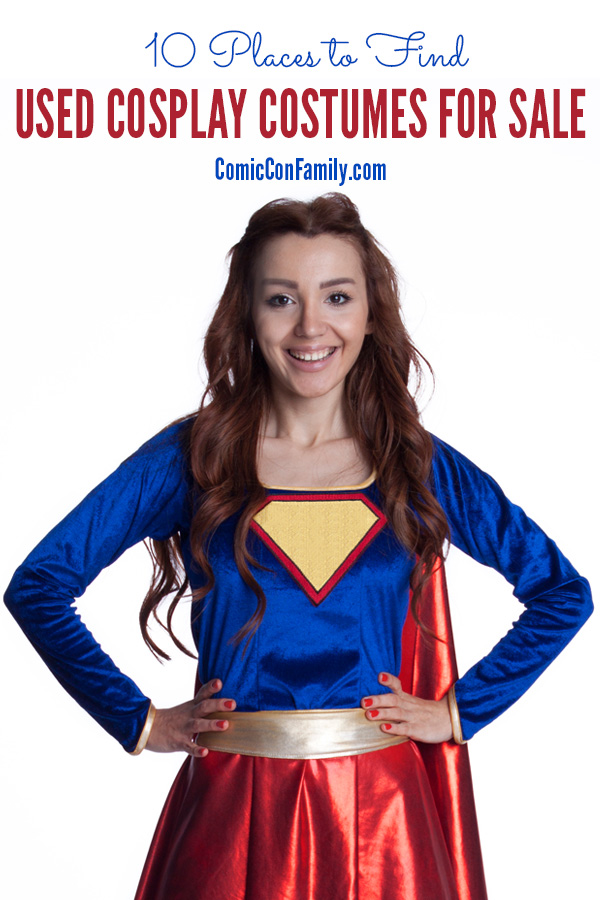 Making your own cosplay costume to wear to comic con can be highly rewarding. And while I encourage you to go the handmade route if that works for you, it's not always practical or possible for everyone. Sometimes, you don't have the skills to create your own handmade costume. Or maybe you have a lack of time or money.
Whatever your case may be, you do have a few options when it comes to finding used cosplay costumes for sale. Some cosplayers retire their designs and sell their previously used costumes, props, and accessories as they move onto cosplaying other characters. Buying a secondhand cosplay costume can allow you to get dressed up for your next comic con with minimal effort, while also supporting the creative work of these cosplayers.
Take a look below at 10 places to find used cosplay costumes for sale so you can get the look you want for your next comic con.
10 Places to Find Used Cosplay Costumes for Sale
1. ACParadise Marketplace
ACParadise (American Cosplay Paradise) is probably one of the best places to find used cosplay costumes online. They have a database where cosplayers can list their costumes for sale. The listings all have photos and we really like that the sellers list which cons the costume was worn at.
2. Storenvy
Storenvy is an online marketplace for independent store owners and one of the best places to find used cosplay costumes. Just search their site for "used cosplay" and you'll find listings for gently used cosplay costumes, props, wigs, and accessories.
3. Etsy
Etsy is an online marketplace for independent artisans. While there is lots of costume makers selling brand new costumes and accessories on Etsy (plus many that you can create a custom costume for you), there is also used cosplay costume listings. Just search their search box for "used cosplay" to quickly find their current offerings.
4. Ebay
Ebay is reliable for secondhand finds and used cosplay costumes is no exception. Do a search on their site and you'll no doubt find plenty of costumes. Another great feature of Ebay is that you can sign up to get email alerts to your searches.
5. Thrift Stores
While it's not likely that you'll find a great handmade cosplay costume at a thrift store, that doesn't mean you can't find a commercially made costume that features a character that you or your child love. The best time to search a thrift store is at the end of summer as Halloween displays are starting to pop up. Many thrift stores hold back their costumes all throughout the year until Halloween time, so it's important to start checking when they are first put up for sale to get the best selection.
While costumes are usually only put up for sale at Halloween time, you can even shop the regular clothes and accessories all throughout the year to create your own costumes. With determination, you can often find the pieces you need to cosplay as your favorite character.
6. Consignment Shops
A consignment shop is a store that sells items on behalf of someone. When Halloween is approaching, search your local area or nearby large city for consignment clothing stores and/or consignment costume shops and call to find out if they ever sell costumes and when they might go on sale. A lot of times the items you'll get in a consignment shop will be better quality than a thrift store, but you can usually expect to pay a bit more too. Consignment clothing stores can be a great option for kid costumes.
7. Craigslist
Craigslist may not be the best place to find a handmade costume, but it's not uncommon to find costume listings. We usually find that there is a lot more kid costumes on Craigslist than those for adults, but it doesn't hurt to check throughout the year. You never know when someone will be selling a costume or accessories that will work for your next cosplay. Another option is to post an "in search of" ad to get a hold of what you are looking for.
8. Local Parent Groups
If you are needing kid costumes, particularly for one of the most common superhero or Disney characters, and you belong to a PTO, homeschool group, or any local parents club, put the word out that you are looking for a used costumes. You might even be able to arrange a costume swap among the group.
9. Facebook Groups
If you're active on Facebook, you probably know about or belong to Facebook Groups. Not only is there general cosplay Facebook Groups, but there is also local groups in some cities and states. Search Facebook to find cosplay groups that might be a good fit for you and you might find that sometimes members in these groups will sell or swap items they won't use anymore. Be sure to review the group guidelines before selling or buying as some groups might not allow this. But, even if they don't, connecting personally with other cosplayers can not only be fun, but sharing experiences and giving support to others with the same passion makes the whole cosplay experience even more fun.
10. Costume Shops
While costume shops sell new costumes, many of them also sell used costumes and even rent costumes. Sure, you probably won't end up with a unique, handmade costume, but if you need a costume for one of the more popular fandoms (superheroes, animated characters, etc) you'll likely find something that will work. To find a costume shop in your area, simply do an internet search for "used costumes", plus your city name. Also, Yelp can be a great place to search too, while also getting reviews of the store.
While handmade cosplay costumes is awesome, don't skip the cosplay experience if that's not going to work for you. Give these places to find used cosplay costumes for sale and you might find that a secondhand costume can be an easy option and a great way to save some time and/or money.
Have you bought used cosplay costumes or accessories? Where have you found the items you need?