Heading to New York City? We're sharing 5 NYC destinations that Spider-Man fans will want to add to their next vacation itinerary.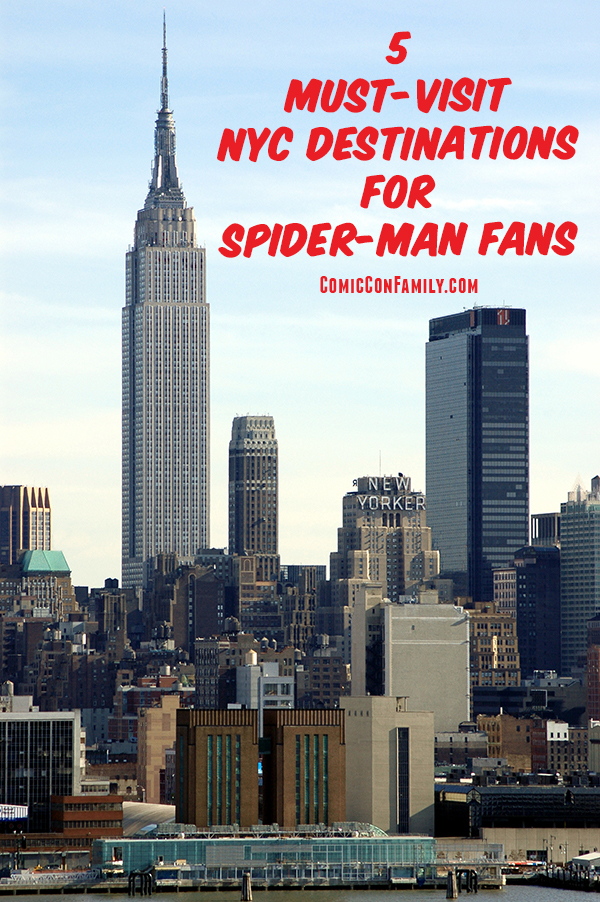 Spider-Man fans will love being able to see and explore the New York City their favorite adventure hero called home. So much of the three films and comics featured iconic and little known corners of New York City. Instead of just experiencing the city the way every tourists does, try putting together a trip that features the adventures of Spider-Man that will appeal to fans young and old.
Any one of these destinations, attractions and city landmarks can be added on to a traditional vacation to NYC for some Spider-Man movie excitement.
Empire State Building and NY Skyride
To get a Spider-Man view of New York City, head to the Empire State Building, where you can check out Manhattan from the observation decks at the 86th and 102 floors. Once you have finished getting a bird's eye view, experience NY Ride, which will have you swooping over Central Park, hopping over buildings and dogging cabs, just like Spider Man does when he needs to make it through the city in a hurry. The virtual tour lasts 30 minutes and takes you to see every landmark New York City has to offer.
Columbia University
The campus of Columbia University were used to film several scenes in the Spider-Man films, including the labs representing where Peter Parker was first bit by a radioactive spider (though the actual lab scenes were filmed in L.A.), attended school and interacted with various characters. Take a tour of the campus and see if you recognize any of the scenes from the films.
Walk Brooklyn Bridge and Park
The Brooklyn Bridge and Park was featured a lot in Spider Man 2, and it really is an iconic part of the city, connecting Brooklyn to Manhattan. You can't swing across the bridge, but you can walk across it to see the city from a different angle and get the best idea of just how big it really is.
http://www.brooklynbridgepark.org/
Chinatown New York City
New York City features its own Chinatown, filled with cultural decor, architecture and dozens of Chinese restaurants and shops. You can easily fill an afternoon exploring the neighborhood where Peter Parker spent some of his days off from being Spider-Man. Regular festivals and events are held by the community that are always a ton of fun for tourists and locals alike.
http://www.explorechinatown.com/
Grab a Slice at Joe's Pizza
Remember that job that Peter was fired from? Joe's Pizza is an actual restaurant in Greenwich Village. The pizza place is located at 233 Bleecker Street, Greenwich Village, New York and is open late for eat in or take out. Spider-Man fans will want to be sure to add this to their itinerary.
Have you traveled to New York City and seen any of these Spider-Man destinations?
Which one would you be sure to visit?