Marvel's Thor: The Dark World doesn't hit theaters until November 8th, but to tide us all over, we're sharing the latest Thor movie poster now.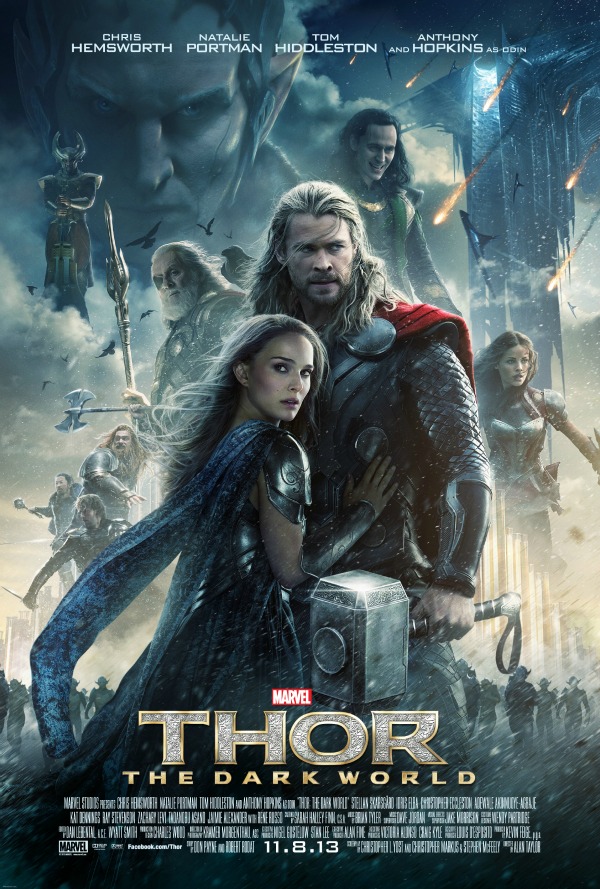 Awesome, huh? I like how so many of the characters are represented in this one. Brandie commented that she loves the way Natalie Portman looks. She also said something about Thor, but I'll let you use your imagination on that one.
We're sure most of you know the whole story of Marvel's "Thor: The Dark World", but in case you don't here's a bit about it:
Marvel's Thor: The Dark World continues the big-screen adventures of Thor, the Mighty Avenger, as he battles to save Earth and all the Nine Realms from a shadowy enemy that predates the universe itself. In the aftermath of Marvel's "Thor" and "Marvel's The Avengers," Thor fights to restore order across the cosmos…but an ancient race led by the vengeful Malekith returns to plunge the universe back into darkness. Faced with an enemy that even Odin and Asgard cannot withstand, Thor must embark on his most perilous and personal journey yet, one that will reunite him with Jane Foster and force him to sacrifice everything to save us all.
And here's the Thor: The Dark World movie trailer too — seriously, November can't get here fast enough:

THOR: THE DARK WORLD releases in theaters on November 8, 2013
Thor has requested that you:
LIKE THOR on Facebook  Facebook.com/Thor
Follow THOR on Twitter: Twitter.com/ThorMovies
Visit the website: www.marvel.com/thor