Where can you get groceries near San Diego Comic-Con? We've got you covered with all the details about Ralphs Grocery Store in Downtown San Diego!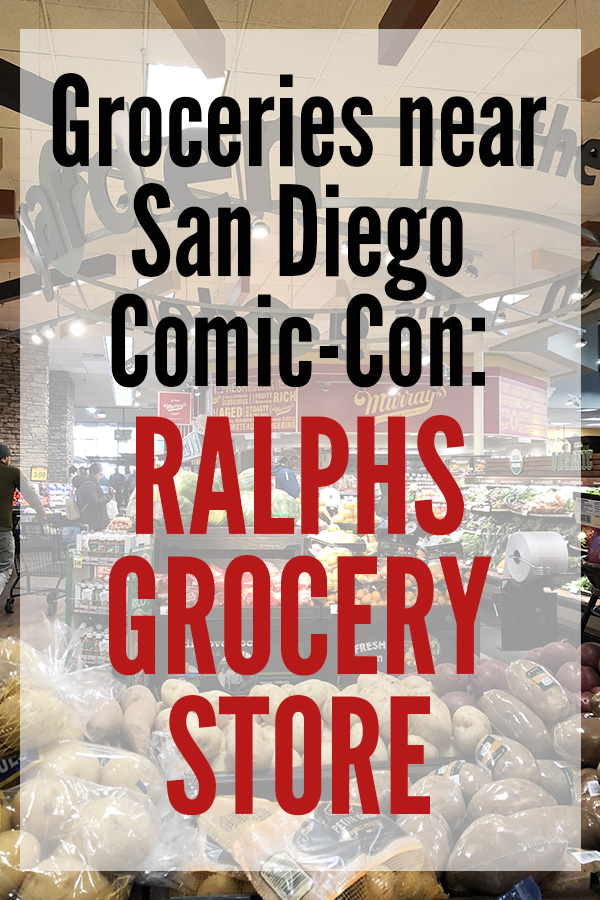 One of the best ways to save money on your San Diego Comic-Con trip is to take advantage of local grocery stores for food and necessities. It's also extremely helpful when you have specific dietary needs.
Each year, we usually stop in at a grocery store or general merchandise stores, like Target, for water and snacks. Even though we knew about Ralphs Downtown in San Diego, we never stopped in because I assumed it would be a hassle to park.
Imagine my surprise when I learned that Ralphs had their own parking garage, right under the store. Seriously, no hassle at all and it has plenty of spaces. The entrances to the Ralphs parking garage is easily accessible near the back of the store, right off of Market St (see photo below). There is another parking garage entrance just around the corner from here, right off of 2nd St.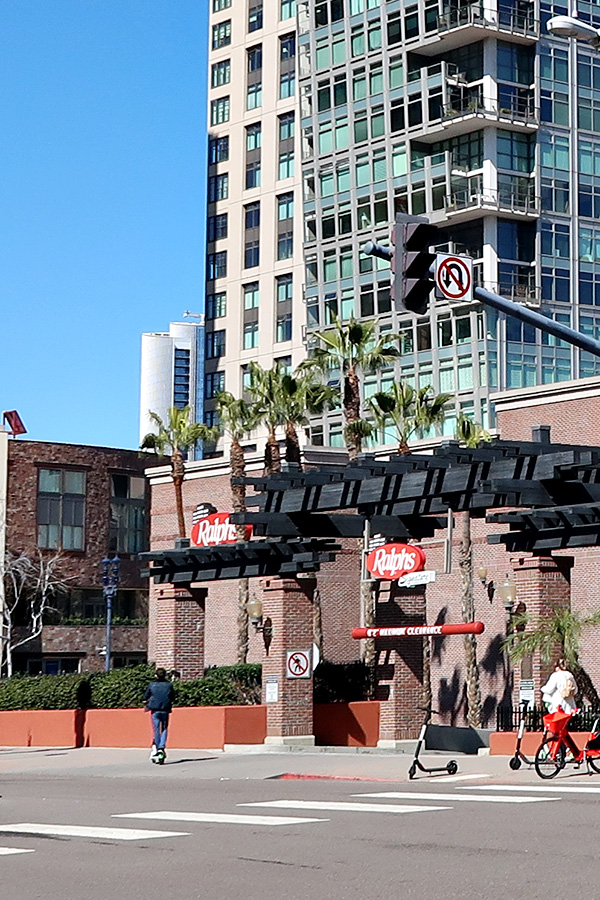 After parking, there is a moving walkway that takes you up to the store. This moving walkway supports the shopping carts too, so when you are ready to leave with your groceries, just take it back down to the parking garage. We also spotted an elevator in one corner of the garage if you need or prefer that.
If you're walking to the store or using a rideshare service, the entrances are at the front and at street level. You'll find one entrance at the corner of 1st and Gst and another at the corner of 2nd and Gst.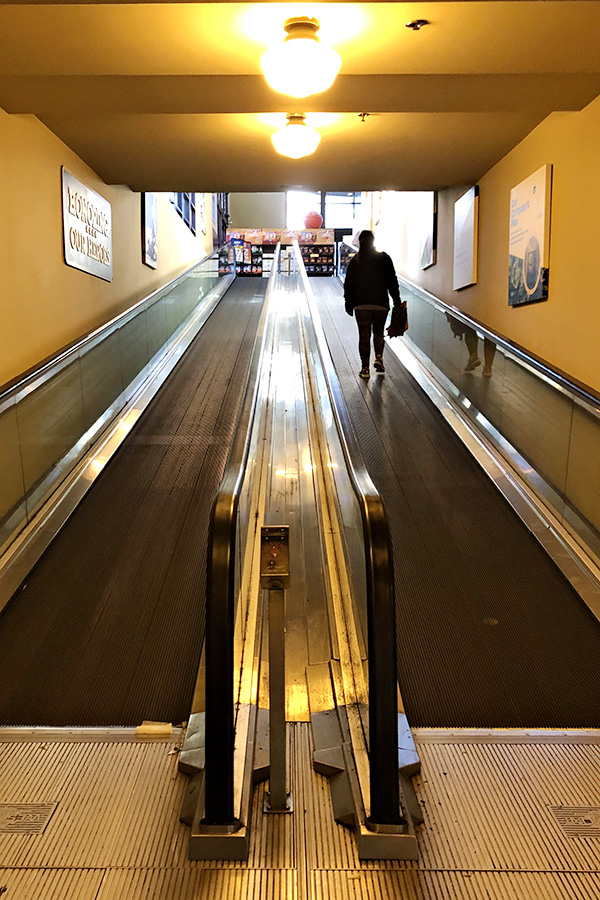 Once inside, we were happy to see how many convenient ready-to-eat food options this Ralphs location has. It makes it a perfect option for Comic-Con attendees who are in a hurry, not able to cook, and looking to skip restaurant dining for whatever reason. Sure, it's a grocery store with all the usual aisles of canned goods, baking goods, meats, etc, but for Comic-Con attendee probably staying in a nearby hotel, there are lots of ready-to-eat, inexpensive meal options.
Right after walking in, we spotted a section where you can get everything chicken — rotisserie chickens, fried chicken, chicken tenders, popcorn chicken, chicken wings, and baked chicken.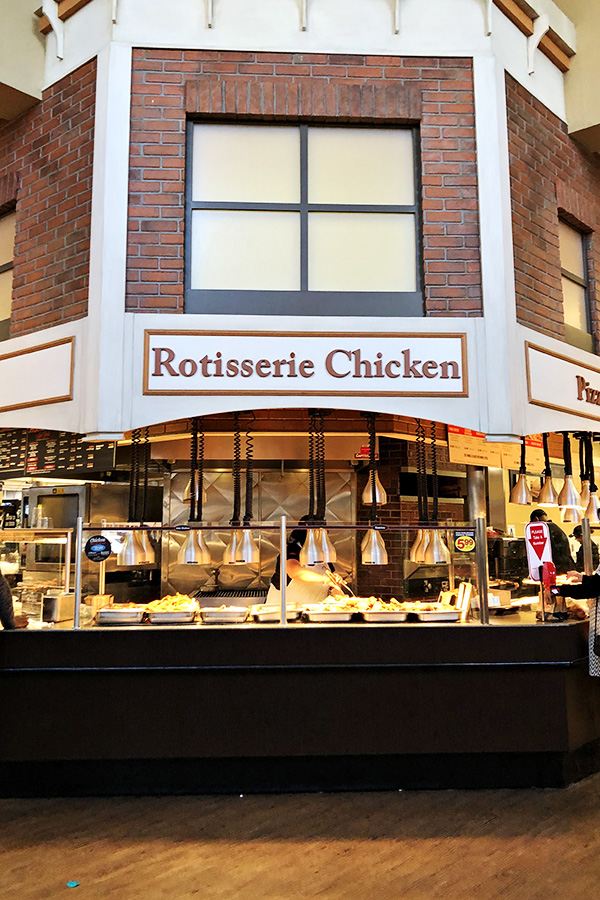 Rotisserie chicken and baked chicken are a great option for low carb or keto eaters, while the fried chicken and tenders would clearly be much less than you'd pay at pretty much any restaurant nearby.
You can buy the chicken by the pieces or make them into a meal deal with 2 pieces of chicken and 2 sides. Or a large meal with 8-pieces and sides for about $12.99. If you're feeding a large group (the whole Hall H line maybe??), you can buy a large amount of chicken: 25, 50, or even 100 pieces.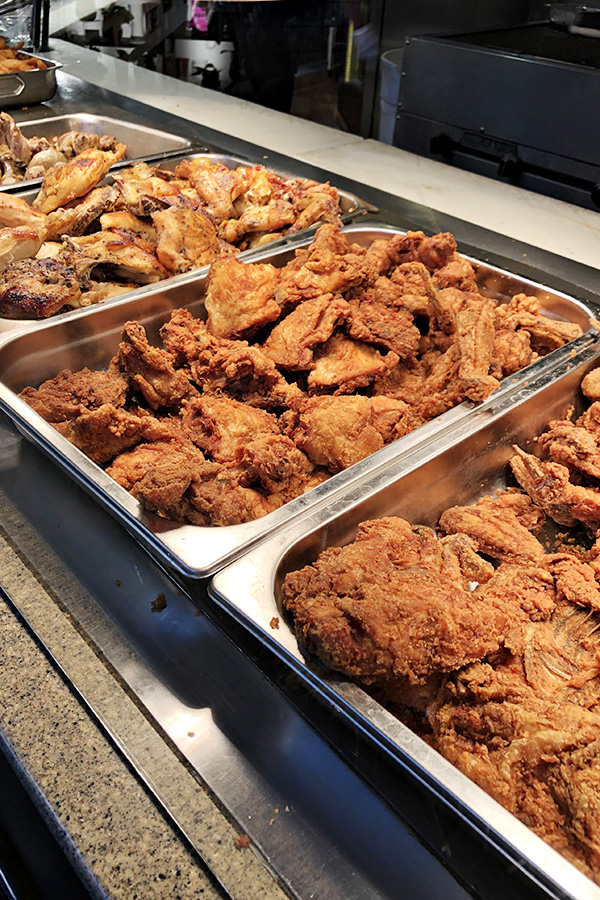 While fried and rotisserie chicken is fairly common in grocery stores these days, we were surprised to see that there was a section for Tri-Tip & BBQ in this Ralphs in Downtown San Diego.
This section connects up to the chicken area and offers meal deals with various meats and side dishes. There was ribs, tri-tip roast slices, turkey slices, prime rib, pork carnitas, and more.
For hot side dishes — which can pair with the chicken meals or meals in the Tri-Tip/BBQ section — there was macaroni and cheese, scalloped potatoes, potato wedges, brussel sprouts, cauliflower, mushrooms, onion rings, and green bean casserole. They also have cold salads, like potato salad, cole slaw, and macaroni salad that you can choose for a side in your meal.
There's more quick eats in this section too. You can get corn dogs, fried burritos (chimichangas), flautas, boneless wings, and even lasagna.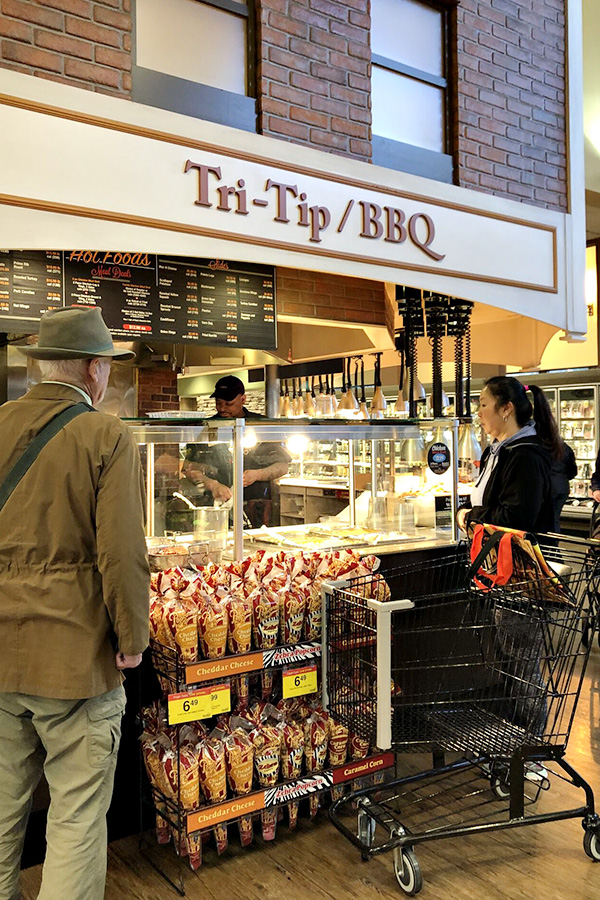 If you're wanting something fresh and not fried, Ralphs has you covered with a salad bar that features 100% organic produce. Use their containers to create a salad masterpiece and simply pay by the pound.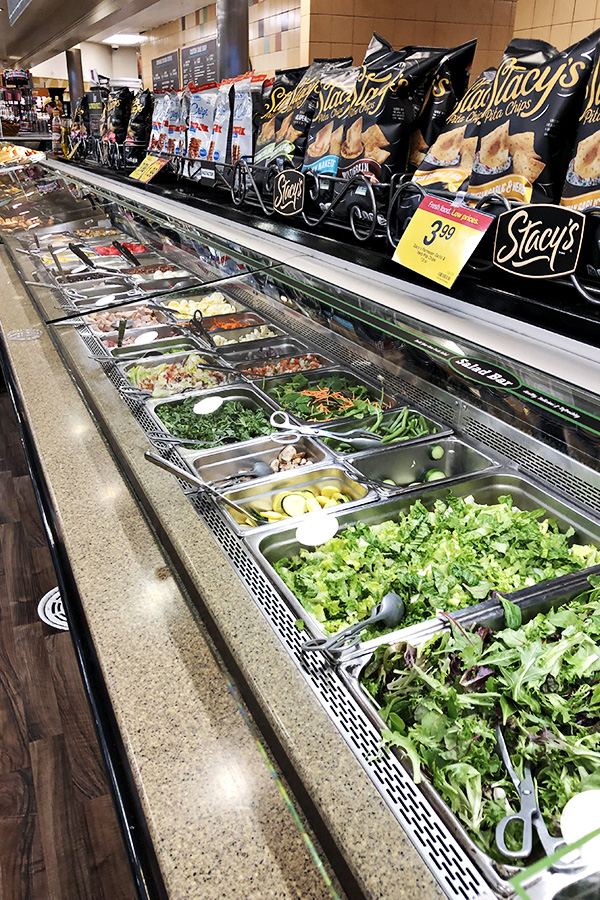 Pizza is the best party food and since Comic-Con is pretty much a 4-day party, chances are it will probably be one of the meals you eat while you are in San Diego. If time short — or your budget is shot — Ralphs has frugal pizza options. You can get a slice for just $3 or a whole pizza with 6 slices for just $12.
There were several options available: Four Cheese, Extreme Pepperoni, Chicken Pesto, Margherita, Ultimate Meat, BBQ Pulled Chicken, and a random Pizza of the Day.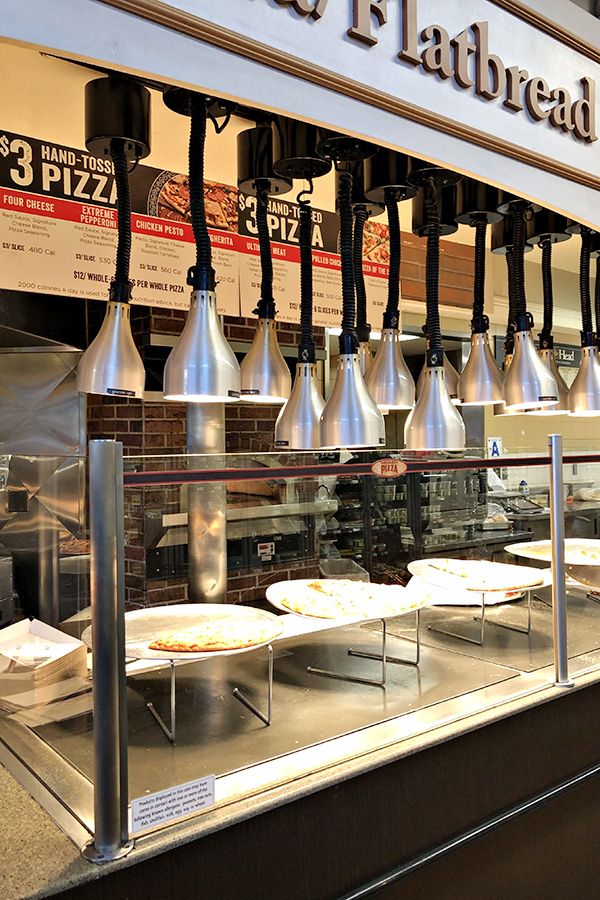 If you love avocados, there is even store-made guacamole available. They also have fresh pico de gallo. Grab one of their containers and some tortilla chips and you'll have a healthy lunch or snack.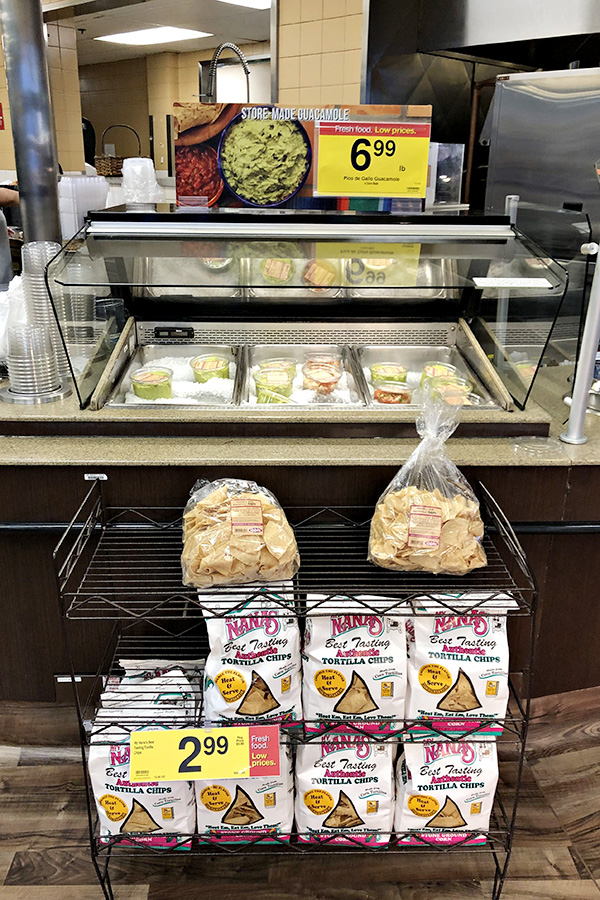 There are sushi options too.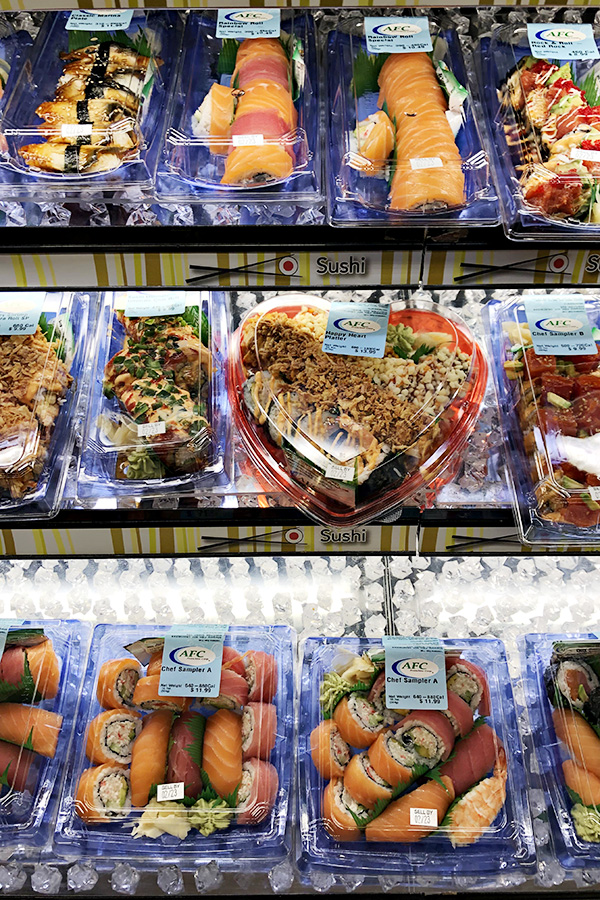 For Comic-Con snacks, Ralphs has all the usual grocery store offerings, but they also have a bulk foods section where you can dispense as little or as much as you want of nuts, granola, candies, and snack mixes. Sometimes this can be a less expensive option, especially if you don't want to buy a whole bag of almonds (for example).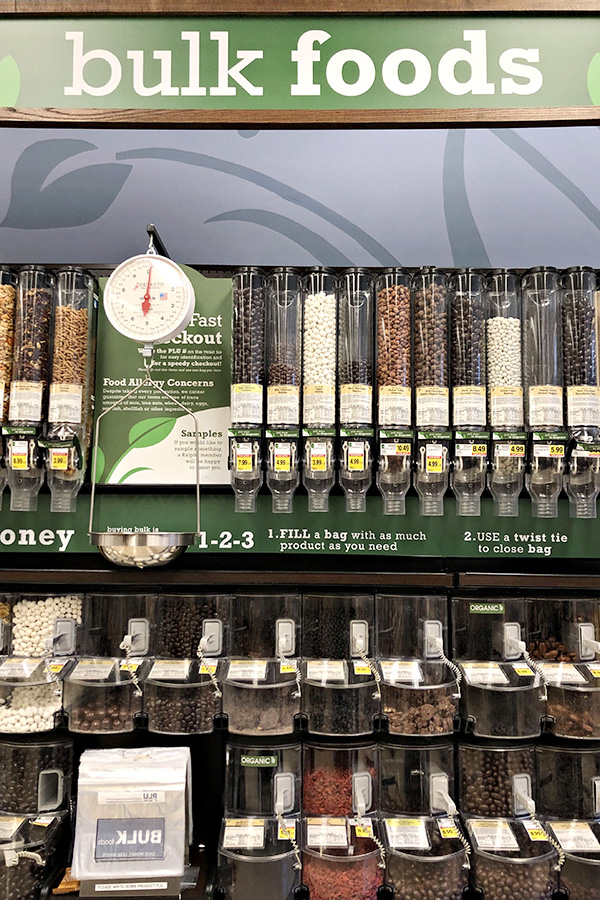 In addition to all of these convenient food options, Ralphs also has:
Starbucks
Bakery
Olive Bar
Boar's Head Sandwiches
Beer, Wine, and Liquor
Drug & General Merchandise
Flowers
Pharmacy
Redbox
TIP: If you have a store card from your local Kroger-owned store (for example: Kroger, Dillons, Smith's, King Soopers, City Market, Fry's, QFC, and Harris Teeter) you should be able to use that card at Ralphs. In Las Vegas, we shop at Smith's and whenever we are in California, we always use our Smith's card at Ralphs. By doing this, we get the discounts without having to sign up for a Ralphs card. Let us know in the comments if this does or doesn't work for you.
If you find yourself needing bottled water, snacks, meals, or general necessities while you're at Comic-Con, Ralphs is super convenient. In previous years, Ralphs as one of the Comic-Con shuttle stops. Unfortunately, this year, it's not. But if you have a car, you can easily drive over and it isn't too far of a walk from the convention center or most of the downtown hotels.
If you've shopped at Ralphs during San Diego Comic-Con, leave us a comment about what your go-to purchases are!