A list of over 10 Fun Things to Do with Amazon Echo that pop culture loving, geek families will enjoy.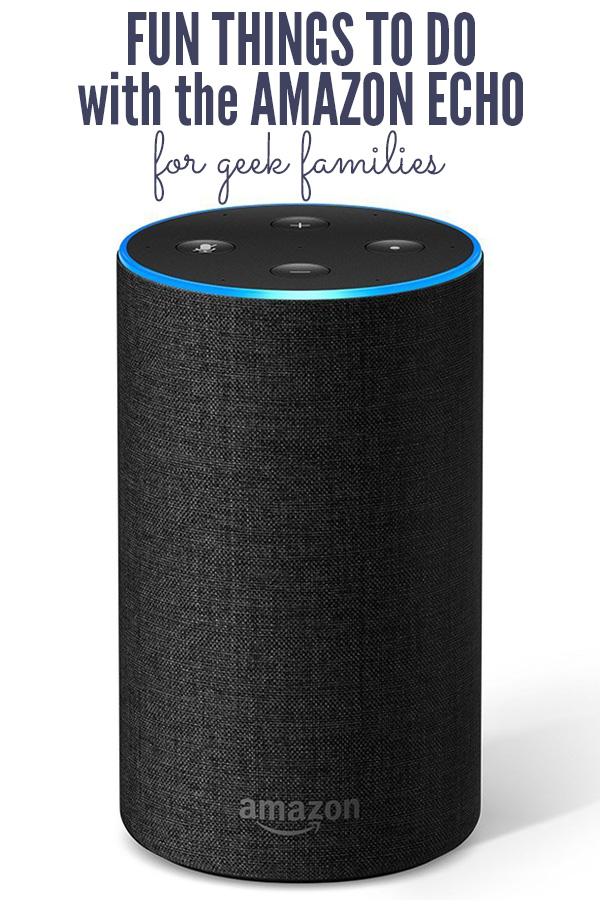 This post contains some affiliate links for your convenience.  Click here to read our full disclosure policy.
Two years ago, our family was excited to receive an Amazon Echo for Christmas. We started using it right away and it quickly became a fun and useful part of our geek family.
We frequently use it as a Bluetooth speaker and to play music from our Amazon Prime or Spotify accounts, and we use it for several "smart home" features, but there is so much more you can do with it. We set timers with it, use it to check the weather, verify information ("Alexa, when is Father's Day this year?") but also other things that are just plain fun.
Here are lots of entertaining & fun things to do with Amazon Echo (or the smaller & less expensive Amazon Echo Dot) that a pop culture loving, geek family might enjoy. The best part? All of these Alexa skills are free to enable on your Amazon Echo.
Fun Things to Do with Amazon Echo for the Geek Family
—This Day in History: History Channel brings you this Alexa skill that enables you to find out about what historical events that happened on this day.
—Unofficial Labyrinth: Have fun re-enacting the most famous quote from the Labyrinth movie: "You remind me of the babe". Tell Alexa who she reminds you of, and play through the whole quote with her.
—Burger of the Day: A must for Bob's Burger fans. Simply say "Alexa, ask Bob's Chalkboard about today's burger of the day" and you'll receive a random burger name as seen on the show.
—Disney Quote of the Day: This Alexa skill will add a Disney Quote of the Day to your Flash Briefing.
—Geek Humor: Enable this on your Amazon Echo and it will give you jokes on topics such as Robots, Computers, Physics, Chemistry, Biology, Astronomy, Math, Engineering, Philosophy, and Astronomy.
—new flicks: This Amazon Echo skill will give you information of latest and more popular movies and shows on all streaming providers including Netflix, Amazon Prime, Crackle, Hulu, HBO, and even latest releases on Redbox.
—Force Guide: Unofficial Star Wars Reference: With this skill, you can learn facts about Star Wars characters such as their species, home planet, what ships and vehicles they use.
— Screen Test | Movie Quote Quiz: With over 200 movie quotes, this Alexa skills will tell you a famous quote from a movie and lets you name the title of the movie. You can also repeat the quote, get a clue, or ask more time.
—Mr. Robot: Daily Five/Nine: This Alexa skill is an interactive story game inspired by the appearance of the Amazon Echo in USA Network's series MR. ROBOT. You can participate in a journey inspired by the storylines of season_2.0 and season_3.0.
—The Magic Door: In this choose-your-own-adventure story, you can navigate a forest, a garden, or an ancient temple. You can find hidden items, solve riddles, and help magical creatures.
—Radio Free Cybertron Daily News: The Transformer podcast, Radio Free Cybertron, brings daily Transformers news and information to the Amazon Alexa Daily Briefing. They share daily news and information around Transformers and related toy lines.
—Spider-Man: A must for Spider-Man fans! Get a daily joke, learn a movie fact, or hear from the cast of Spider-Man: Homecoming, along with other surprises related to the Spider-Man.
—Yes Sire: Adults will enjoy this highly rated "yes or no" game as you sit as a medieval lord of the realm, presented with an ever-expanding array of difficult choices. Make good choices and stay in power as long as you can.
We hope you found something fun on this list to try out. What fun things do you like to do with your Amazon Echo or Dot? Leave us a comment and let us know!