This shop has been compensated by Collective Bias, Inc. and its advertiser. All opinions are mine alone. #CollectiveBias #ManCaveMovieNight
Having a MARVEL Venom movie night? Get our FREE PRINTABLE VENOM MOVIE WORD SEARCH to either enjoy along with the move OR use for gift wrap!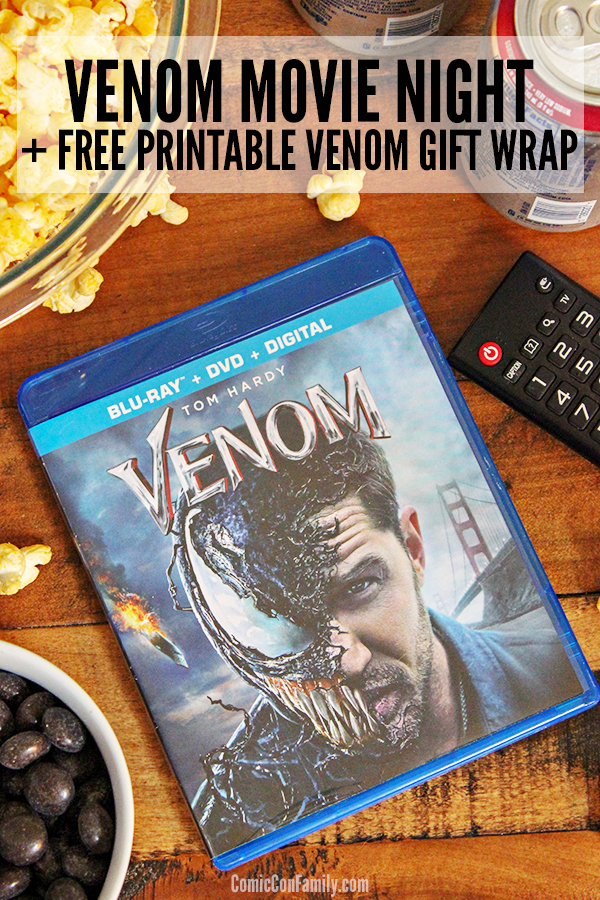 There's a tradition in our house that happens every Christmas. My wife and the girls make all the tamales for our Christmas Eve dinner while watching holiday movies. They chat and laugh, and by the end of the night, they've wrapped dozen of tamales. Seriously, tons of them. I've helped before but my wife is happy to keep me away. Too much masa, too little masa. I don't know. I can cook, but tamales? I can't get the hang of them.
So while their tamale and holiday movie fest is happening, my son's and I also get a movie night. Except we don't do the holiday movies on this night. There's nothing wrong with Christmas movies – I watch my fair share of them. But usually, we pick something that's full of action and definitely not a Christmas theme. It can be anything — a new release, an older favorite, or something we've seen in theaters.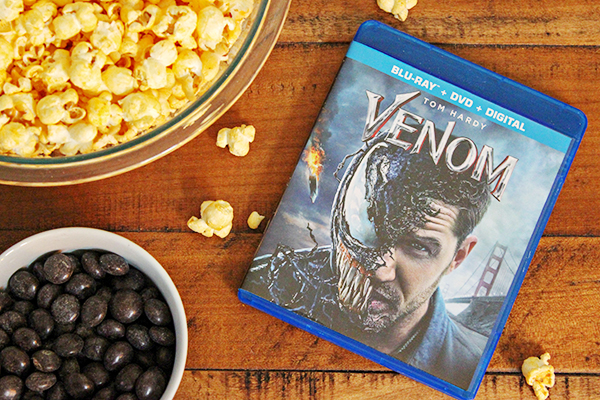 This year, our movie night had perfect timing. See, I thought we were going to have to wait for 2019 to Marvel's Venom to come out on Blu-ray. Nope — it's being released just in time for Christmas. Not only does that work out great for our guys' movie night, but it's great for holiday gift giving and stocking stuffers.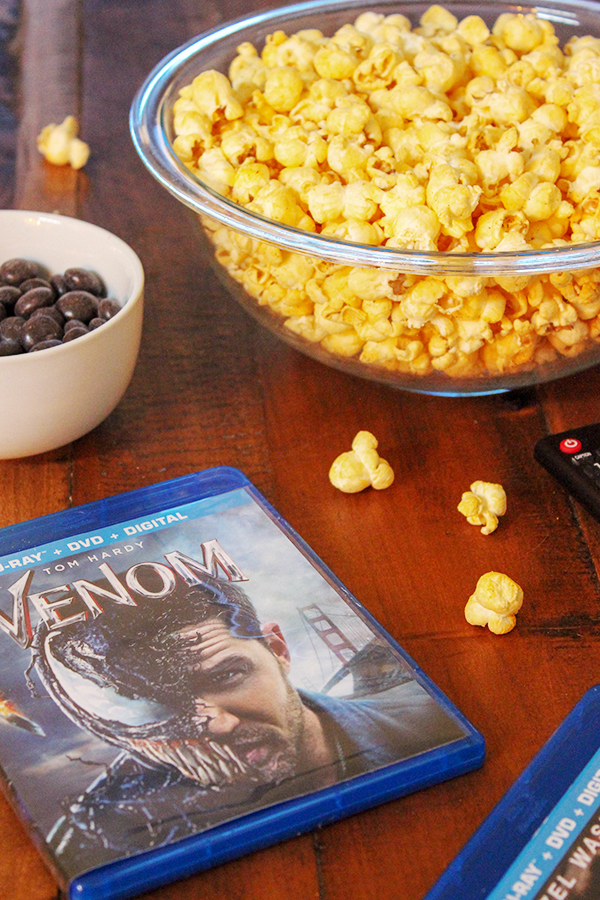 The folks at Sony sent me over a copy of Venom starring Tom Hardy. With that and some popcorn, candy, and sodas, we were set for our Venom movie night!
We saw Venom in the theaters and loved it, so we were eager to watch it again. Just like its tagline "The World Has Enough Superheroes" — one of my favorite things about Venom is that it's an anti-hero story. You got to love that the Blu-ray also has over an hour of extra content and special features. And if you didn't see it in theaters — or you left when the credits started (TIP: don't ever do that when seeing Marvel movies) — then be sure to watch all the way through the credits for the two extra post-credit scenes.
I'm the type of dad who always has a long list of Blu-rays on my holiday wish list. If you are shopping for a dad in your life that likes movies, no doubt he'll want to add Venom to his personal collection of superhero (or, um, anti-superhero) movies. You can pick up Venom at Walmart on 12/18/2018 and be sure to look for the Venom Retro Action Figure movie gift set that will be available.
And when you're picking up Venom at Walmart, there is another action-packed movie has also been released: The Equalizer 2 on Blu-ray starring Denzel Washington. It also has over an hour of bonus features, including deleted scenes. And did you know that this was Denzel's first sequel? I had no clue.
Both of these movies together are perfect movie gift ideas for any action-movie loving guy. To purchase Venom and The Equalizer 2, just hover over the image below!
To make your Venom gift giving a bit more fun, I'm sharing a Free Printable Venom Word Search that also doubles at gift wrap if you're giving the movie to someone.
I have two version available for you:
Holiday themed, with "Happy Holidays" spelled out in the search
Non-holiday themed, with "A Gift For You" for gift giving all year round
To use this Venom Word Search for gift wrap, just print out two copies of your preferred wrapping paper on landscape mode and tape the edges together to create a larger piece of gift wrap.
If you wish, circle any of the words you would like to draw attention to when you give your gift. For example, I circled "Happy Holidays", but you could also circle "Parasite" and have your gift recipient really confused.
One of my kids says you should circle "Blu-ray" since we have an ongoing joke in our house that they can always tell when the gift is a movie before opening it.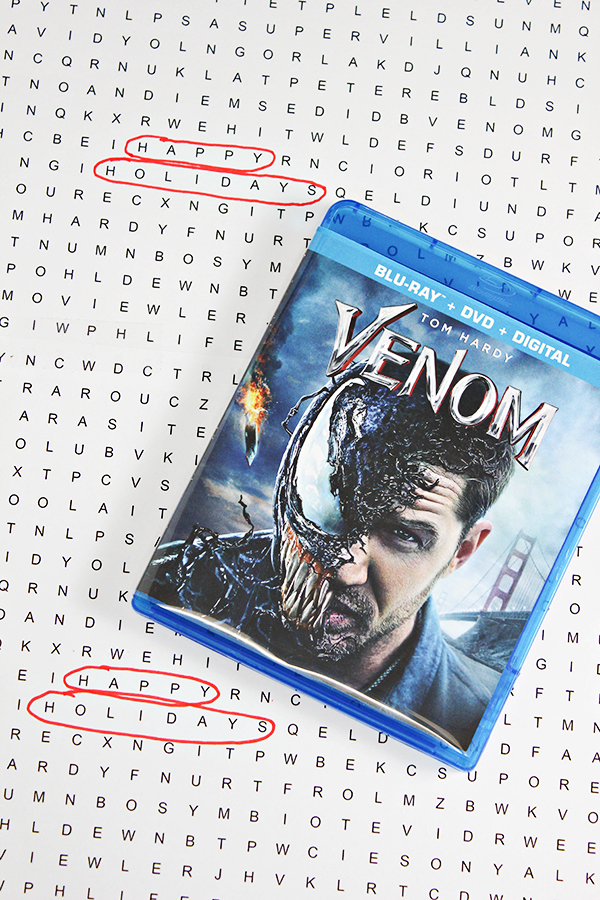 Each one also has words with 16 Venom Blu-ray themed words:
ANTI-HERO
BLU-RAY
CARLTON DRAKE
EDDIE BROCK
LIFE FOUNDATION
MARVEL
MOVIE
PARASITE
RIOT
SONY
STAN LEE
SUPERVILLIAN
SYMBIOTE
TOM HARDY
VENOM
WE ARE VENOM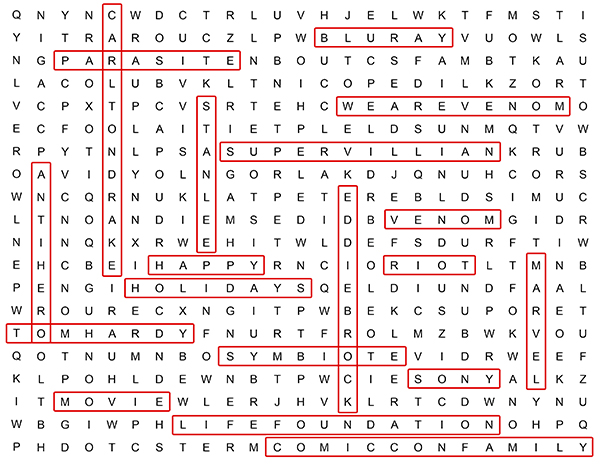 Want to have some extra fun with the person you are giving this to? Before unwrapping, make them find all the words possible and guess the movie before they open. I mean, they already know it's a Blu-ray and if they are a Marvel or Venom fan, it probably won't take them too long.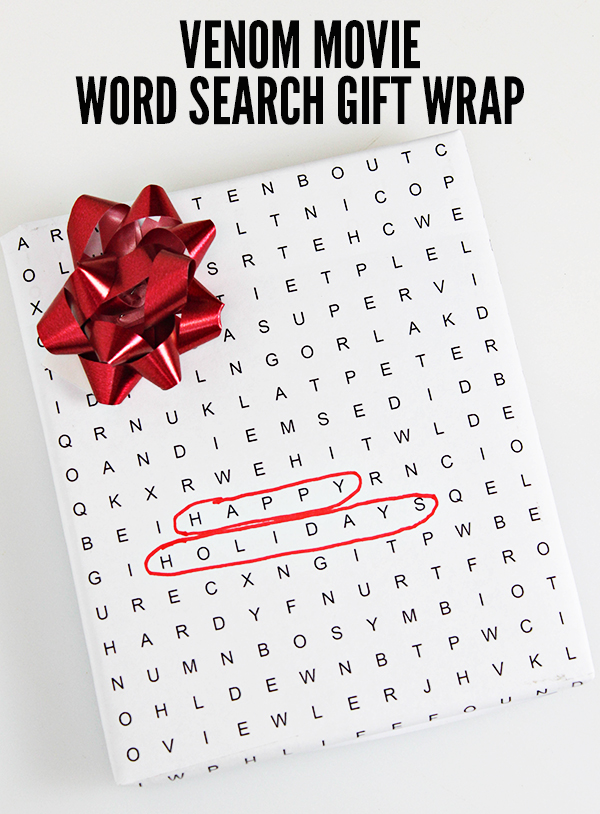 Of course, you don't have to use this Venom word search as wrapping paper! If you or someone you know is a Venom fan, print out the word search for some anti-hero fun!
Click below to print your choice of Venom Word Search!
I hope our free printable is useful for your Venom gift giving this holiday season! Tag us on social media at @ComicConFamily with a photo of how you used it!