FOR THE LOVE OF SPOCK is a documentary that shares the life of Star Trek's Mr. Spock and the actor who played him, Leonard Nimoy, for nearly fifty years. If you're a Star Trek fan, this needs to be on your must-watch list.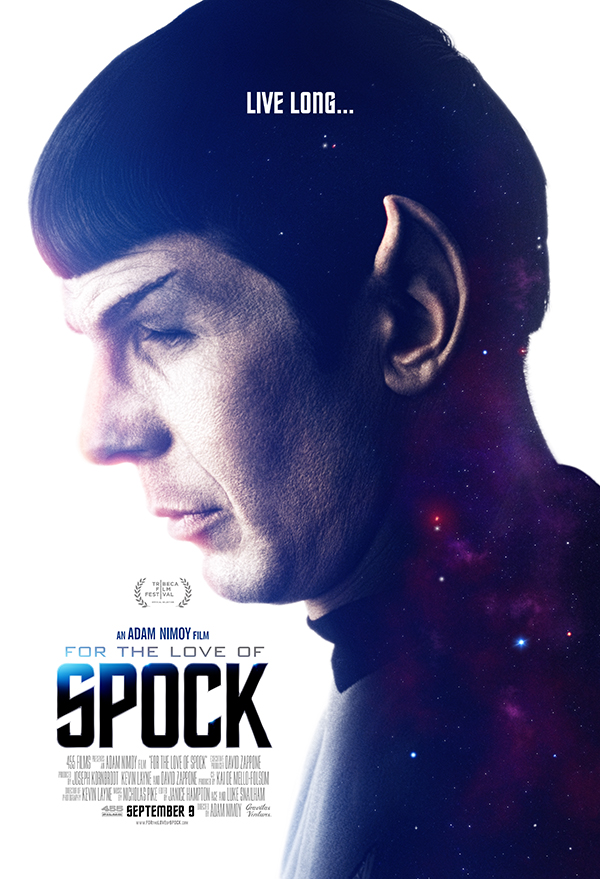 This post contains some affiliate links for your convenience.  Click here to read our full disclosure policy.
For The Love Of Spock is a documentary that celebrates the life of both the character "Spock" in movies and the TV show, Star Trek, but also of Leonard Nimoy himself, who played Spock for nearly fifty years.
The documentary began as a collaboration between Leonard and his son, director Adam Nimoy. The plan was it to celebrate the upcoming fifty-year anniversary of Star Trek: The Original Series. It had a simple focus: to share the beginnings and history of Spock and the impact of this character on Trekkies and the world of pop culture.
But in February 2015, Leonard Nimoy passed away. This is when Adam expanded the focus of the film to also include his father's life and legacy, including his own experiences growing up with Leonard…and Spock. To fund the project, a Kickstarter campaign was also held. On July 1st, 2015, "For The Love of Spock" finished their campaign and broke records to become the largest successful documentary project raised on Kickstarter.com to date.
"For The Love Of Spock" is now available for all of us to enjoy. It includes film clips, photographs, and interviews to share Leonard's career playing Spock. The documentary includes many interviews of friends, family, and colleagues such as William Shatner, George Takei, Nichelle Nichols, Chris Pine, Zachary Quinto, Simon Pegg, Zoe Saldana, Jim Parsons, filmmaker J.J. Abrams and astrophysicist Neil deGrasse Tyson.
Watch the trailer below and if you're a Star Trek fan, FOR THE LOVE OF SPOCK needs to be on your must-watch list.
For the Love of Spock arrived in theaters on September 9th, 2016 and is now available on Blu-ray and DVD, as well as digital rental.