Want to dress up with your kids? We share one family that is doing just that and their 5 family costume ideas for Halloween or cosplay.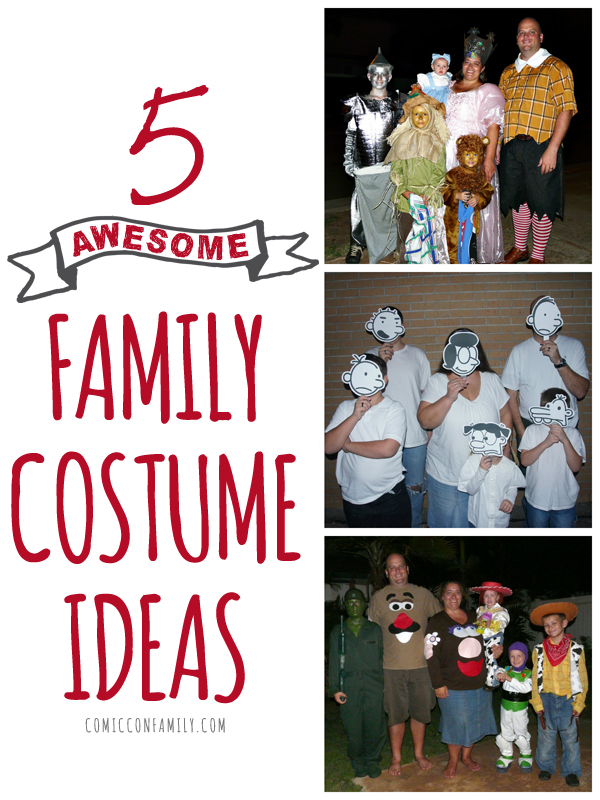 Most of us have kids that dress up in Halloween costumes, but how many of you dress up WITH your kids? Whether it's for Halloween or cosplay fun at conventions, I absolutely love seeing families dress up together. These parents are total rock stars — and doing something that I wish we had done with my kids when they were younger.
The Campbell Family of Oregon is one of those awesome families. Each Halloween, this family of six does all the typical things on Halloween: they go trick-or-treating in their neighborhood, attend a church "trunk-or-treat", and attend Halloween parties. But the one thing that makes them enjoy Halloween even more is that they dress up together in themed Halloween costumes. Whether it's costumes from Toy Story or Diary of a Wimpy Kid, they have found a fun way to make memories and bring the whole family together through cosplay.
While their kids have been dressing up since 2002, the whole family jumped into dressing up in 2008. At this point, their family was complete: Angie and her husband, plus their four kids, who were ages 11 , 7 , 3, and 6 months. They had just moved into a new area and decided to start this new Halloween tradition.
To inspire other families to give it a try, we're sharing 5 fun family costume ideas that the Campbell family has dressed up as over the last few years. These costume ideas are great for a family of 6 people, but they can easily be adapted down (or up) to accommodate families of all sizes.
#1 The Wizard of Oz
The first year, they went as The Wizard of Oz, complete with a baby Dorothy, Glinda the Good Witch, a (very tall) Munchkin, and of course, the Scarecrow, Lion, and the Tin Man. Angie (who admits she's not a seamstress at all), even took on the huge projects of sewing her daughter's Dorothy costume and altering her own Glinda dress.
The dressmaking was challenging, but the costumes were well received by everyone they met and totally made it worth it in the end. They didn't realize how many reactions they would receive from dressing up, but everyone around them was so positive and enthusiastic, they were instantly hooked on the fun. Just like that, a new family tradition was born.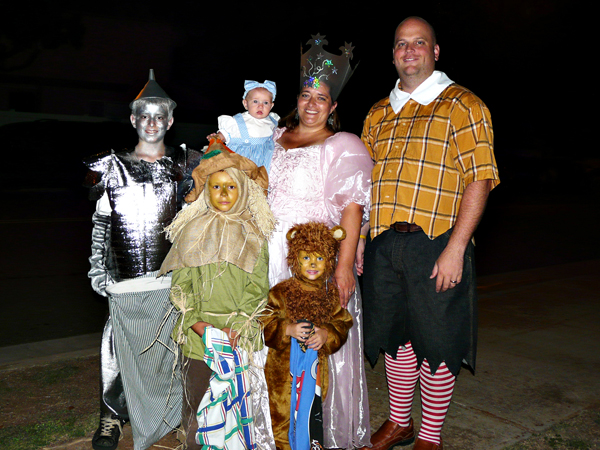 #2 Toy Story
The following year in 2009, the Campbell family dress up as the gang from Toy Story:  Woody, Buzz Lightyear, Jessie,  Mr. and Mrs. Potato Head, and last, but not least, a green Army Man. Everyone they encountered laughed when they figured out that their 12 year-old was a toy soldier from Andy's Bucket O' Soldiers.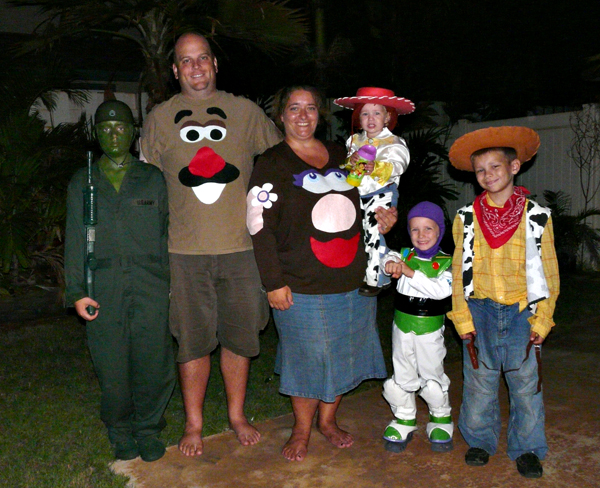 #3 Peter Pan
In 2010, the family went as characters from Peter Pan. Angie shared that these were their most expensive costumes. To give the iconic characters the right look, they searched and scoured thrift shops for 6 weeks just to find pieces that would work best. They had very little on hand at home that that they could use, so nearly everything had to be bought. Even the fabric that Angie bought for the Wendycostume was pricey. But, all in all, she says the response to their Peter Pan family costume was totally worth the work and cost involved.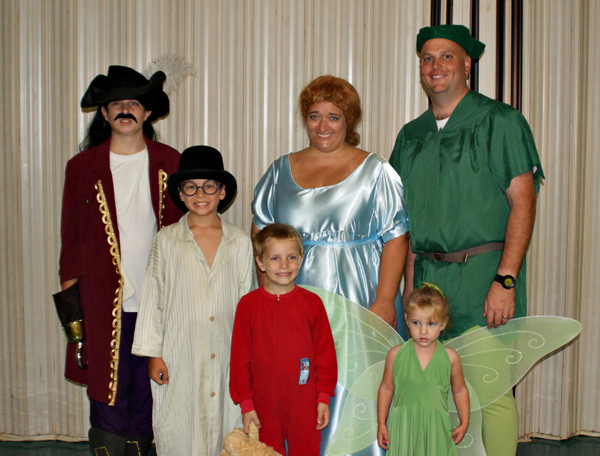 #4 The Addams Family
They're creepy and they're kooky, mysterious and spooky, they're all together ooky…who are they? The Addams Family! In 2011, the Campbell's went through a bit of a name change and ditched their colorful costumes for something a bit more dark. Even their 10 year old son took his role seriously and asked to have his head shaved completely bald to be Uncle Fester.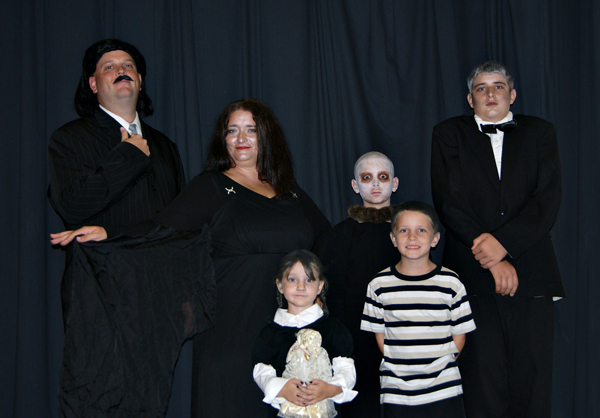 #5 Diary of a Wimpy Kid
Last year (2012), Angie said they had an idea all ready for Halloween, but they just weren't feeling it was right for them. On Halloween Day, they ditched their previous idea and went for something completely different — as characters from the book and movie, "Diary of a Wimpy Kid". They printed and cut out paper masks (Angie found patterns for some online and created the rest) and they wore white shirts and denim on the bottom.
While it sounds crazy to completely change their costume on Halloween, it paid off. It was a HUGE hit with everyone and proof that you don't have to spend a lot or be complicated to have a great costume.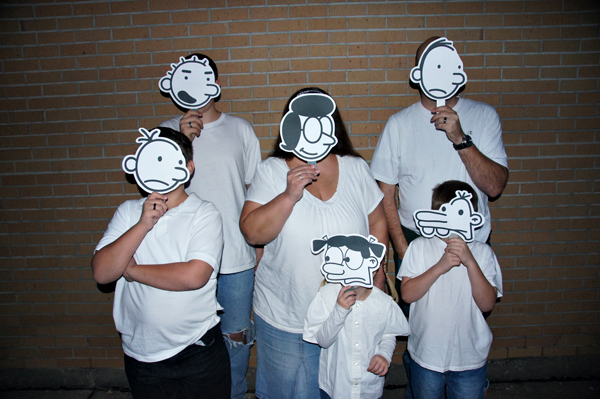 So, now that I've shared all their family costumes from previous years, the big question is….what will they be this year??
Well, Angie wouldn't tell me. Not even if I bribed her with all the chocolate in my upcoming trick-or-treat bag. Their costumes have become a big deal to everyone who knows them, so they keep the suspense up by keeping it hush-hush until the day of their first Halloween event.  If you are reading this after Halloween 2013, head on over to their family blog at www.angcampbell.blogspot.com to find out what their costumes were. If you are into digital scrapbooking or digital art, check out Angie's digital scrapbooking designs.
Do you dress up with your kids? If so, what have you been?