DreamWorks movie, Turbo, is coming out on Blu-ray and DVD this Tuesday,  November 12, 2013. To  celebrating the release of Turbo, you have a chance at winning a brand new 2014 "Blu-ray Blue Metallic" Chevy Camaro. I know I would love to win this sweet ride, how about you?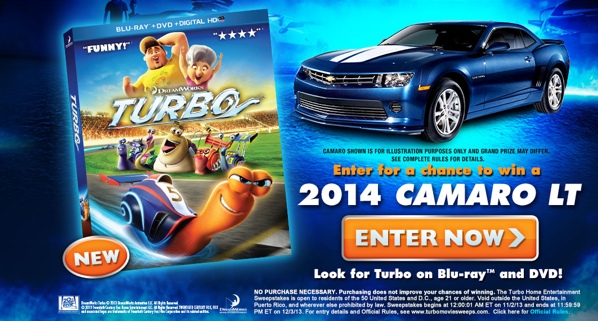 Starting this week, the Turbo Racing League app (iOS, Android, Windows Mobile) is hosting a four-week tournament where players have a chance to win a free Digital HD download of Turbo. One lucky fan will win the grand prize 2014 "Blu-ray" Metallic Camaro LT, valued at $30,000.
You can download the app here and join in the fun!
https://itunes.apple.com/us/app/turbo-racing-league/id604752655?mt=8
https://play.google.com/store/apps/details?id=com.pikpok.turbo
http://www.windowsphone.com/en-us/store/app/turbo-racing-league/ddc94d78-faf6-4979-9760-ac645aeb3be1