Gather a few supplies and you'll be able to make your own slime recipe, inspired by LAIKA Studios movie, Coraline! This DIY Coraline Button Slime will provide hours of squishy fun!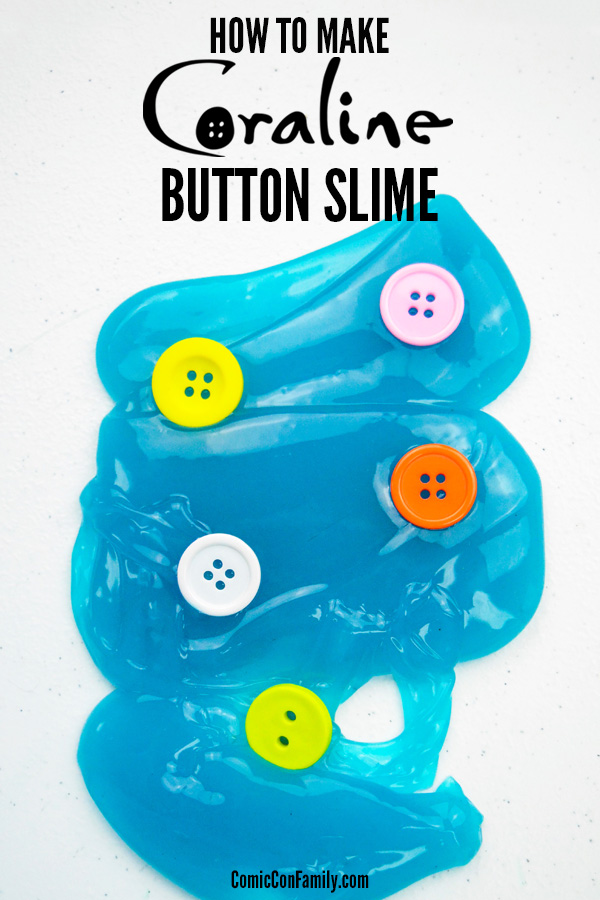 Back in 2009, our youngest son and I went to our local Cinemark movie theater and saw Coraline by LAIKA Studios. At the time, we knew nothing of Caroline. We had never heard of the book, Coraline by Neil Gaiman (released in 2002) and since this was the first LAIKA film to be released, we didn't know of wonders of LAIKA Studios either.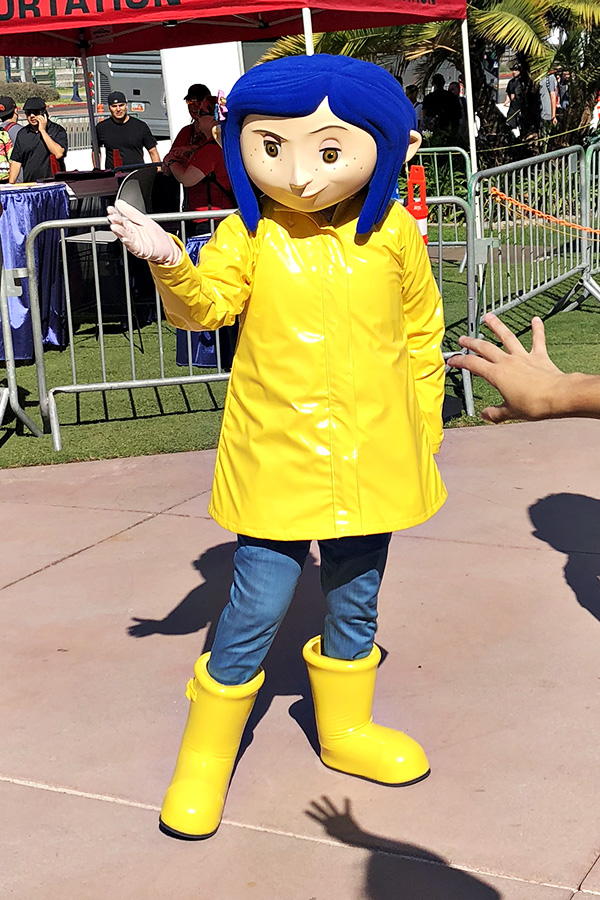 But, we saw Caroline and we loved it. And from there on out, we saw every single LAIKA film in theaters and our family has been LAIKA fans — and Coraline fans — ever since.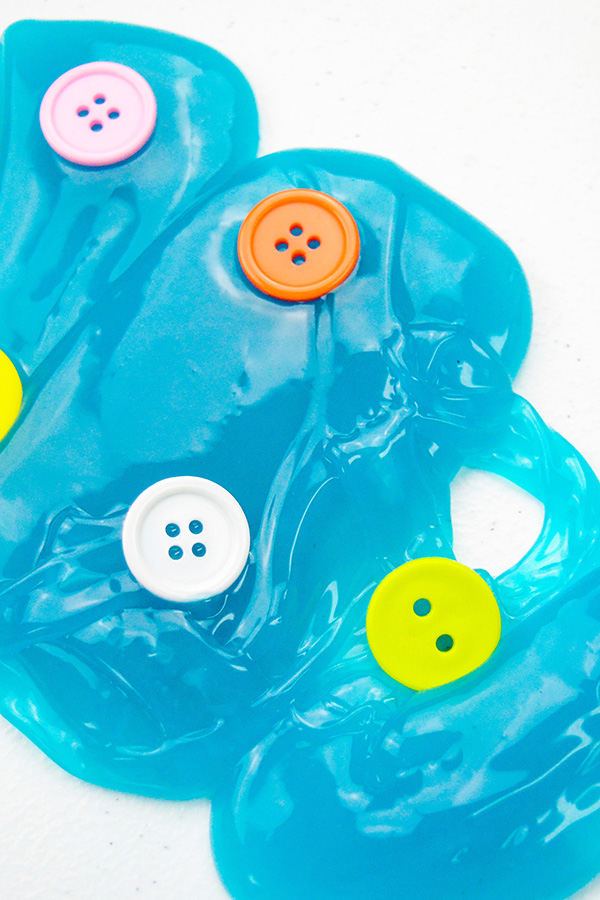 This post contains some affiliate links for your convenience. We may receive a small commission if purchases are made through our links to retailers.   Click here to read our full disclosure policy.
Here's how to make your own DIY Caroline Button Slime!
DIY Coraline Button Slime Ingredients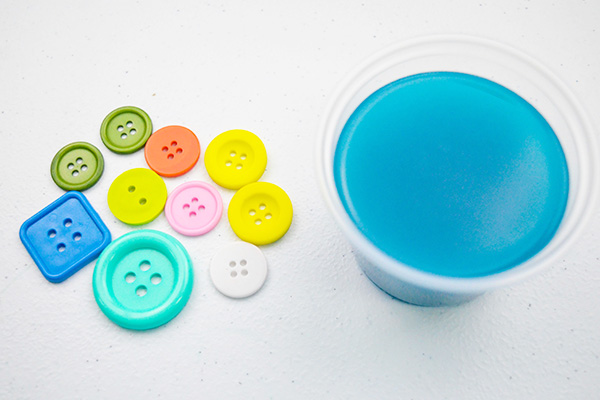 DIY Coraline Button Slime Instructions
Add the clear Elmer's School Glue into a small mixing bowl. Add blue food coloring and mix it together with the glue with a spoon until you achieve the desired color.
Add the liquid starch slowly in small amounts to the colored glue mixture until the slime isn't sticky to the touch. You can use your arm or wrist to test the stickiness of the slime.
At this point, the slime is ready to play with. Add the buttons to the slime and have fun squishing and stretching it.
To store your homemade slime, you'll want to be sure to store it in an airtight container. This slime will stay good for a long time. If it becomes sticky after being stored, just add another 1/2 tablespoon of liquid starch into the slime and mix well.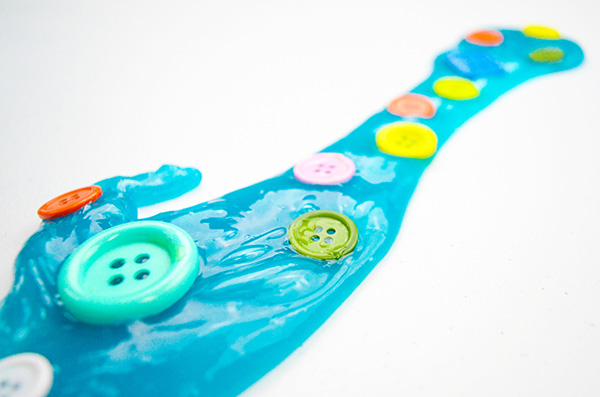 Important Slime Safety
While slime is a lot of fun to play with, there are some important slime safety rules you should follow.
First, this slime recipe is only for kids ages 4 years and older. This slime recipe should also only be made with adult permission and supervision.
Small buttons are a choking hazard for young children. We recommend that you DO NOT use very small buttons in this slime. The button sizes we use in our photos should only be used with older children who will not place the buttons in their mouth.
If you make this slime for younger children and are concerned about the size of the buttons, use giant lacing buttons in this slime. They might even be more fun — they have larger holes that are fun to squish slime through.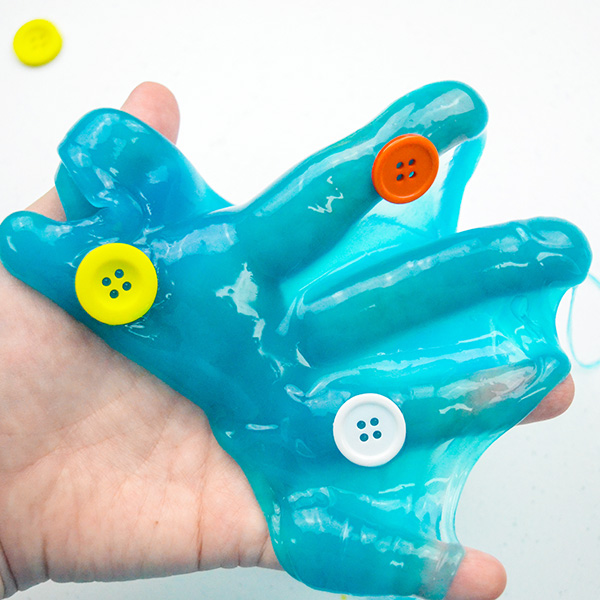 While this Coraline slime is blue, there are other ways you could make Coraline slime. You could make the slime yellow (like Coraline's raincoat), you could use just blue buttons (to match Coraline's hair), or use black buttons (like the Other Mother's eyes).
We hope you like this DIY Coraline Button Slime! If you do make a batch, be sure to share it on Instagram with the tag #ComicConFamily so we can see it!