Our Disneyland vacation tips for the best places to see characters in the park will make easy for your family to meet your favorites! From Mickey and Minnie, to the Wicked Witch or even Prince Charming, you will have countless characters to take pictures with and even grab an autograph from.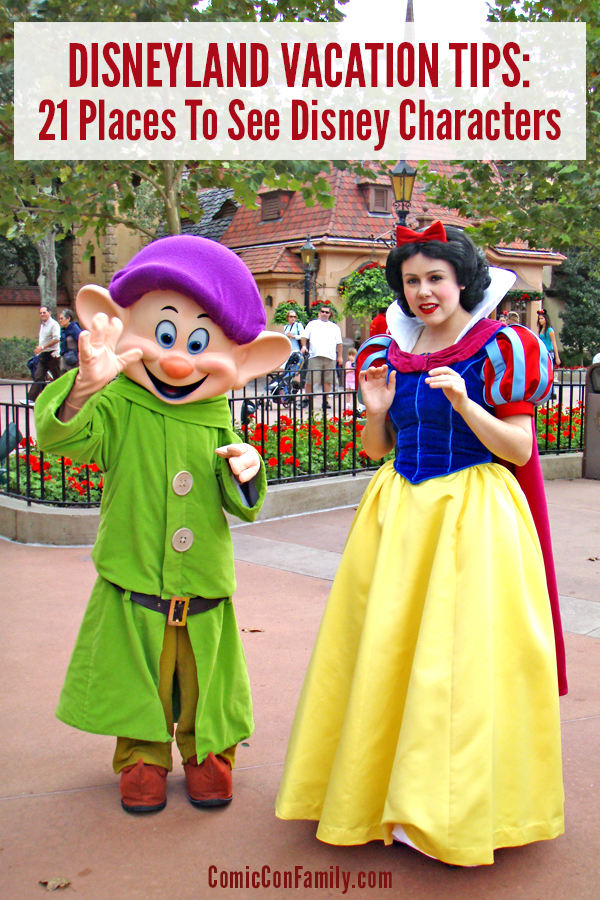 Disneyland Vacation Tips:
21 Place To See Disney Characters in the Park
1. Inside Gates: As soon as you go through that turnstile you will often see various characters near the entrance "tunnel" or by the giant Mickey behind the train station of Main Street. Most often you will see Cinderella, Ariel, Snow White and Prince Charming in this area.
2. By Great Moments With Mr. Lincoln: Between this and Mad Hatter on Main Street you often see Pluto, Cruella da Vil or the Wicked Stepmother.
3. By Firehouse: On the opposite side of Main Street near the Disneyland Fire House is where you may see Goofy, Pluto or one of the Princesses hanging around.
4. Entrance Hub In Front Of Train: Right inside directly in front of the Main Street Train Station you will often see band performances with various members hanging around. Mickey, Minnie and Goofy like this area.
5. On Train: Every now and then you are lucky enough to take a ride with Goofy or Mickey as the conductor on the train!
6. By bathrooms outside Plaza Inn: This is an area near a cast entrance. If you need a place to sit and rest in the shade, this can be dual purpose for catching a quick glimpse of a character slipping in and out.
7. In Sleeping Beauty's Castle: There are often great parties and events held inside Sleeping Beauty's Castle, and as a result you can find a lot of the various princesses bustling about in this area off and on.
8. In Innovations In Tomorrowland: The Innovations building and area is a great place to see Buzz Lightyear, Thor, Captain America, Jedi's and even Iron Man.
9. On Pirate's Of The Caribbean: It has been rumored that Johnny Depp makes a random appearance here, but whether it is him or just another cast member is yet to be known.
10. At Hub by Walt & Mickey Statue: This area right in front of the castle and at the end of Main Street is a popular place to see a princess, Mickey or any random character out for a stroll and photo opportunity.
11. Big Thunder Ranch: Near Big Thunder Mountain roller coaster and the area of Big Thunder Ranch, you may spot Mickey, Minnie or a random character strolling around between shows. As you wait in line for rides, be on the watch.
12. Golden Horseshoe Saloon: On a rare occasion the shows here will also feature a character like Goofy or Pluto. Head inside to cool off and see if you catch a glimpse.
13. At Fantasy Faire near Fantasyland: This new performance area right between Main Street and Fantasyland is a great place to spot your favorite princesses including Elsa and Anna from Frozen.
14. At Mickey's & Minnie's House In Toontown: They have scheduled character times at the Mickey House inside Toontown. Even if the character isn't in the house, it's cool to visit their home.
15. At Plaza Inn For Character Breakfasts: The breakfast is from 8am-11am each day and is well worth your money for a delicious breakfast buffet with characters coming in and out to meet and greet each guest individually.
16. Pixie Hollow outside Fantasyland: This is a fun area that Tinkerbell and Peter Pan often hang out in the afternoons.
17. Afternoon Magical Parade: The afternoon/early evening parade is a great place to watch almost all of your favorite characters go by. If you have a spot up front, you'll be able to see them closely and sometimes even grab a hug or handshake.
18. Adventureland near Jungle Cruise: Between Adventureland and Fronteirland is an area close to the Jungle Cruise where Jasmine, Aladdin and the Genie often hang out.
19. In New Orleans Square Near The Haunted Mansion: If you want to see Jack Skellington or Princess Tiana this is a great place to spot them.
20. Evening Electric Parade: This parade is a beautiful event after the fireworks that everyone should experience at least once. Many characters are present for this event.
21. Critter Country near Splash Mountain: This is the area to see Tigger, Winne the Pooh and similar characters that younger kids may enjoy seeing. Often they will be hanging out near the restrooms or right outside the line for Splash Mountain.
Here's a bonus Disneyland vacation tip: At most of these places to see Disney characters, you'll also find a park photographer on hand to take pictures for you. While they are selling professional images, many of them are happy to use your camera for an extra picture or two. The staff and characters at Disneyland really go above and beyond to make sure you and your family have an amazing experience.