We're sharing our 10 Best Chuck E. Cheese Tips for everything from how to get free Chuck E Cheese tokens to where to get Chuck E Cheese printable coupons.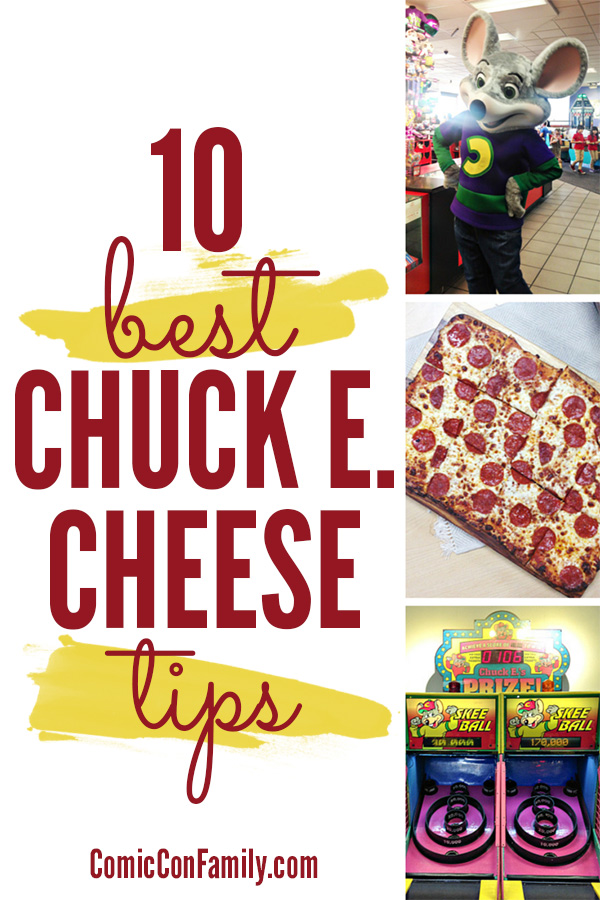 Sign up for the Chuck E-Club
Chuck E. Cheese has an email list called the Chuck E-Club and it's a way to get their very best deals and coupons from them. If you know your Chuck E. Cheese visit is coming soon, we recommend signing up several days in advance (the earlier the better), because you might not get the deals in time if you sign up the day of or the day before.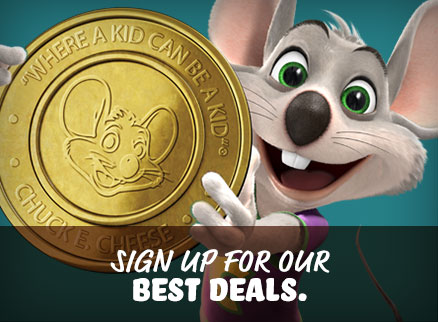 Save money with Chuck E Cheese Printable Coupons
Whether or not you sign up for the Chuck E-Club, they also offer printable coupons you can use on your trip to Chuck E. Cheese, even if you go at the last minute. You can print your coupons on their Chuck E Cheese Printable Coupons page OR you can show them on your phone, which is very helpful for spontaneous trips.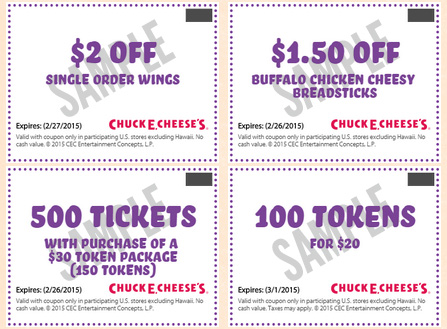 Get Free Chuck E. Cheese Tickets
The Chuck E. Cheese website has free online games, like Skee-Ball and Ticket Blaster, that your child can play before their visit and they can earn free tickets. There is even app games they can play on an iPhone, iPad, iPod touch, or Android device that will also earn them free tickets. Be sure to pay attention to the terms, which are clearly stated before play starts. For example, right now the terms state that only one ticket reward certificate can be redeemed per child per day and that a food purchase is required.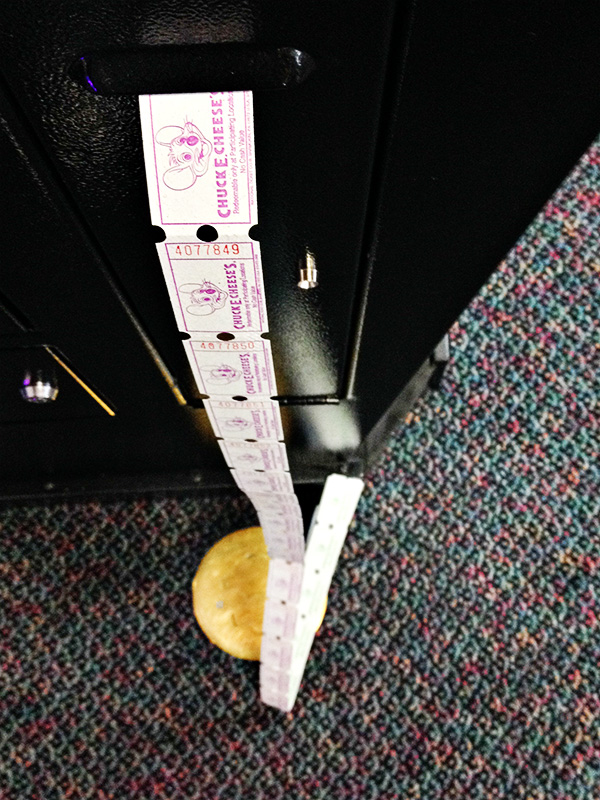 Get Free Chuck E. Cheese Tokens
Chuck E. Cheese offers several ways for kids to get free tokens. One is their Tokens For Grades Program. All your child has to do is bring in their latest report card and they will be rewarded with 10 Free Tokens (with a food purchase). Chuck E. Cheese also has free printable reward calendars that you can use on a variety of topics, such as keeping a clean room, reading, potty training and more. When your child completes the calendar, they can take it into Chuck E. Cheese and redeem it for 10 free tokens (with food purchase).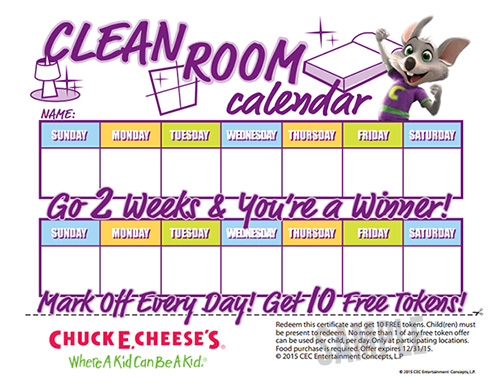 Make new traditions at Chuck E. Cheese
There is a lot of ways to start a new tradition at Chuck E. Cheese, but I thought I would share ours. On every trip to Chuck E. Cheese, we make sure to save a couple tokens to take a photo in their photo booth. We've done this on every Chuck E. Cheese visit and now have a bunch of photos documenting our trips. It's fun to look back on them…including the goofy faces the kids make.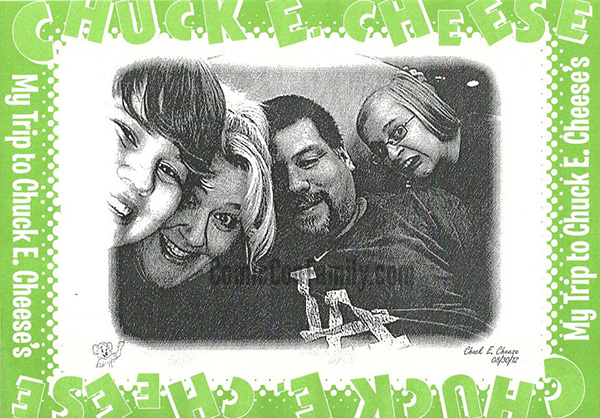 Chuck E. Cheese has Gluten-Free Options
If your child is gluten-sensitive, you'll be happy to know that Chuck E. Cheese offers a gluten-free personal sized pizza, as well as a gluten-free cupcake. They shipped to Chuck E. Cheese in sealed packaging and the pizza is even cooked in this packaging to avoid cross-contamination. You can find out more details on the Chuck E. Cheese Gluten-Free Menu page.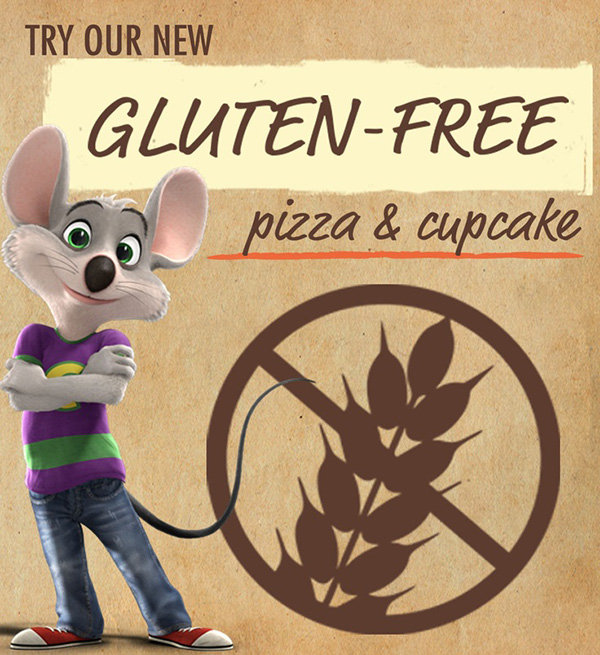 Hold your Chuck E. Cheese party longer on weekdays
As you can imagine, Chuck E. Cheese is a popular spot for birthday parties. Most parents want (or need) their child's party to be on the weekend, which means all birthday parties are limited to 2 hours.Want to use your party table for longer than 2 hours? Just schedule your party on a Monday-Thursday and you can use the table for an unlimited amount of time. This even works for an after-school party as long as it's Monday – Thursday.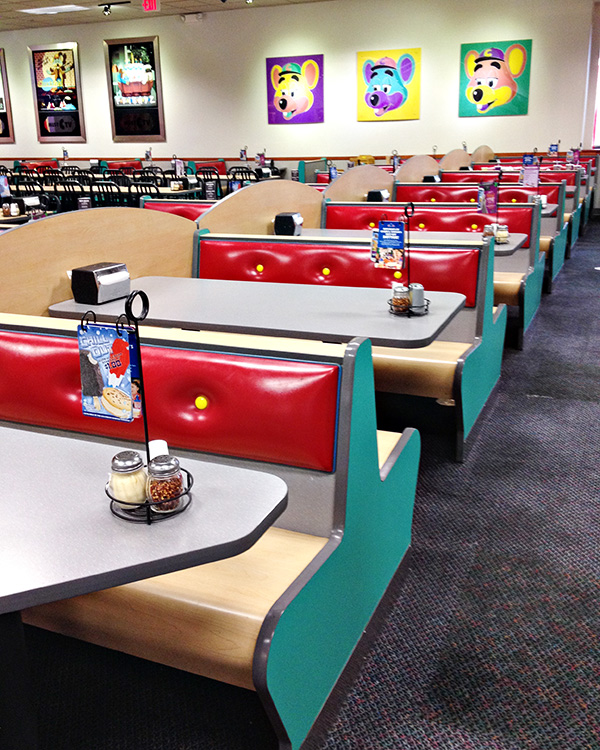 Take advantage of FREE Chuck E. Cheese Birthday Party Invitations
Speaking of parties at Chuck E. Cheese, did you know that they have free Chuck E. Cheese birthday party invitations? They do — both options for  emailing or print and mail (or hand out). It's a nice way to save money on the party and save a bit of time too.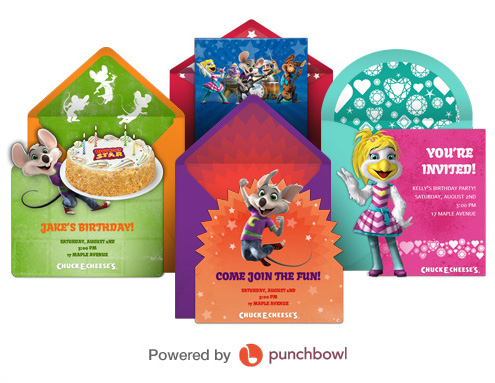 Ask for the new Thin & Crispy pizza crust at Chuck E. Cheese
Chuck E. Cheese now offers a thin crust option for any pizza on their menu, which is excellent if you prefer this crust or if you are looking for a way to enjoy pizza with a few less calories or carbs. This is usually the type of crust we get on pizza, so we're glad to know that they are offering it now.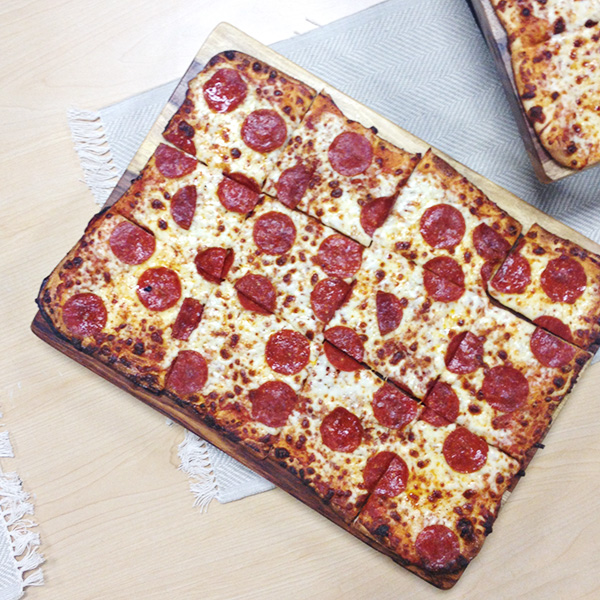 Check the Chuck E. Cheese Location Finder
If you have multiple Chuck E. Cheese locations in your area, use the Chuck E. Cheese location finder before you go to see if one location near you is offering any new menu items or new games. For example, all of our local Las Vegas locations are currently testing out a new Chuck E. Cheese menu options. If I search Vegas locations, there is a graphic showing their new Cali Alfredo Thin & Crispy Pizza. Out of curiosity, I did a search for another location (St. Charles, MO), and I can see that they have not only the new pizza, but also a new Bumper Cars game. Doing a quick search could tell you if you might want to visit one location over another because of new menu items or games.

Now that you have our best Chuck E. Cheese tips, are you ready to visit your nearest location for some fun? Use the Rafflecopter below to enter our giveaway for your chance to win a Chuck E. Cheese's Guest Pass (valid for 1 large pizza, 4 sodas, and 30 game tokens). The only required entry is to leave a comment on this post telling us what your (or your child) favorite Chuck E. Cheese game is, but we've also given you other ways to earn an extra entry.
Want to double your chances? After entering here, be sure to enter our other Chuck E. Cheese giveaway here: New Chuck E. Cheese Menu