How to make Baymax Pop-Top Can Party Favors for a Big Hero 6 movie night! This post and shop have been compensated by Collective Bias, Inc. and its advertiser. All opinions are mine alone. #BigHero6MovieNight #CollectiveBias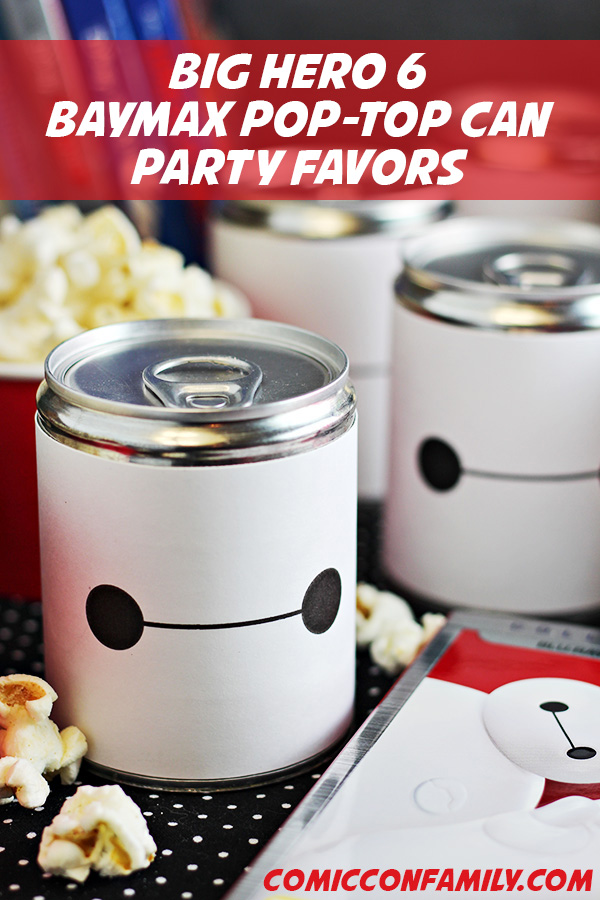 Hello Comic Con Families!
It's another great release week for DVD/Blu-rays, with this week being the release of Disney's Big Hero 6. If you saw it in the theaters, you already know what a fun, action-packed movie it is (and adorable, as my wife says and required me to add to this post), but if you haven't seen it yet, here is your chance.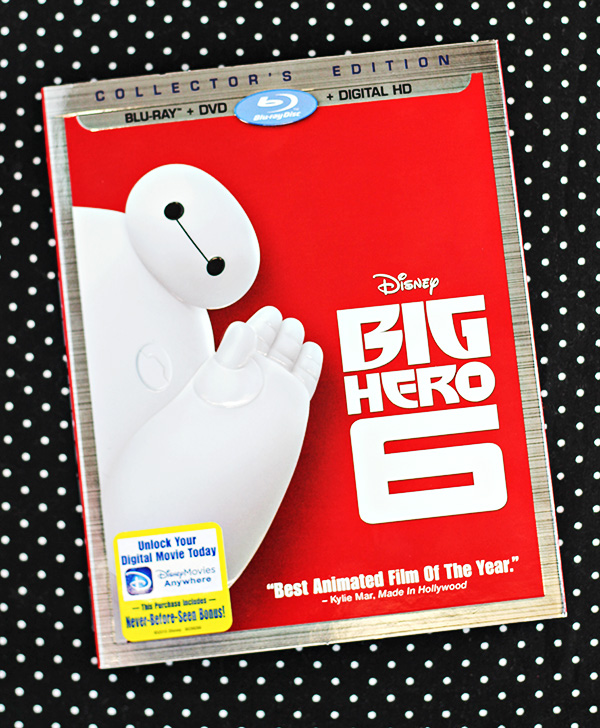 Lately, I've actually been trying to buy less DVD/Blu-rays when they first come out. But only because I've been realizing that we don't watch them all right away.  Sometimes we never watch them and they get shelved with the rest of my 1,200+ movie collection.
BUT, there is two exceptions: Disney movies and other movies that are already planning for a family movie night. Sometimes, Disney movies have special editions that are only available when first released that we want to make sure to add to our collection, but even more than that, is that Disney movies are always high on our list for movie nights, which happen almost every weekend. If a new one is released, it's almost always the top pick.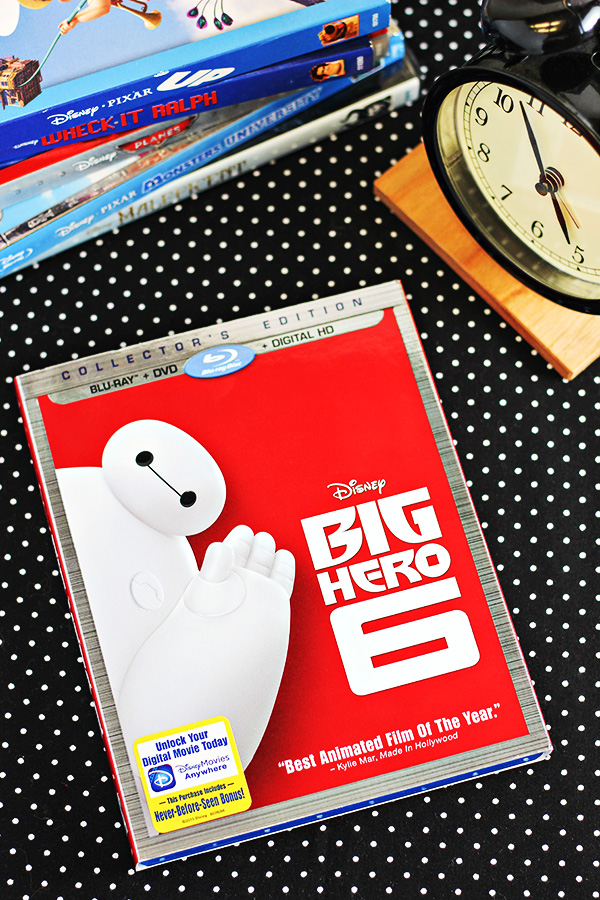 We picked up our copy of Big Hero 6 at Target. I've always get the Blu-ray version now – has anyone else started buying them exclusively? For a long time, I still bought DVD's for the lower price, but over the last year or two, we given in and went to Blu-rays. If you go to Target too, the most obvious place to look for Big Hero 6 is in the electronics department. My Target had the DVD's there, but they were out of the Blu-ray.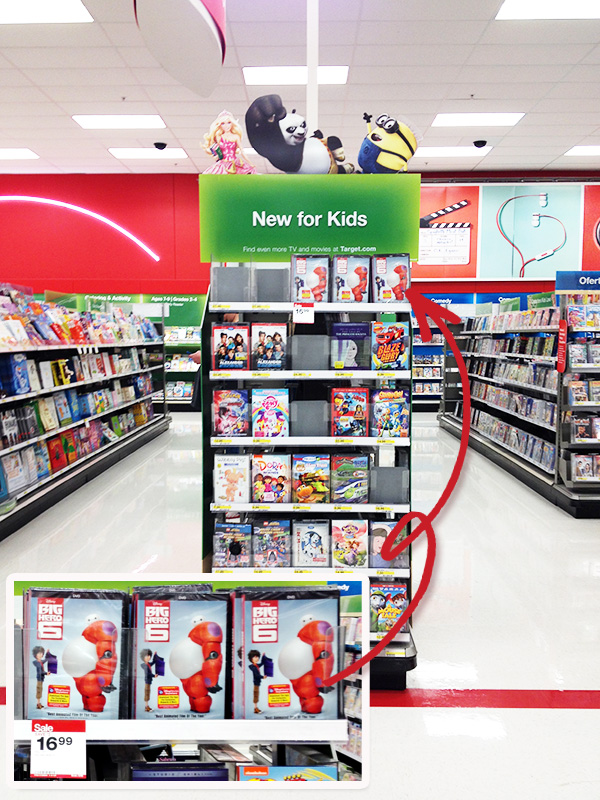 Have no fear – if you don't see the Blu-rays in Electronics, there is often a display of new movies, near the registers.  This is where I found our Blu-ray copy of Big Hero 6.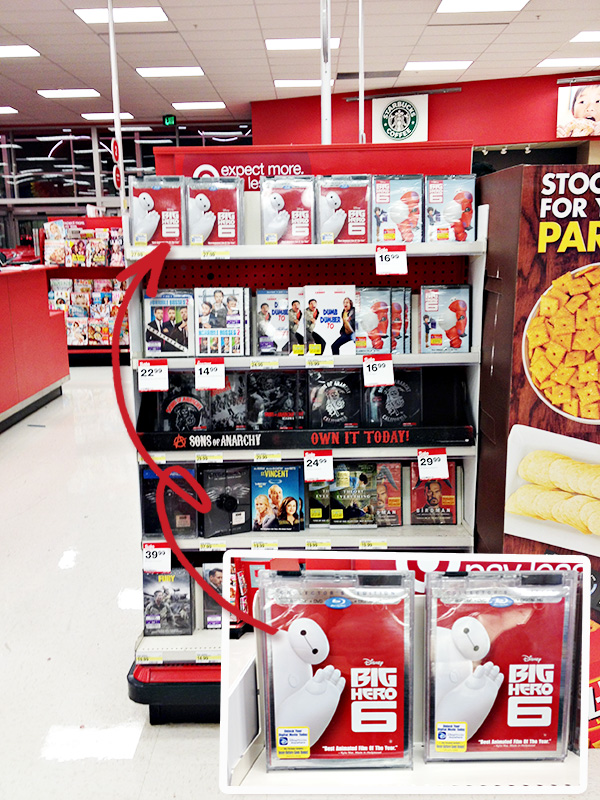 Movie nights aren't complete without treats – sometimes we have something simple, like popcorn or ice cream. Other times we take the fun up a notch and put something cool together. Big Hero 6 got the cool treatment. We surprised our kids with Baymax Pop-Top Can Party Favors – recycled fruit cans fill with treats. Lots of fun for our movie night, but they are great for Big Hero 6 parties too.
Want to know how to make them? Read on, Geeky Families!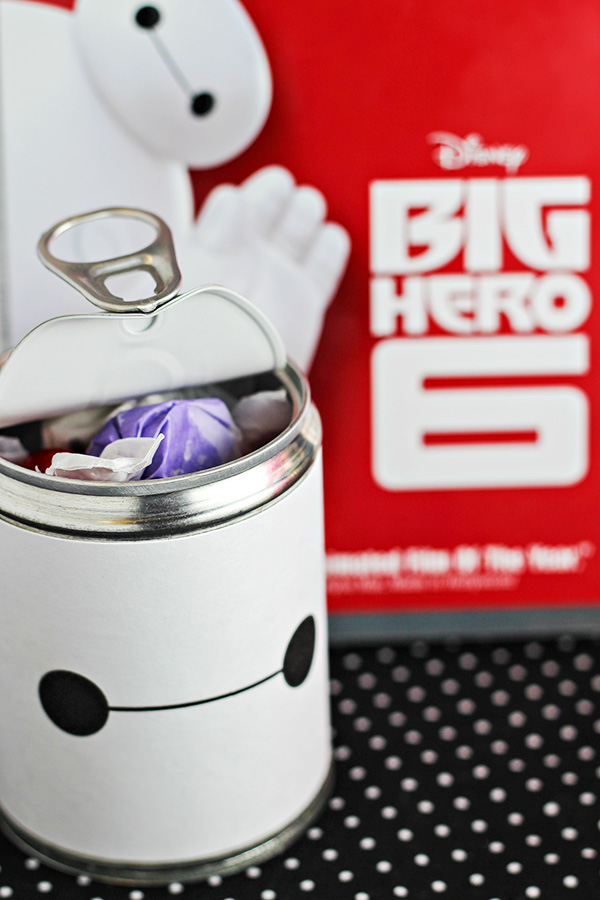 You will need one pop-top can per person and you'll need to remove the label from each can.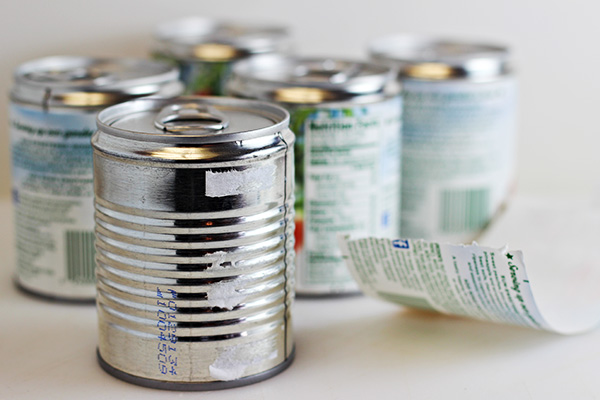 Be sure that the cans you buy/use have a pop-top without the warning that says "extremely sharp" (which is usually seen on 15 – 20 ounce cans).
Smaller fruit cans (about 8.5 ounces, 3.25″ tall) don't have the warning because the edges of these top-top (when pulled off) are much safer. You also want cans that have a traditional bottom like the 2nd photo below that will allow a can opener to open the bottom. Cans with "stackable" bottoms (very rounded edges) won't work for this project.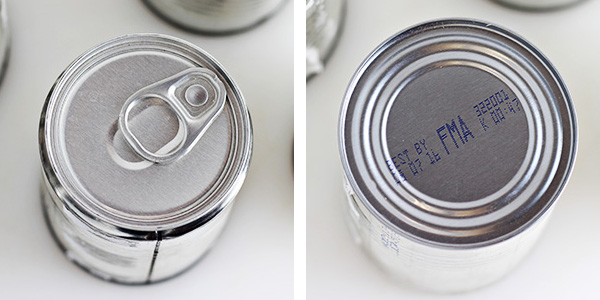 You will also need a smooth or safe edge can opener, which will safely separate the lid from the can without creating sharp edges. Open your cans on the BOTTOM, leaving the pop-top intact. Enjoy the fruit, as you wish.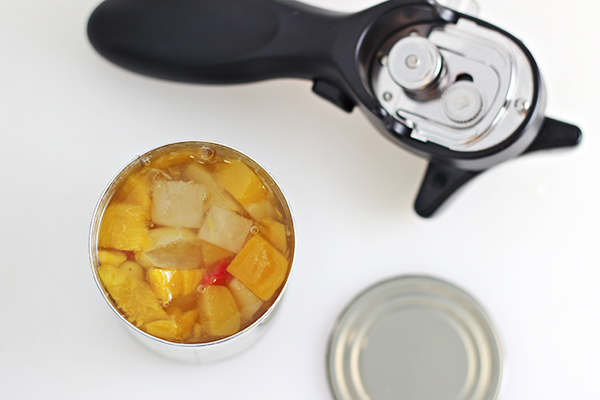 Clean and dry each can and lid and then fill your can with treats. We went with candies that matched the colors of Baymax and his armor, but you can fill them with just about anything.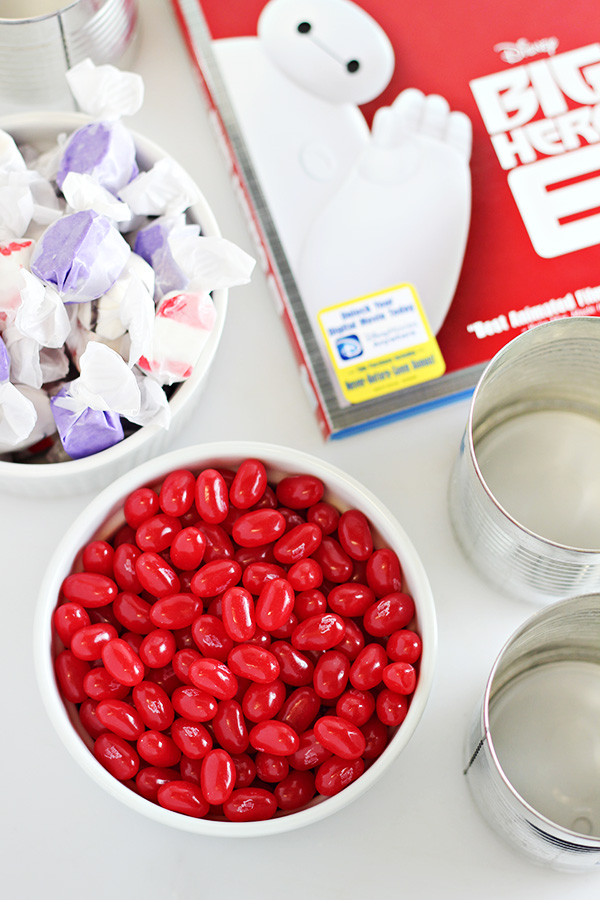 After filling, put the lid back on and apply hot glue with a glue gun around the edge to secure it.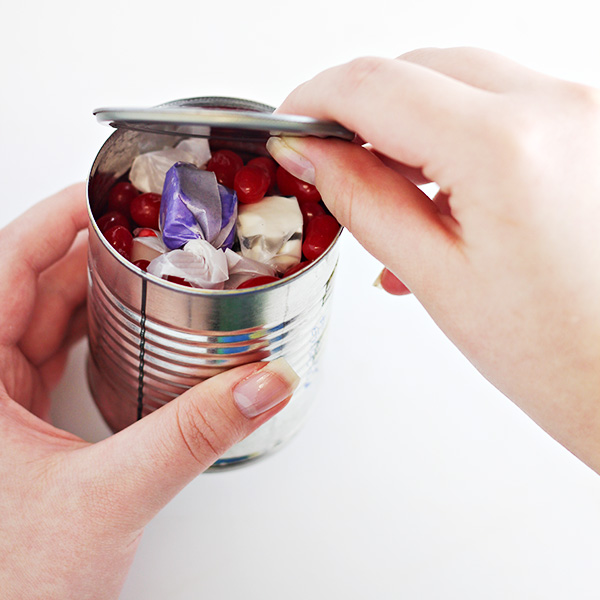 The next step is to download and print our  free Baymax Pop-Top Can Party Favor labels.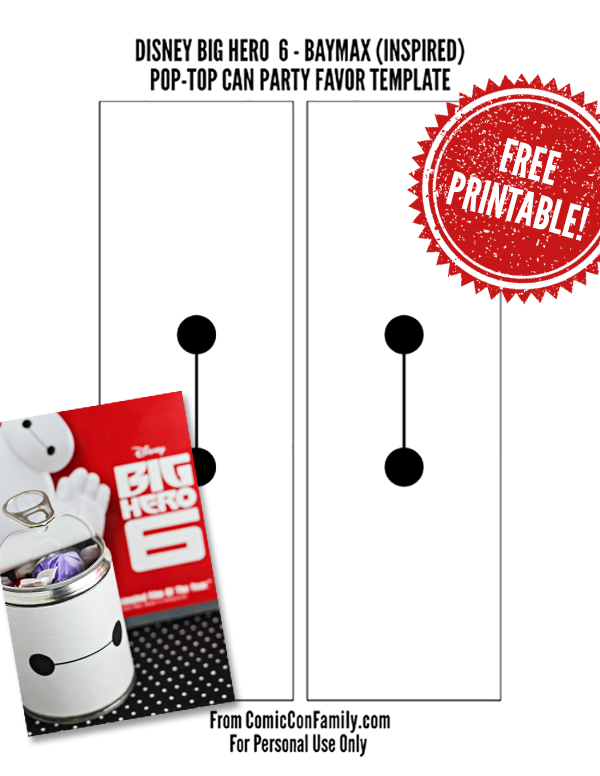 Cut out the Baymax labels and adhere to your pop-top cans. We used hot glue to to attached the label, but other glues work or you can use tape.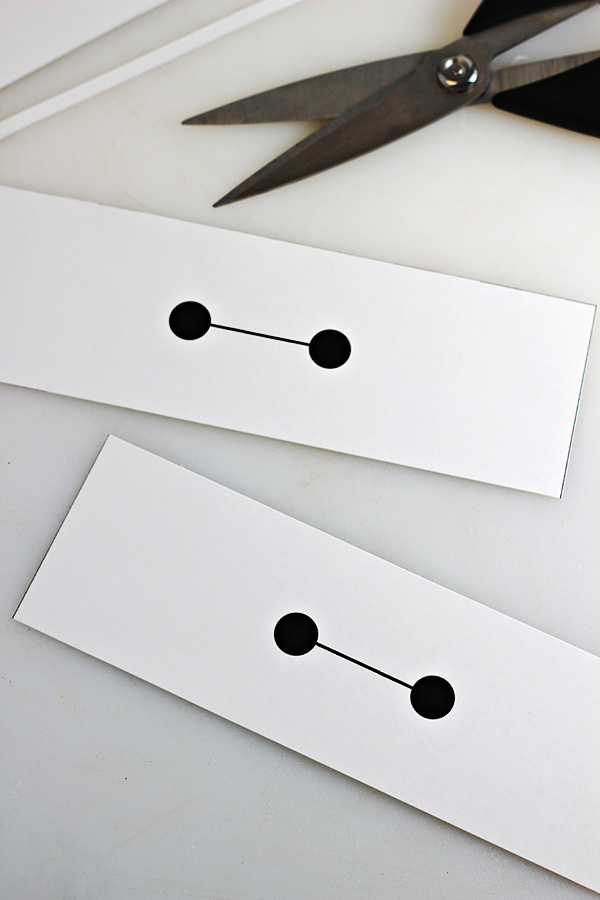 Your cool movie treat is done! Pull off the pop-top and everything is inside to enjoy. Simple to make, don't you think? Sure, you could just open a bag of treats to enjoy during your Big Hero 6 movie night, but why not surprise the kids with something that will sure to make them smile?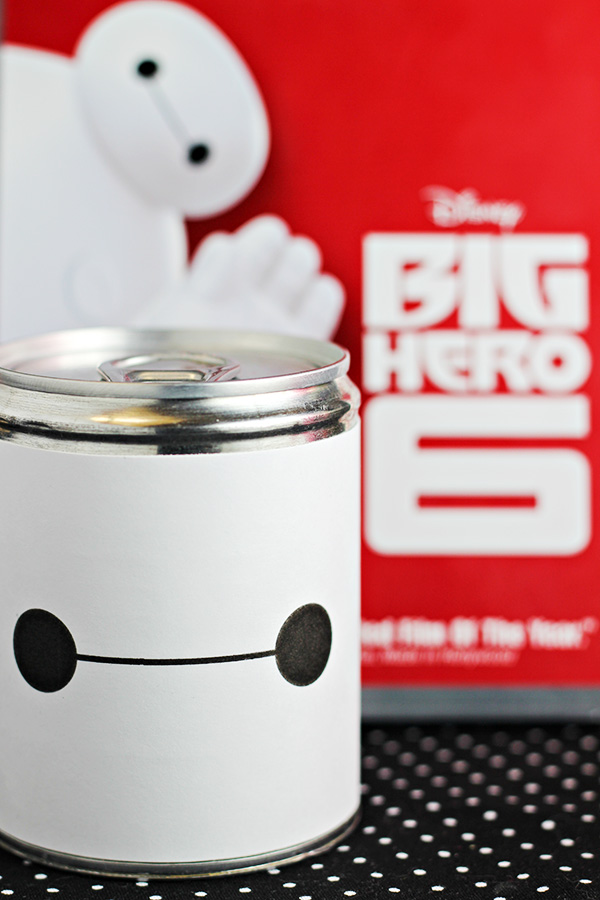 Be sure to follow Target on Facebook and Twitter to stay up-to-date on future Disney movie releases!
What will you put inside your Baymax Pop-Top Can Party Favors?