Recently, we were invited to test drive the 2014 Mazda6 for one week. Here was our experience.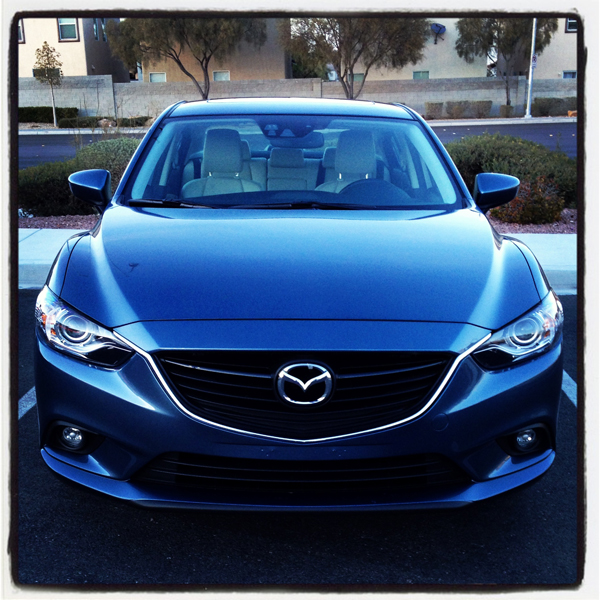 I know that moms are usually the first one that you think of as being behind the wheel of a mini van, but for the last 16 years or so, I've been the chief mini van driver. Now sure, my wife drives it at well, but when we go out together as a family, it's me you'll see behind the wheel. Just recently we became a 2-car family and now I drive a small compact car to work and back, but all the other times, I'm a mini van dad.
I don't mind driving our mini van, but I can honestly say that I always picture myself driving something a bit more sporty. Our 13-year-old son asked me and my wife recently what kind of car we would want if we could have any vehicle, regardless of price. My wife always answer with a mini van or SUV, but I'm the one who mentions something cool and stylish.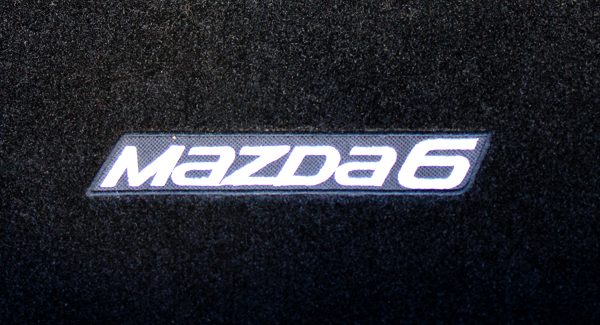 There's lots of cars I've had my eye on over the years, but to be honest, a Mazda has never been one that I've considered. It's a make that I've always thought was more for my 21-year-old son. All this changed with our recent test drive of the 2014 Mazda6 Grand Touring. I quickly realized that this was a vehicle that could combine the words "sporty" with "family sedan" — the best of both world for a family guy like me.
The Mazda we drove is stunning. The exterior color is called "Blue Reflex" and couldn't have been more perfect for me. I could easily see myself choosing this color.
Of the entire exterior, I loved the way the front and the front fenders looked. As you can see in this photo below, it has a nice curve, which really adds to it's sporty look. Our Mazda6 came with 19″ alloy wheels and all-season tires.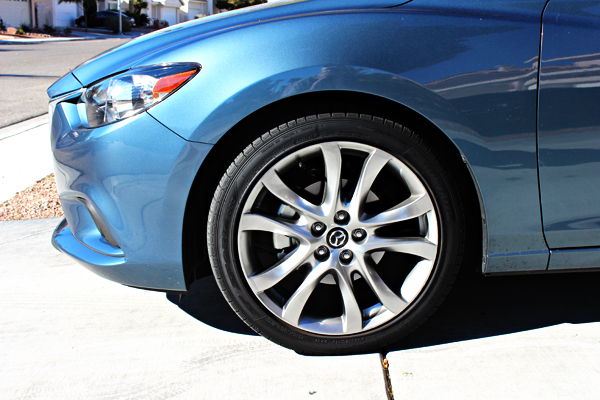 The interior was called "Almond Leather" and while a white-ish interior is never really my first choice, it did seem to work well with the exterior color — even if I didn't realize it at first.
When I took the photo that you see first in this post (at the very top) , I was taking my wife out for sushi date night. We got out of the vehicle to walk into the restaurant and I turned to look at the Mazda (which I had backed into our parking space) and had to snap a photo because I really loved how sharp it looked with the Blue Reflex color and the light-colored interior. Who knows? You might find me picking this in my future vehicle purchases.
To give you a closer look, here's a photo of the leather trimmed seats: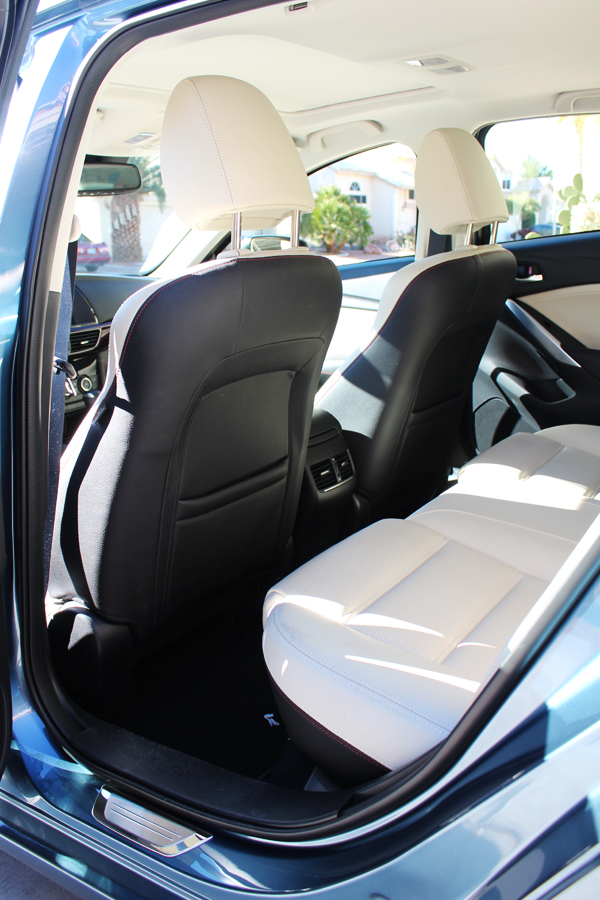 There was so many features that both my wife and I loved in the Mazda6. One that was extremely useful for us was the seat memory which allowed her and I to set the driver seat in the perfect settings for each of us. I like to drive with the seat further back and more reclined, while she like it to be more upright and closer to the steering wheel. With just a push of a button, we each could have our perfect setting within seconds. Seriously, one of the best things.
The dual-zone auto climate control was also great because we both have very different comfort levels during the winter months (the summer months in Vegas, we both agree: we want it as cold as possible). This was one of the things we missed when had to go back to driving our van.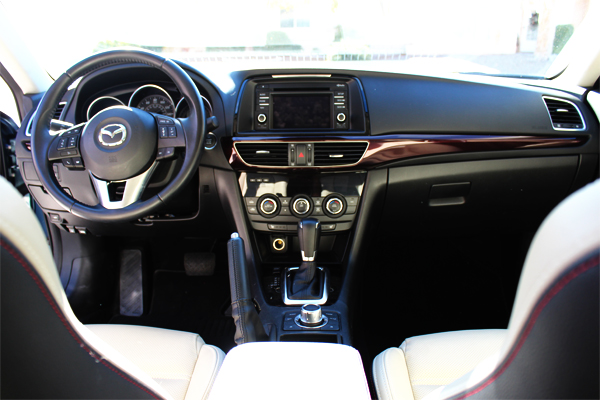 The heated steering wheel was something that my wife raved about when she had to make some drives early in the morning.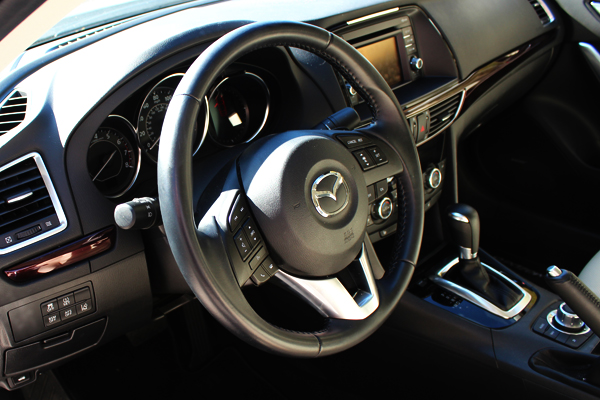 As someone who loves to listen to music while driving, the Bose sound system, Sirius Satelitte  and HD Radio were awesome — you can't go wrong with those. My wife was THRILLED that she could listen to her Pandora radio stations too.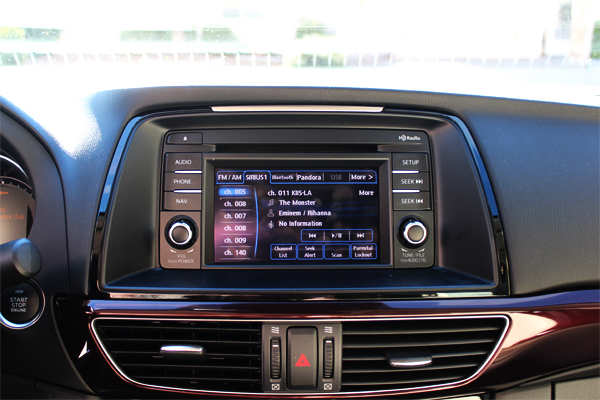 We didn't take a trip with the Mazda6, but we did do plenty of grocery shopping and we were very happy with the space in the trunk. We actually felt like we had more room for our groceries than we do in our van.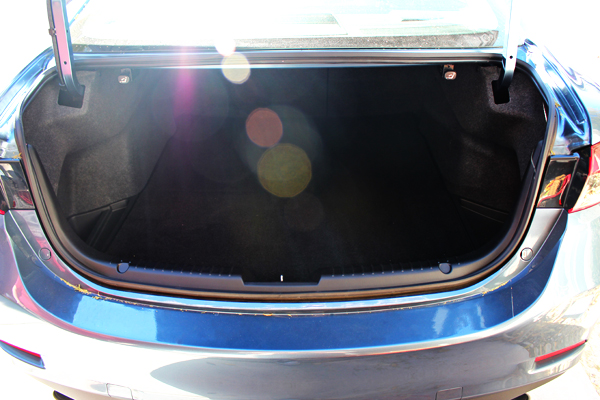 You probably would not think that we would get much use out of the power moonroof in December, but think again. We live in Vegas and had some days during our test drive that were perfect for opening it up. I'm beginning to realize that a moonroof/sunroof is a must living here in the desert. With so many great weather days, we can really take advantage of it.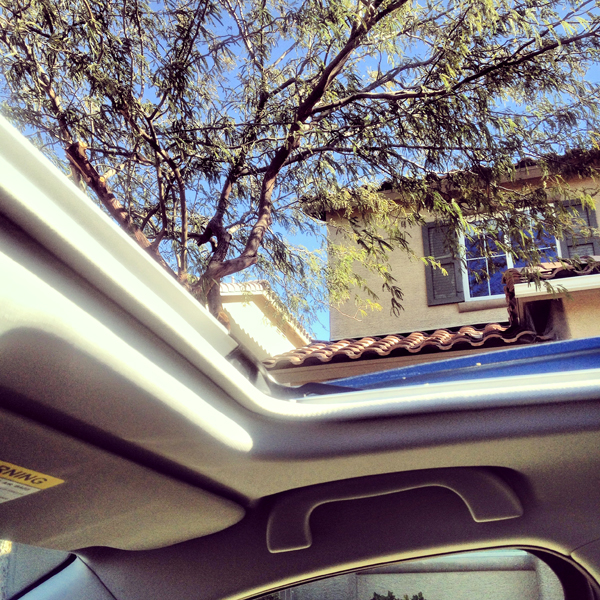 I know I'm talking a lot about the features of the Mazda6, but I can't leave you without mentioning how the drive was. I've owned a few 4-cylinder vehicles in my life and none of them were quite as powerful as the Mazda6. It has plenty of get-up and go and I was really pleased with how it handled.
Test driving the Mazda6 was a fun and eye-opening experience for me. I wasn't sure if it would be for a 40-something mini van driving dad, but what I found was a vehicle that I would be proud to own and has all the sportiness that I would want in a car — while still being a family sedan. Definitely the best of both worlds.