Paid promotion for Disney. All opinions are mine alone. #CelebrateMARVEL
Come take a peek at my picks for MARVEL 80th Anniversary Collectibles on Amazon.com, as well as 5 tips for displaying your MARVEL collections.
The exact date of MARVEL's 80th Anniversary was this summer – August 31, 2019. But unlike most of us who only get to celebrate our birthday or anniversary once a year, MARVEL's 80th Anniversary is a year-long celebration! With comics, gaming, apparel, toys, TV, and lifestyle items, this anniversary celebrates MARVEL's impact on pop culture throughout the 80 years.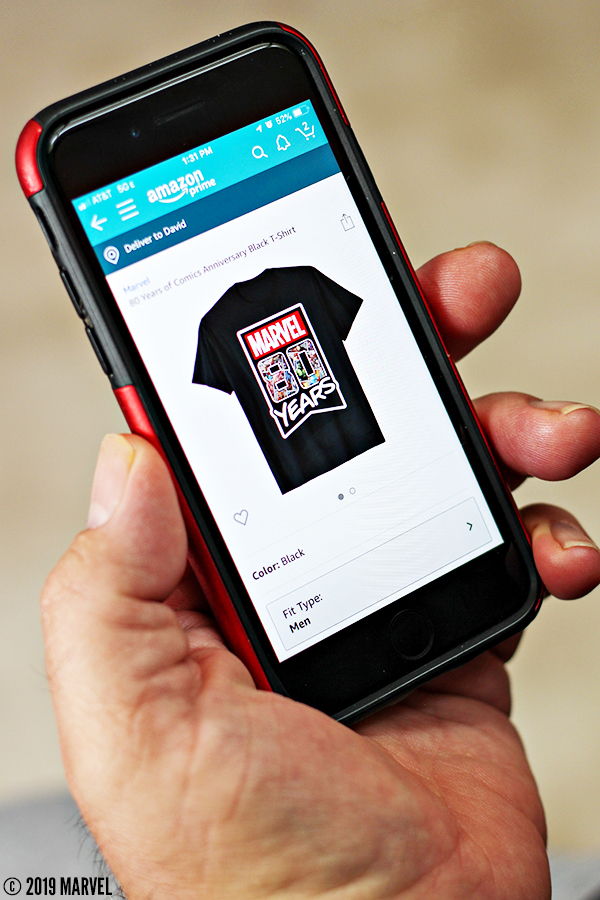 As a huge MARVEL fan who loves to collect, I quickly had my eye on lots of MARVEL 80th Anniversary collectibles. Since we do quite a bit of shopping on Amazon.com, it's become a source for everything MARVEL for me.
TIP: To purchase any of the MARVEL 80th Anniversary items shown below, just hover over the image!
My MARVEL collecting is fairly diverse. For the most part, I collect items based on what catches my eye or features my favorite characters. The #1 MARVEL item I collect is Funko POP! figures. At my last count, I'm approaching 100 MARVEL Funko POP! figures and I have no plans of stopping anytime soon.
The #2 item I collect the most is MARVEL apparel — mostly shirts. I'm a total t-shirt and jeans kind of guy, so if you ever spot me at a con, movie theater, or grocery shopping around town, you'll no doubt see me wearing one of my favorite shirts.
One of the things I enjoy the most about wearing my MARVEL shirts out and about is connecting with other fans. Almost every t-shirt I've owned has had people come up to me and tell me that they love it and usually we chat and connect on our favorites. Wearing pop culture t-shirts is a great way to meet fellow MARVEL fans!
When I saw the MARVEL 80 Years of Comics t-shirt on Amazon.com, I HAD to have it. Not only does it celebrate this huge milestone, but check out that design! I love it.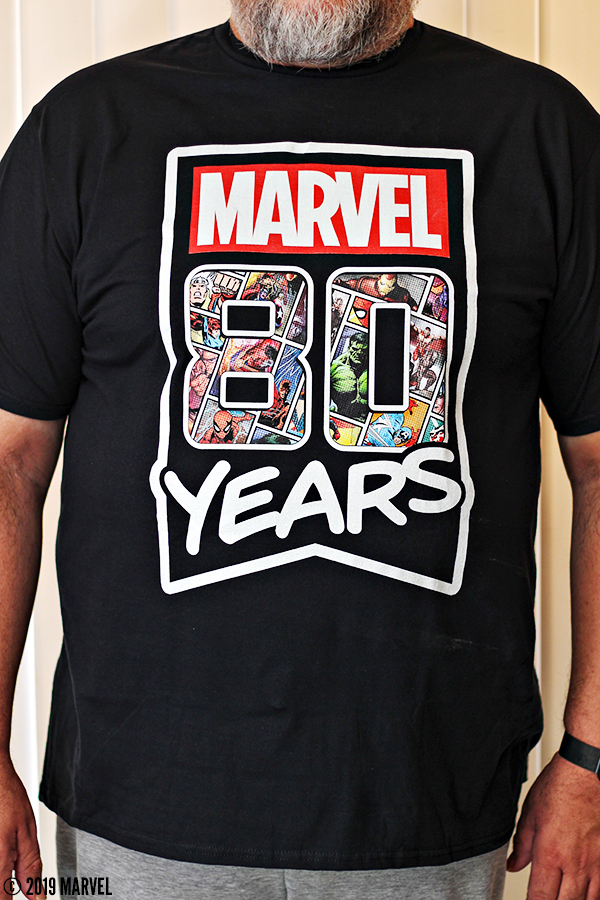 In addition to picking up the MARVEL 80 Years of Comics T-Shirt t, there were a few more MARVEL collectibles that I had to add to my collection from Amazon.com. I picked up the Funko Advent Calendar: MARVEL 80th Anniversary, and Funko Pop! MARVEL 80th: First Appearance – Human Torch.
While the Human Torch Funko POP! figures was a must on my list, I was even more excited about the Funko Advent Calendar.
This advent calendar is a fun way to countdown the holidays. It includes 24 Pocket Pops, with each one contained in a display box with 24 doors.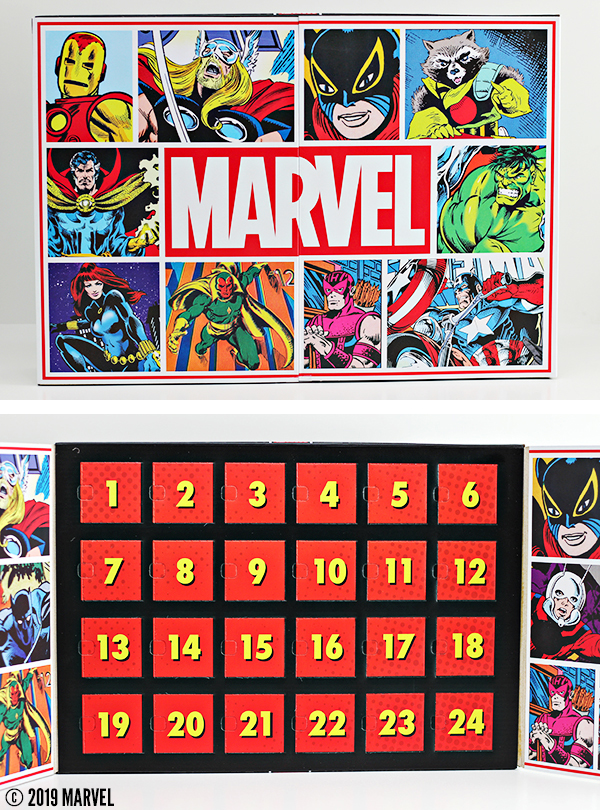 Most people will probably buy this and start opening a door-a-day beginning on December 1. There is nothing wrong with that at all, but there was no chance that was going to happen with me!
TIP: If you plan to use the Funko Advent Calendar as a countdown to the holidays, you can easily reuse the display box for multiple years, even placing the Pocket Pops in different doors to keep the element of surprise.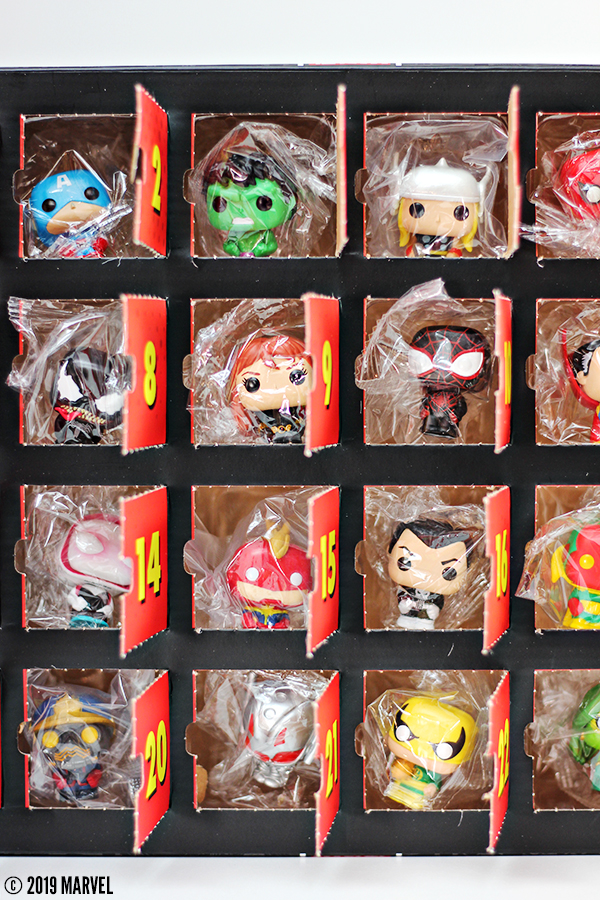 I'm a big fan of the Funko Pocket Pops, but prefer them not to be in keychain form, so being able to get 24 Funko Pocket Pops without the keychains – and it being MARVEL characters – is a big deal and really cool.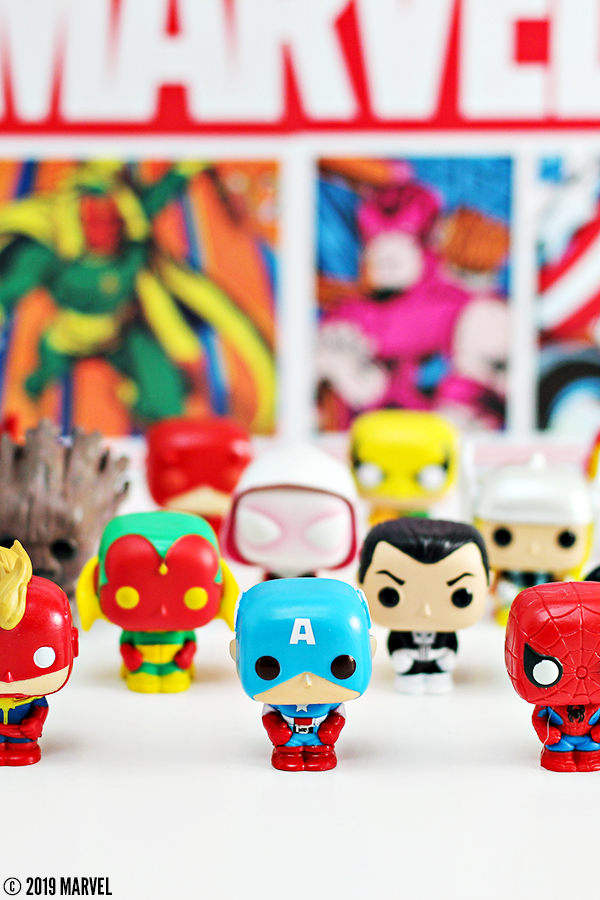 When it comes to displaying MARVEL collectibles, there are many ways you can do this. Here are my 5 tips for displaying your MARVEL 80th Anniversary collectibles:
5 Tips for Displaying MARVEL Collections
Use simple shelving that allows a total focus on your MARVEL collection. Black is great to use and really allows the design and colors of the characters to shine through.
Make use of clear acrylic risers to maximize your space. You don't want part of your collection hiding behind other figures, etc. This will be a great help so that you can fully see and admire your items.
There are many ways to display Funko POP! figures: in their packaging or out of the box. My preference is in the box with the use of a protective case.
Display packaging with a great design. For example, I think the Funko Advent Calendar box looks great, so I have displayed it with the Pocket Pops.
If you love a shirt design, but would rather display it instead of wearing it, you can easily display shirts by placing a box inside of the shirt and securing the shirt in the box with stationary clips. This is a great way to reuse an Amazon.com box!
I hope you've enjoyed this peek at my newest MARVEL 80th Anniversary collectibles from Amazon.com! I encourage you to visit www.amazon.com/marvel and shop the collection now!