This shop that has been compensated by Collective Bias, Inc. and Walmart Family Mobile. All opinions are mine alone. #DataAndAMovie #CollectiveBias
You love movies, now make a DIY Movie Night Pillowcase that celebrates all your favorites!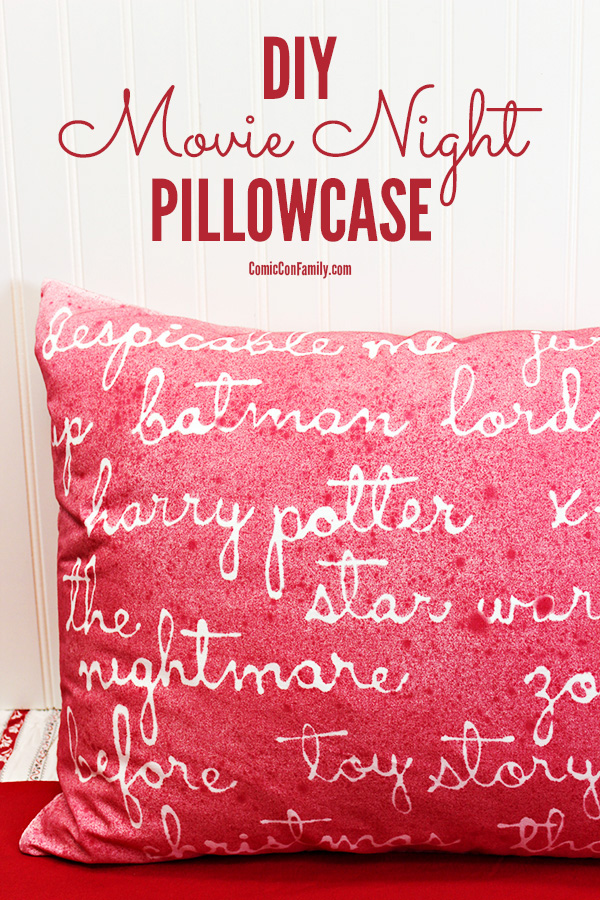 Disclosure: This post contains compensated affiliate links which help support the work on this blog.
What's your must-haves for a family movie night?
Besides the movie, do you have have snacks or a fun dinner, like pizza? Are pajamas a must? How about a cozy blanket or pillow? Ask my kids and they will tell you that the best movie nights mean ALL these things -plus a bowl of ice cream.
Yeah, they don't get that lucky most of the time, but movie nights are a fun time in our house. We pick a movie on VUDU to watch (we get a free VUDU movie every month, just for paying our Walmart Family Mobile bill on time), there is usually some food, like pizza or a dessert, and pajamas are a must. Depending on the weather, blankets usually show up too. And pillows – you've got to have a pillow.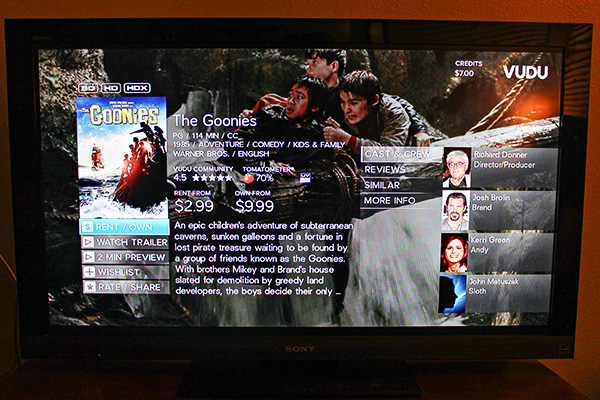 Even if movie nights are a common occurrence in your house too, why not throw together the best End of the School Year Movie Night ever? Not only snacks and a fun dinner, but pajamas, blankets, but how about a fun movie night craft too?
I have the best idea for you: a DIY Movie Night Pillowcase!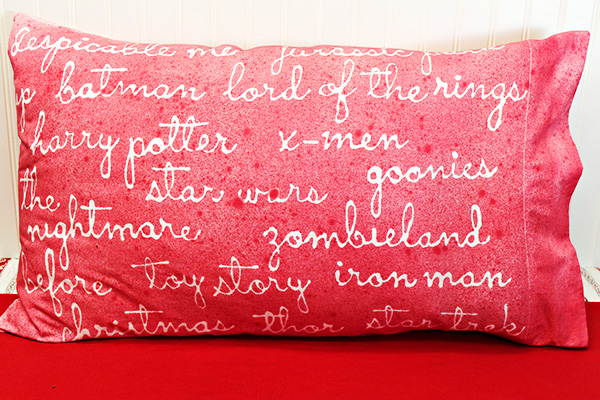 The inspiration from this idea came out of a discussion with the kids about their favorite pillowcases from when they were little. The next thing I know, the kids decided that they wanted to create their own fun pillowcases and so we did! We made the design on the pillowcases by creating stencils out of hot glue. Not only are they easy to make, but they're versatile and reusable too. The project turned out so cool that I knew I had to share it with all of you.
To make your own DIY Movie Pillowcase, you'll need a few things:
A pillowcase: we bought basic white pillowcases at Walmart, but you could reuse an old pillowcase too.
Glue gun and glue sticks: I recommend using a full-size glue gun and glue sticks. I used about 4-5 glue sticks (10″x .44″) to create all the movie titles you see in this post
Silicone Baking Mat:  it should be partially see-through
Computer and Printer
Foam core board or similar size cardboard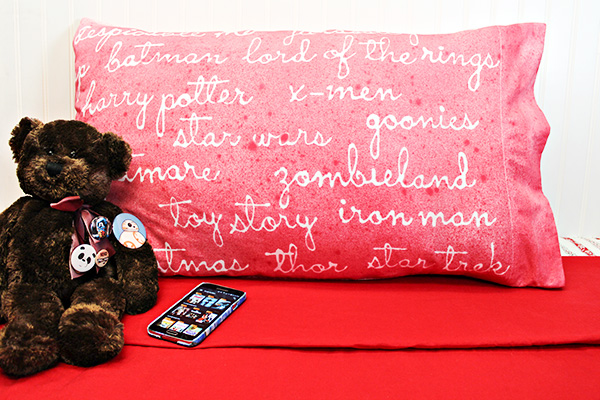 Here's how to make your own DIY Movie Pillowcase:
Wash and dry your pillowcase, without using fabric softener. If your pillowcase is wrinkled, you'll want to iron it too. Place a piece of foam core board (or cardboard) inside the pillowcase so it will hold the pillowcase tight (trimming the board as necessary so that it will fit). On a protected work surface, spray one side of the pillowcase with spray fabric paint (the side you won't be decorating).
On your computer, spell out your favorite movie titles in a word processing program or software like Photoshop. For the pillow in this post, I used the font Sacramento in a font size of 225. You can use any font, but we liked this font because it kept all the letters together. Print out your movie titles.
Place one of your movie title copies under your silicone baking mat. The mat you use should be partially see-through allowing you to see the letters underneath so you can trace them.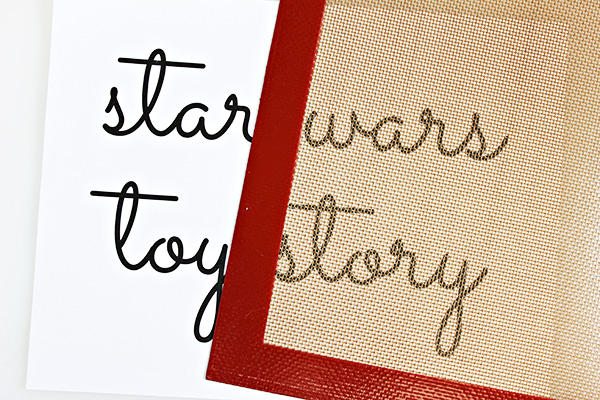 Heat your glue gun on high and then carefully trace your letters with the hot glue, on top of the mat, to create hot glue stencils (this should not be done by young children). If you mess up on any, don't worry. Just wait for the glue to dry and redo it. After tracing a word, look at it carefully to make sure none of the strokes are very thin. If they are, go over them with more hot glue.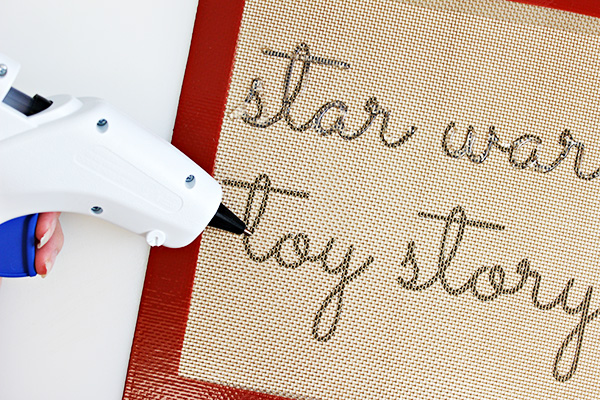 Allow your words to cool completely and then remove them from the silicone baking mat. Repeat with the remaining movie titles.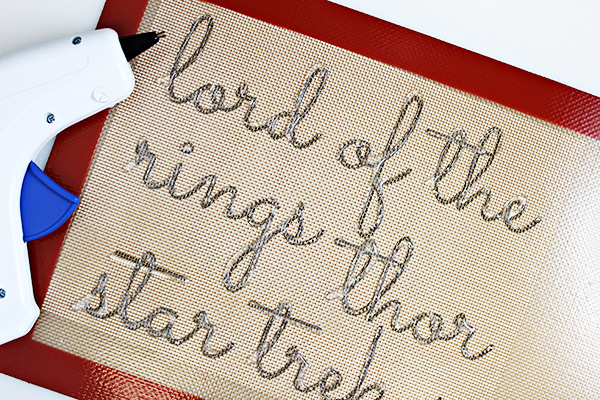 With the undecorated side of your pillowcase facing up, arrange your hot glue stencils on top of the pillowcase.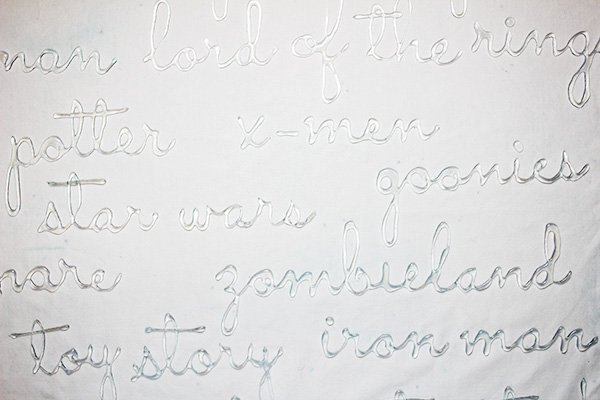 When you are happy with the placement, spray with spray fabric paint.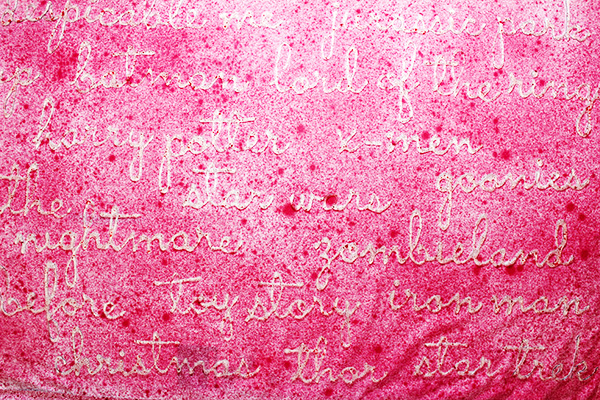 The stencils can usually be removed at any time (I removed the ones in this photo within 5 minutes after spraying it). I found it helpful to use a fork or toothpick to lift up the hot glue stencils. As you can see, the areas where you placed the stencils will not be colored by the spray fabric paint.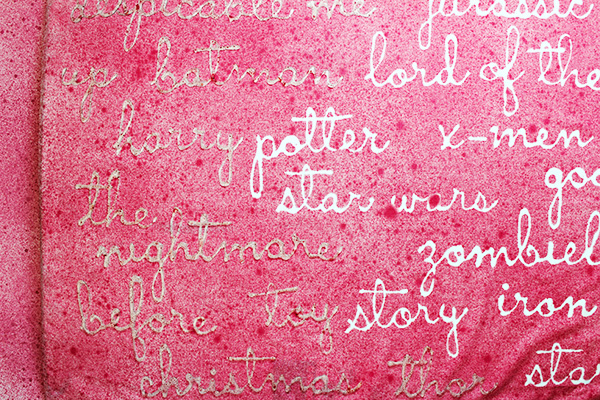 Allow your pillowcase to dry completely. Follow the manufacturers details for how to treat and wash your fabric after using the spray fabric paint.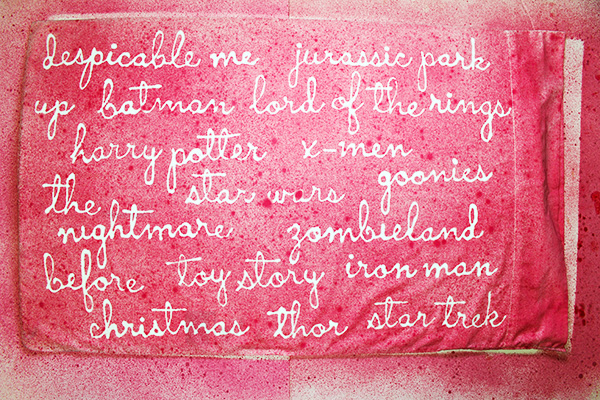 While I showed you how to make your own pillowcase with movie titles, you could use this same technique for other ideas, including making your own DIY t-shirt design.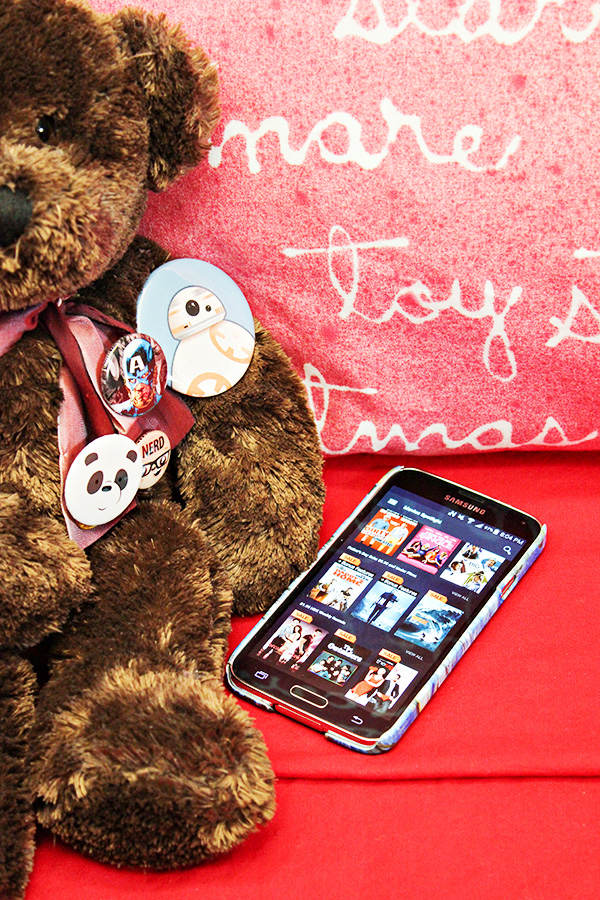 With their new movie night pillows, the kids and Brandie and I watched Goonies again – one of our favorites (my especially) that I haven't seen in a while. We rented it on VUDU through our Playstation, which is always convenient.
One of our monthly VUDU movie rentals is totally free every month (up to $7 value) because we chose the Walmart Family Mobile PLUS plan with Unlimited Talk, Text, & Data with up to 10GB of 4G LTE data for the new Samsung Galaxy S5 that we got our one of our kids. We just pay our bill on time and then we get the free VUDU rental.
Disclaimer: All prices for phones and plans included in this post are accurate as of the date of posting; however, these prices are subject to change. Please refer to http://cbi.as/3edbx or your local Walmart for current pricing.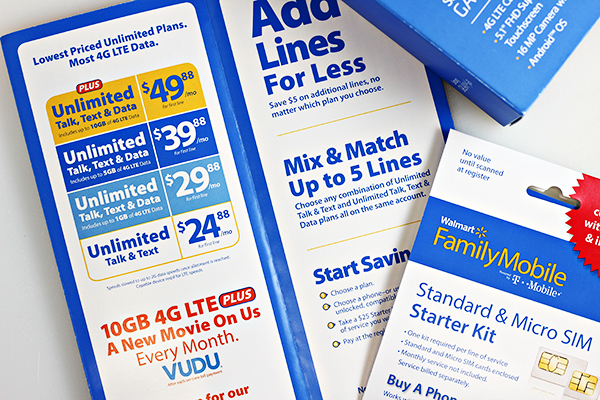 If you are in need of a new cell phone plan with lots of data, you should check it out the Walmart Family Mobile PLUS plan with Unlimited Talk, Text, & Data with up to 10GB of 4G LTE data too. Since Family Mobile bills you later, you only have to pay $19.88 when you sign up. And that's for ANY plan. AND, you'll get the free VUDU movie every month for your own family movie nights.  All the details are at your local Walmart store.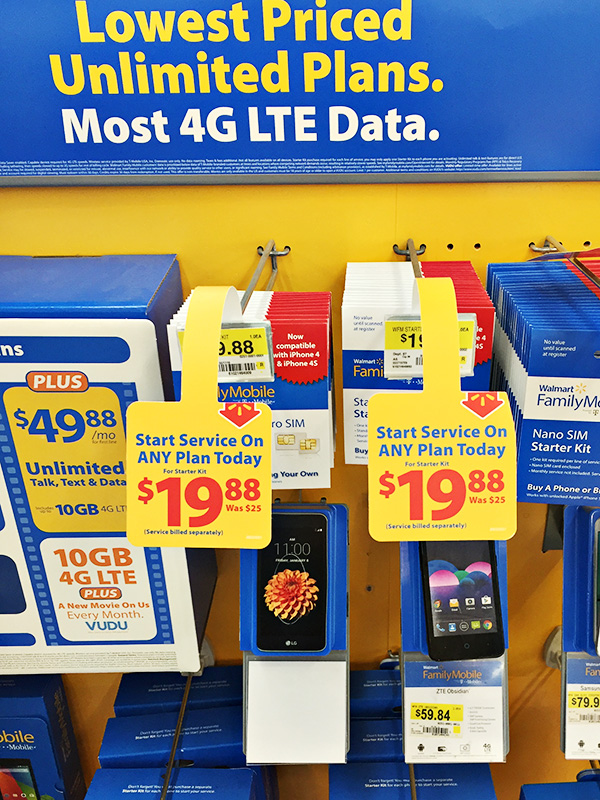 Want more info on Walmart Family Mobile?